3 of the Best 'Bachelorette' Looks
The Bachelorette has been ongoing for 17 seasons, bringing us the best (and worst) of the drama, tears, and romance. Over the many seasons of this successful show, we've also gotten a taste of some of the best Bachelorette looks – makeup, hair, and all – as well as some of the best Bachelorette outfits.
From stunning halter dresses to elegant evening gowns, these looks can be seen on the big proposal days or at the very start of the seasons. But, whether these looks are for the iconic rose ceremonies or the big proposal nights, The Bachelorette sports a stunning array of gorgeous looks.
There are so many perfect looks to choose from, there's no way we could possibly list them all. Instead, we picked three of our favorites and what makes them stand out the most.
Tayshia Adams' fuchsia dress
Tayisha Adams' fuchsia dress was a particular beauty when she debuted it in episode 11 of season 16. Designed by Galvan, the Silk Pandora Dress in Fuchsia is a satin halter gown that Adams wore during her rose ceremony during this particular episode, according to Shop Your TV. Striking and elegant, the bright color and sharp trim of this dress really made Adams a stunner in her own right and was one of the best Bachelorette looks we've seen in a long time.
"I loved Tayshia's both pinks," said long-time Bachelorette stylist Cary Fetman on Insider. "There's plenty of times where they say, 'No, I don't like where you're going with that. No, no. How about this?' But usually, it's such a collaboration. It is not me telling them what to wear. It's me facilitating different outfits," Fetman added.
Needless to say, Adams' dress was certainly a stunner and perfect for the rose ceremony. The bright, dazzling color and sharp style certainly made her shine.
JoJo Fletcher's finale dress
In the season 12 finale of The Bachelorette, JoJo Fletcher debuted a stunning Web Lace Silk Runway Evening Gown designed by Badgley Mischka. This beautiful Bachelorette look boasts a brilliant, light pink color made of chiffon. In this explosive finale, Fletcher accepted the proposal from Jordan Rogers. Since then, the two have remained married and work on their new home renovation show, CashPad.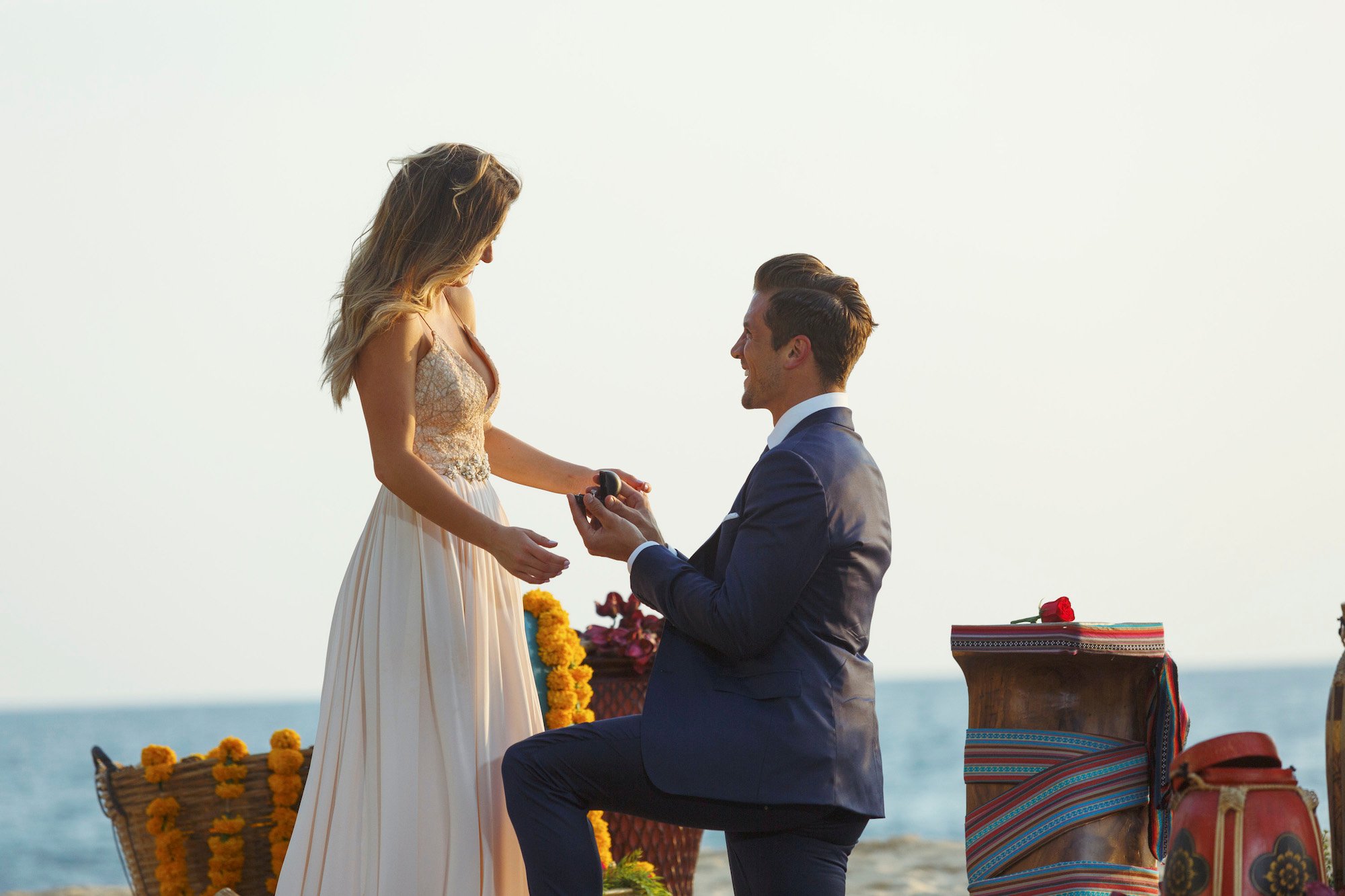 "We have a really great stylist on the show," Fletcher said in an interview with ET when she described how she had some help in choosing her gown. "Before the show, we do fittings. I got to pick out the things that I loved the most, and we have a great stylist, a great makeup artist. They helped me out every single day." Fletcher's look was certainly one of the most beautiful styles The Bachelorette ever had to offer and made for quite the proposal scene!
Hannah Brown's first-night dress
Wrapping up some of the Bachelorette's best looks, any look would be incomplete without talking about Hannah Brown's beautiful dress that she wore with pride the first night she appeared on the show. Right off the bat, Brown was sporting an Evolution Celeste Sequin Dress designed by Randi Rahm.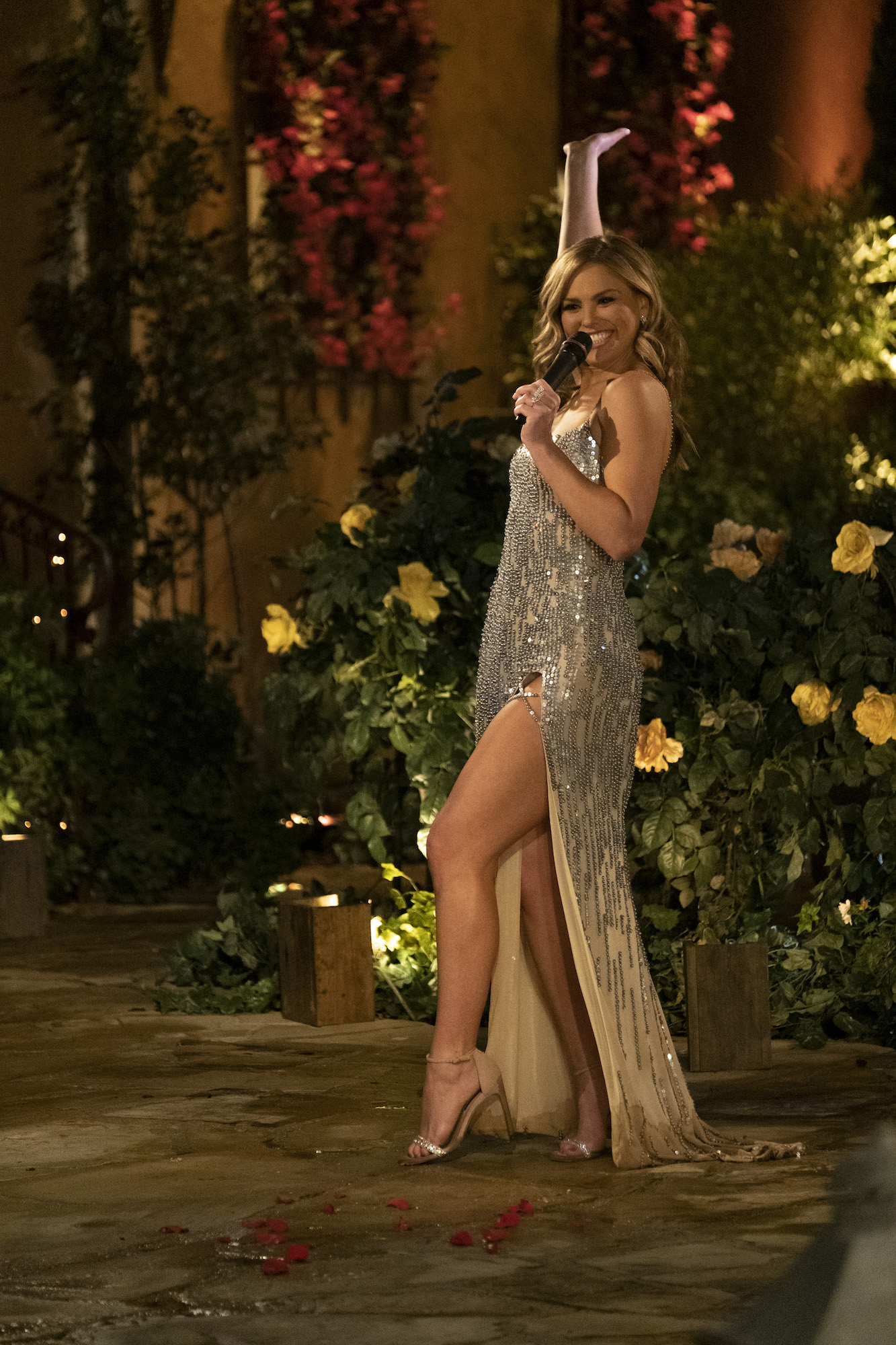 Cut with a slit up the side, this dress sported a dazzling silver look that Brown wore with pride. In an interview with Glamour, Rahm said that the gown was "a little more modernized than what I usually do." Stacked with rows of sequins, Rahm described the gown as "a very sensual but approachable piece … Hannah's new look is about having more of an edge and stepping out of the pageant world that she was in."
As one of the most brilliant looks we've seen on the show, we certainly couldn't agree more.
RELATED: 'The Bachelorette': How Much Money Will Katie Thurston Make From the Show?