3 Pizza Recipes From Giada De Laurentiis for a Delicious, Easy, and Cheesy Pizza Night
If pizza's on the menu tonight, try one of Italian-American chef Giada De Laurentiis' irresistible recipes for a fun, cheesy, easy — and delicious — pizza night! And since variety is everything, the Food Network host has a recipe for everyone.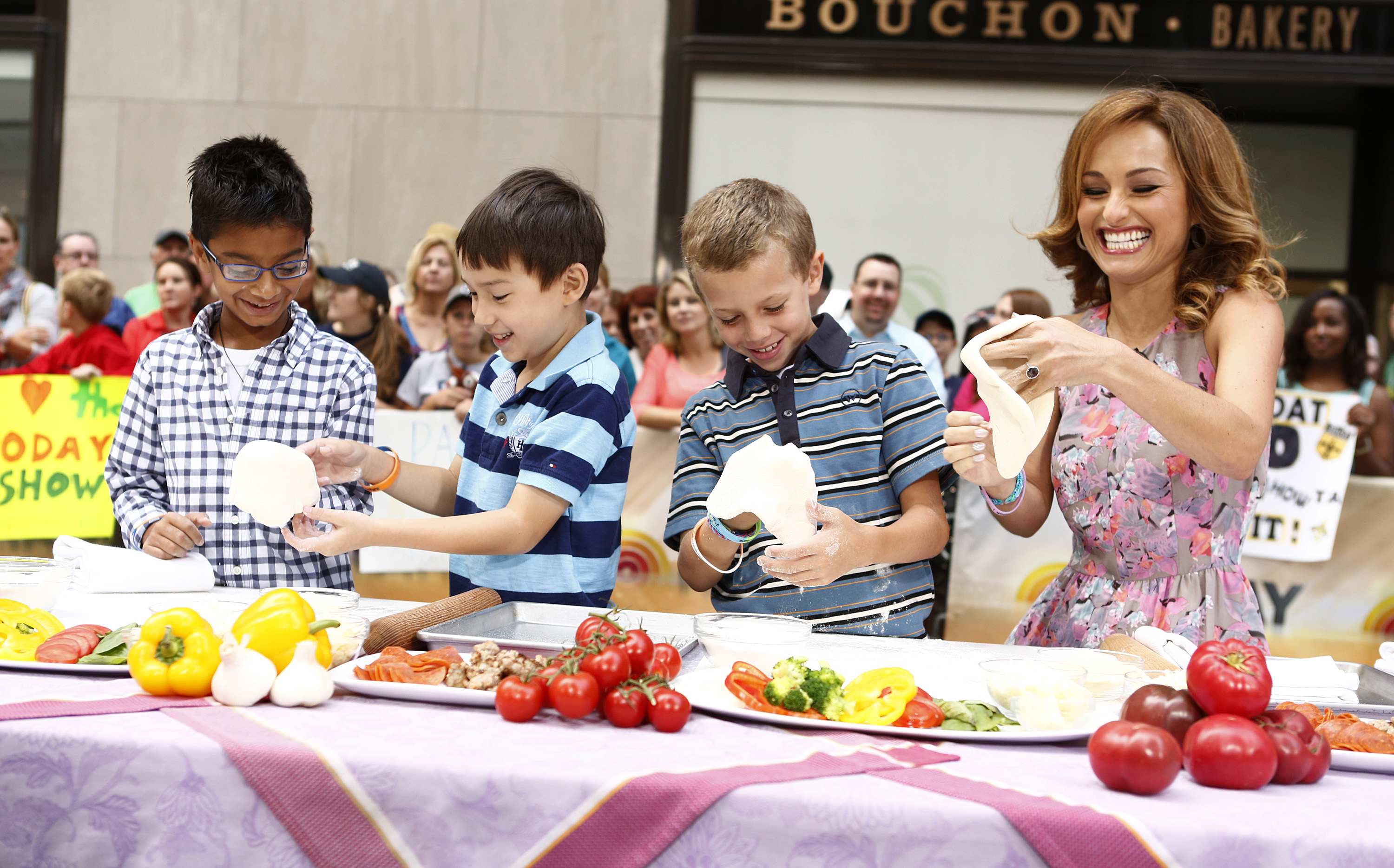 De Laurentiis' Pizza Panini is everything good about pizza 'in a crispy panini sandwich'
A pizza-with-everything-on-it in sandwich form, the Everyday Italian star's Pizza Panini is oozing with cheese, sauce, and whatever toppings you like most.
De Laurentiis' recipe is a "griddled sandwich" with "all the flavors of pizza, but in a crispy panini sandwich! I love this recipe for game days and parties, because you can cut them up into triangles like little pizza wedges – making them perfect for a crowd," the Food Network host wrote on her food blog Giadzy.
Reviewers on Food Network's site loved how easy the recipe is to make, saying "The recipe is easy to understand and follow, not too complex for any level of cook," and "Easy to prepare and satisfying. What more can you say?"
Find the full recipe, video, and reviews for De Laurentiis' Pizza Panini on Food Network's site.
De Laurentiis' comforting and homey Roasted Squash & Gorgonzola Pizza
While this pizza requires a bit more prep time and stepping out of one's pizza comfort zone, it's well worth it. Warm, thick, creamy gorgonzola cheese and sweet acorn squash create a textured, delicious pizza experience that may surprise you.
De Laurentiis' recipe also calls for shallot, red pepper flakes, fresh mozzarella, and raw walnuts. While homemade pizza dough is ideal, the chef recommends, if you prefer, using store-bought pizza dough to cut down on time.
It's comfort food pizza as the Eat Better, Feel Better author notes on Giadzy: "When fall comes around, I always end up making this roasted squash and gorgonzola pizza! I love the combination of the sweet butternut squash and tangy gorgonzola. To really amp up the flavor, I add some red pepper flakes and honey – and walnuts for crunch."
Get De Laurentiis' Roasted Squash and Gorgonzola Pizza recipe on Food Network's site.
De Laurentiis' Deep Dish Pizza stars cheese in a big way
Featuring provolone and Parmesan cheeses, De Laurentiis' Deep Dish Pizza is just as chewy and cheesy as you hope it would be. Jarred marinara sauce and store-bought dough can shorten your prep time.
The chef says on Giadzy: "This is a fun alternative to Neapolitan and Roman-style pizzas, and Jade really loved this extra-cheesy spin. Provolone has more of a cheesy flavor than mozzarella, which is why I chose it for this purpose – cheese is the star, after all! I used a homemade dough in my recipe, but you can absolutely use any storebought pizza dough to make it."
Home cooks on Food Network's site ate up De Laurentiis' recipe saying, "Fantastic and honestly so easy to make!" and "I am originally from Chicago but have not lived there in many years.  This is hands down the closest I have ever gotten to the real deal!"
Find Giada De Laurentiis' Deep Dish Pizza recipe, video, and reviews on Food Network's site.
Now pick one of the Food Network chef's pizza recipes and get pizza night started!