'30 Rock': Oprah Scolded Tina Fey on Set — But For a Heartwarming Reason
Tina Fey and Oprah Winfrey are both incredibly successful, influential women. Fey has a gift for making people laugh, getting her start on the iconic skit show, Saturday Night Live. 
Winfrey is an American legend. She took the talk show scene by storm at a young age, and then went on to star in movies, publish a magazine, and create a beloved book club. One episode of the comedy series 30 Rock paired these two incredible women together, and of course, it was a success. Winfrey even offered Fey a bit of advice while she was on the set…
Tina Fey: 'SNL's first female head writer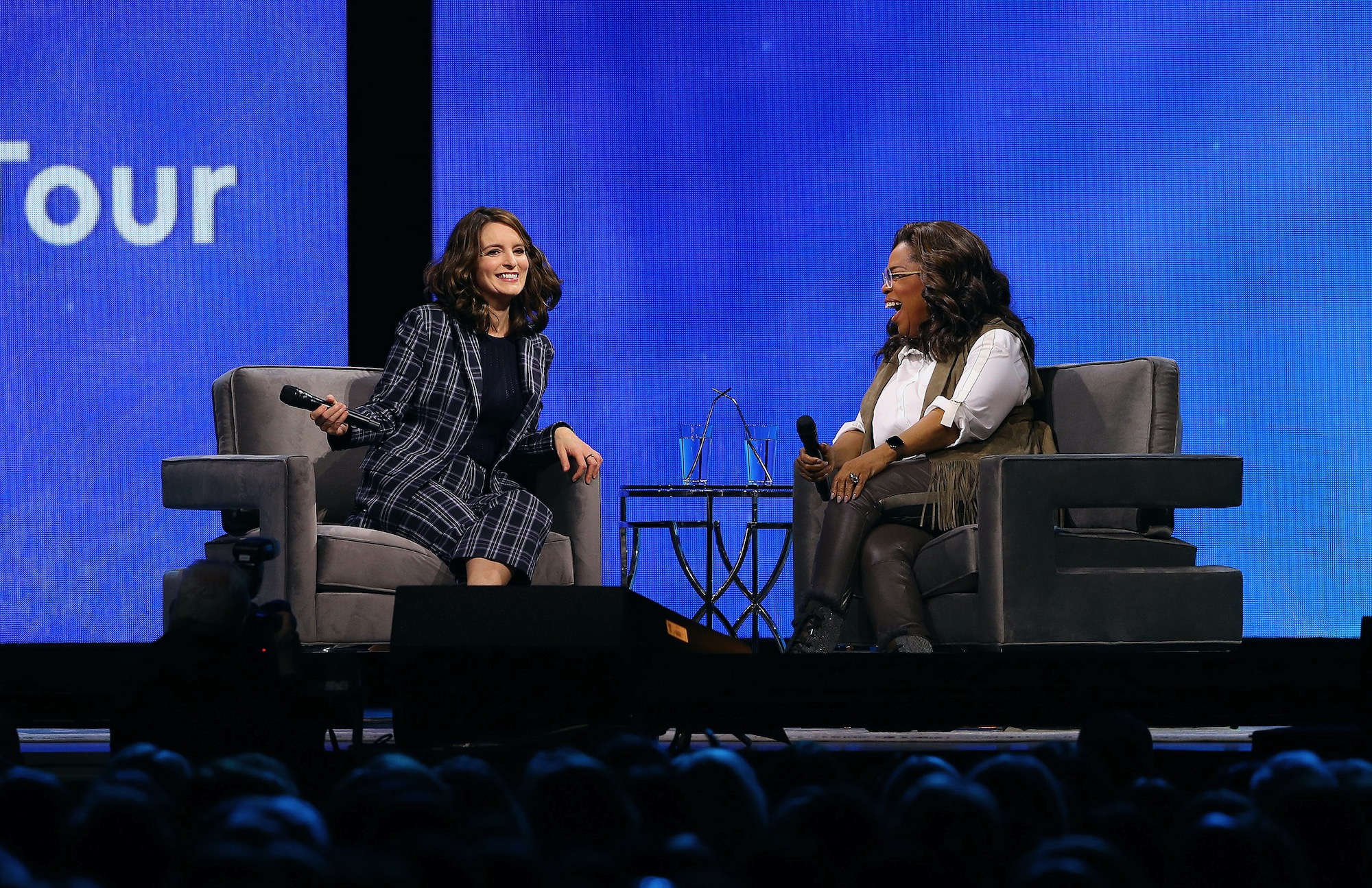 Tina Fey is best-known for her hilarious performances on Saturday Night Live. From Sarah Palin to the Bush twins to everyone's favorite "Weekend Update" anchor, Fey made us laugh until we cried every Saturday night for years. 
Fey graduated from the University of Virginia in 1992. After focusing on drama in college, she moved to Chicago to pursue a career in comedy. She trained at The Second City, an improvisational theater and comedy school.  Eventually, Fey's studies led her to become a performer at The Second City. 
In 1997, the talented comedian submitted writing samples to Saturday Night Live, where she was almost immediately hired. Two years later, she became the popular sketch show's first female head writer–an impressive feat. 
Fans caught their first glimpse of Fey on SNL in 2000, when she appeared in her first "Weekend Update" skit. She became a regular cast member and in 2002, the comedy show received an Emmy for outstanding writing. 
Fey continued writing for and performing on SNL, as well as breaking into the film industry. She has appeared in several films, including Mean Girls, Baby Mama, and Date Night. She also created the television series, 30 Rock, which ran from 2006-2013. 30 Rock paired Fey with several other talented comedians, including Alec Baldwin and Tracy Morgan. 
Oprah Winfrey: The talk show queen
Oprah Winfrey is one of the most successful women in television. Winfrey was born in Mississippi, but moved to Milwaukee when she was six years old. In her early teens, she moved again to Nashville, where she lived with her father. 
Winfrey graduated from Tennessee State University in 1976. During her time in college, she worked as a news anchor for a local CBS station. After graduating, she became an anchor and reporter for an ABC station in Baltimore. News reporting wasn't her cup of tea, however, and she left the job to pursue a talk show career. 
She got her start as the co-host of People Are Talking, a Baltimore morning show. In 1984, she moved to Chicago and single-handedly saved the dying morning show, AM Chicago. Less than a year later, the show was a success and had been renamed The Oprah Winfrey Show. In another year, it was the highest-rated television talk show in the country. 
Oprah continued to reign supreme in the world of daytime television, but her talents didn't stop there. She proved to be a gifted actress as well, with roles in major films like The Color Purple, Beloved, and A Wrinkle in Time. She also had her own magazine, as well as a book club. 
What happened when Oprah guest-starred on '30 Rock'?
In November 2008, Winfrey guest-starred on 30 Rock. In the second episode of season three, "Believe in the Stars," the talk show queen sits next to Tina Fey's character on an airplane. Fey later enlists Oprah's help in settling an argument between two of her co-workers. 
During Winfrey's time on the set of 30 Rock, she made an observation about Fey's work habits. At that time, Fey had accepted an invitation to reprise her role as Sarah Palin on SNL — a show she hadn't been a cast member of for years.
She was running from one set to another, working around the clock. Winfrey was concerned for the ambitious star, telling Fey she may be overextending herself.