4 Celebrities Besides Jessica Simpson Who Have Opened up About Their Addictions
Jessica Simpson revealed an addiction in her forthcoming memoir, 'Open Book,' but she's not the only celebrity to open up. Ahead, discover others in Hollywood who have talked about their addictions.
Jessica Simpson isn't the only person in Hollywood with an addiction. Ahead, discover four other celebrities who have experienced addiction.
Jessica Simpson discusses addiction in new book
Simpson, who got her start in music and now focuses on her eponymous fashion brand, experienced sexual abuse beginning at the age of six from a family friend, she wrote in her upcoming memoir, Open Book, according to People. In the book due out Feb. 4, 2020, Simpson opened up about her having anxiety as a result of the abuse which eventually led to self-medicating. 
"I was killing myself with all the drinking and pills," Simpson wrote."Giving up the alcohol was easy. I was mad at that bottle. At how it allowed me to stay complacent and numb."
Simpson said recovery has been difficult — she's been sober since 2017 — but she's finally in a place where she's accepted herself. The mother of three is set to go on a book tour in Feb. 2020 following the launch of her memoir. 
Mathew Perry
Matthew Perry became addicted to prescription drugs following a skiing accident, the Friends actor told People in 2013.
"I felt better than I ever felt in my entire life. I had a big problem with pills and alcohol, and I couldn't stop. Eventually, things got so bad that I couldn't hide it, and then everybody knew."
After not only an addiction to Vicodin — a physician prescribed him the medication following the ski accident — but also to alcohol, Perry sought help. 

Demi Lovato
27-year-old singer Demi Lovato — who is set to sing the national anthem at the Super Bowl on Feb. 2 — has been open about her addiction to cocaine and other drugs. She relapsed in 2018 and had an accidental overdose. In the documentary, Simply Complicated, Lovato said at that time she "wasn't ready to get sober," according to Cosmopolitan.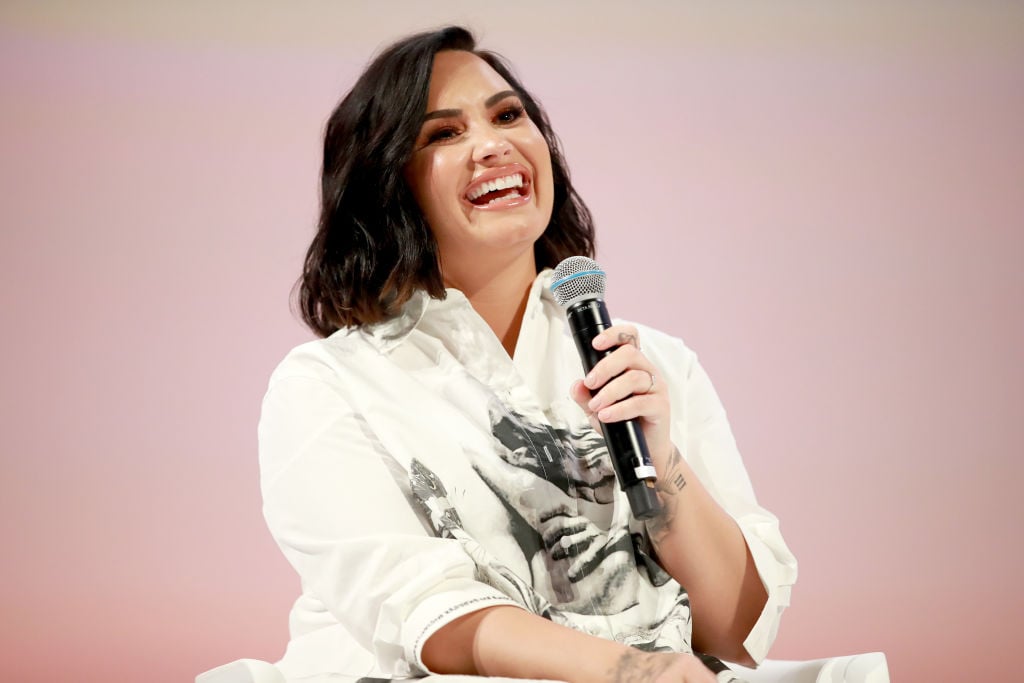 "I was sneaking [cocaine] on planes, I was sneaking it in bathrooms, sneaking it throughout the night… I went on a bender of like, two months, where I was using it daily," she said. 
Lovato has been open about her addiction and continues to discuss her sobriety during interviews and on social media.
Ben Affleck
The Oscar-winning actor took to Instagram in 2018 to share with fans he'd spent 40 days in a rehabilitation center for alcoholism. Prior to that stay, Affleck had sought treatment twice before; once in 2001 and again in 2017.
Growing up, Affleck saw his father deal with alcoholism. The actor once recalled during an interview he used to spend a good chunk of his early acting paychecks on pizza, video games, and beer.
His addiction also played a role in his divorce from ex-wife Jennifer Garner. The two waited to finalize their divorce — they were separated for three years before making the split official — so Affleck could focus on treatment.  
Fergie
Fergie of The Black Eyed Peas who is also a successful solo artist told Oprah Winfrey in 2012 on her show Next Chapter, she'd been addicted to drugs. She took ecstasy then graduated to crystal meth. 
"With any drugs, everything is great at the beginning, and then slowly your life starts to spiral down," Fergie said. [I was] 90 pounds at one point. What got me through it was a lot of therapy, soul searching, discovering why I took the drugs in the first place, because that's really what it is."
These are only a handful of celebrities who have opened up about addictions. Find out other famous people who are sober for a variety of reasons. 
How to get help: In the U.S., call the Substance Abuse and Mental Health Services Administration's national helpline at 1-800-662-4357.