4 'Jennifer's Body' References in Olivia Rodrigo's New 'Good 4 You' Music Video
If you thought Olivia Rodrigo's two previous songs were too sad breakup songs, well "Good 4 U" is the song that you need to belt your way through that heartbreak. It's definitely the anger stage of any breakup and she did not hold anything back. The song will be reminiscent of the pop-punk stage any …
If you thought Olivia Rodrigo's two previous songs were too sad breakup songs, well "Good 4 U" is the song that you need to belt your way through that heartbreak. It's definitely the anger stage of any breakup and she did not hold anything back. The song will be reminiscent of the pop-punk stage any millennial or Gen Z went through (or might even still be in) and it certainly suits Rodrigo very well. And her video holds heavy references to "Jennifer's Body." 
The 2009 horror film was a cult classic thanks to the mishandling of the marketing at the time and it not really doing well at the box office when it was released. But years later, it's been received in the way it was truly meant to be at the start. So here we are, in 2021, and Rodrigo is paying homage to the Megan Fox/Amanda Seyfried film in her third single for her upcoming debut album. And here are the references to Jennifer's Body in the video, with some other films sprinkled in there. 
1. Cheerleading
Cheerleading was a pretty big theme in a lot of coming of age films in the '90s and early 2000s. Honestly, it's a common trope in a lot of high school films; the uniforms in "Good 4 U" are exactly like the ones in "Princess Diaries" where Lana got coned. But for Jennifer's Body, Jennifer Check was the epitome of the hot, small-town cheerleader who everyone wanted to be, be with, or be seen with. 
The "Drivers License" singer not only portrays a cheerleader in this video, but when she's not in the pristine uniform, she's in low-waisted, pink, and girly attire that's akin to something Jennifer could've worn. It's definitely a little more on the preppier side, and Rodrigo is wearing clothing that's more in-line with Y2K fashion that's back in style now, but still. 
A popular TikTok edit shows why Rodrigo's persona in the video and her unhinged actions kinda goes hand-in-hand with the Jennifer's Body vibes. Not to mention, there's more. 
2. Olivia Rodrigo channeled Megan Fox's energy throughout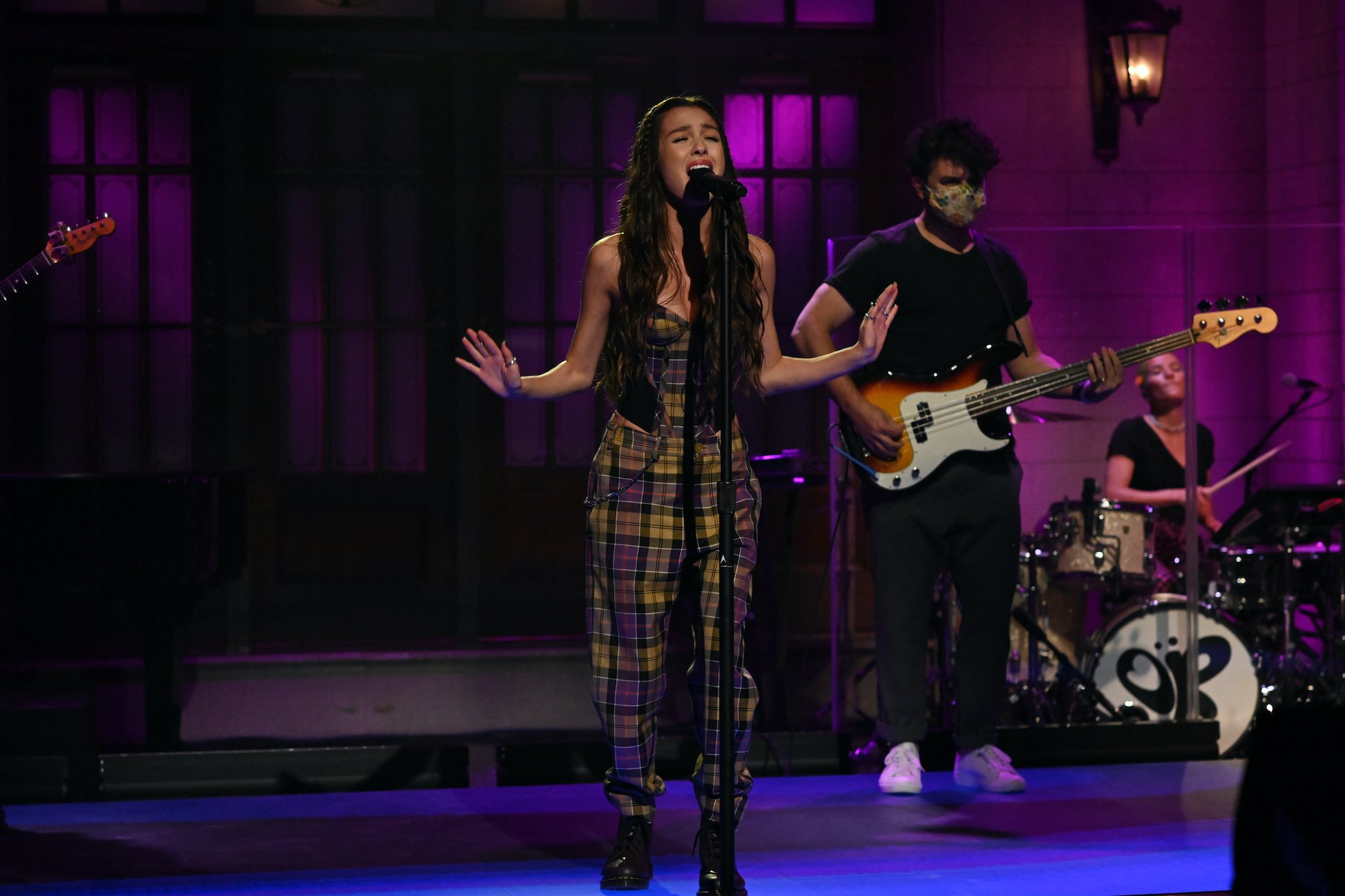 Going a little more into Rodrigo's demeanor throughout, the whole point of the song is from the perspective of someone who sees their ex moved on, while they're sitting here hurting like hell. So in a bout of rage, the song captures how angry they are that their ex is seemingly doing so well, as the chorus sings, "Well, good for you." 
While Jennifer Check didn't deal with this, exactly, she dealt with a really traumatic situation and was then turned into a pseudo-demon because of it. She's "killing boys" for sport and survival now, and gets angry at her situation later on in the movie. Sort of with the same attitude Rodrigo has in the video (at different levels of it, though). But with the way Rodrigo looks in mirrors, her glances, the deviousness? It's all very Megan Fox-esque. 
3. The lake shot
One of the most iconic shots from Jennifer's Body is the lake shot. After one particularly heinous kill behind the high school, Jennifer strips so she can swim across the lake undetected and so her blood-drenched clothes aren't found. The shot that everyone talks about — other than the "I am a god" scene — features her head peeping up out of the water as she bobs across the lake. 
At the end of the "Good 4 U" video, Rodrigo has a near-identical shot, but her eyes turn a bit red; interpret that how you will. But right before that, they also feature a nice pan over some trees, which is nicely reminiscent of the trees in Devil's Kettle, Minnesota. 
4. Not to mention, the fire, which appears in other movies too
Getting into an overall theme of this video — not just the song — and maybe why Jennifer's Body was chosen, is the narrative of a "Good for her" film. While Jennifer's Body doesn't end well for Jennifer or Needy (Seyfried), Jennifer does get revenge on the way she's perceived and lashes out after being brutalized. Is it misplaced anger? Maybe, but the energy is still there. Not to mention Needy does get revenge in the end, making the right viewer say, "Good for her,"
One TikTok user put a couple of other movies in there too that fall under this subgenre of films and that "Good 4 U" also emulates. There's Ready or Not, and Carrie in addition to Jennifer's Body. And all three films feature a scene that has a raging fire at some point. And what does "Good 4 U" have? A great pyrotechnic scene. Rodrigo is definitely on the side of crazed at this point, kind of in the vein of Carrie (since she's the one that set off the fire and death in the gym at prom). 
In all three films, the fire is a sign of death and something starting. All three main characters go through something traumatic, and it's not a happy thing, but as stated before, all three films could be seen as having "Good for her" moments. And with Rodrigo kicking her feelings for her ex to the curb once and for all, that might be what her listeners are supposed to feel too.