5 'Below Deck' Moments That Never Made The Show (Exclusive)
Below Deck producers shoot approximately 4,000 hours of footage that they need to compress and create a series of 20 shows.
Some of the funniest or craziest moments don't make it to air simply because there isn't enough time. But Showbiz Cheat Sheet recently acquired five exclusive moments from serial charter guest Charley Walters who shared some behind-the-scenes memories no one ever got to see.
Walters booked charters on seasons 5, 6, and 8. He offered snippets and juicy insights into other hijinks that occurred while he was on set.
Charley Walters crushed on deckhand Bruno Duarte
Walters dished about crushing on deckhand Bruno Duarte during season 5. "One of the storylines for this charter was me trying to finally get Bruno out of the closet," he shared in an email with Showbiz Cheat Sheet. "We had a fun 'date' onboard where he created a whole Bootcamp just for me (since this boat didn't have gym equipment), with all sorts of creative things like filling water bags for weights, etc. It was a crazy workout and where I really started crushing on him. A crush that took me all the way to Portugal a few months later!"  
Walters also shared that his group appeared to be upset with their charter, but said the huff was all in jest.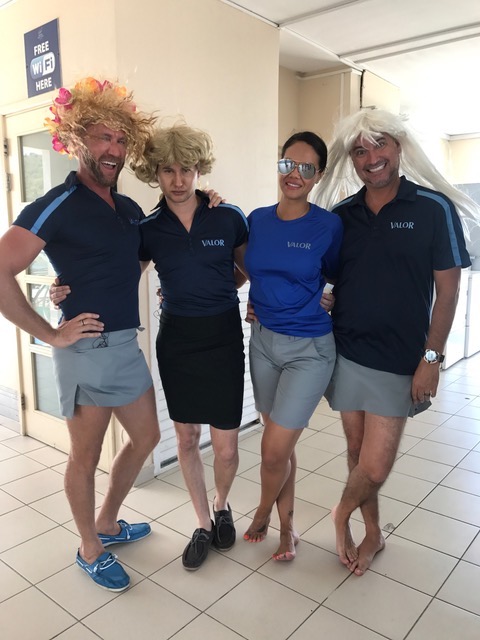 RELATED: 'Below Deck' Charter Guest Charley Walters Reveals If He's a Series Producer and What He Really Told the Crew (Exclusive)
"Viewers will remember an 'upset departure' from this charter where we appeared to leave in a fury. But we were actually joking to throw them off, and did a quick change into the crews' VALOR uniforms and some wigs we brought, and impersonated them all in drag!" he remarked.  "I was 'Baker Manning' accent and all. And our girlfriend Makela was Bruno! These are also the days where Kate refused to smile for pictures."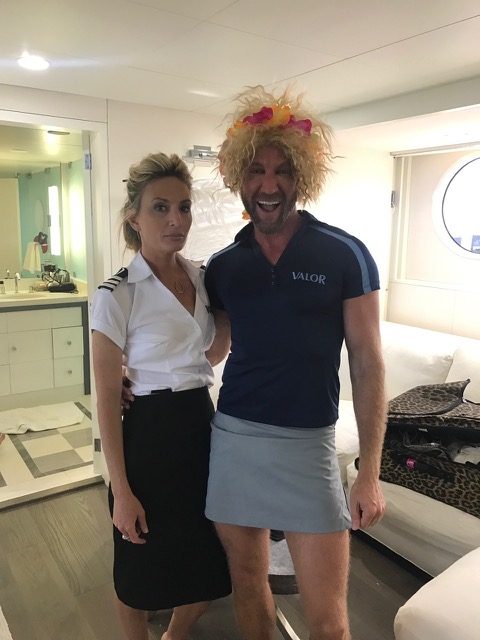 Rhylee Gerber and Kate Chastain to the rescue
Walters and friends infamously asked second stew Josiah Carter to wear a gold Speedo during season 6. But they also had another instance where another crew member dressed up for fun.
"Everyone knows Rhylee is no angel, but she does know how to bring the party," Walters dished about deckhand Rhylee Gerber. "When Captain Lee wasn't feeling well and we requested him for dinner, Rhylee came dressed as full captain complete with a sailor's mouth! We were all cracking up at her impersonation. Later that night, she poured us many of the 'sparkling unicorn shots' and encouraged us to go 'Olympic Synchronized Skinny-Dip Diving'!!"
RELATED: 'Below Deck' Charter Guest Charley Walters Was 'Disappointed' and Apologizes To Viewers
Walters also recounted a magical lunch chief stew Kate Chastain created for the guests. "One of my favorite excursions ever which was cut for time was Kate's 'Shells and Superheroes' lunch where we actually sat in the ocean and were served all sorts of Superhero related foods," he recalled. "We all went around with the crew and said what we wished our superpowers would be. Kate's was invisibility so she could magically bring us food and drinks without having anyone to make complaints to."
Viewers may have missed seeing this guest's best Britney Spears
Walters brought chaos as the first charter guest of season 8. While his group's demands overshadowed the charter, he shared that one of his friends did a hilarious standup routine that was cut.
RELATED: 'Below Deck': Captain Lee and Chef Rachel Refute Charley Walters' Claim That Producers Told Him To Be Demanding
"Given our Olympics theme, we tried to bring as diverse a group as possible, including Below Deck's first-ever transgender charter guest, Ashley Ryan," he shared. "Ashley is a comedian in Los Angeles, came to the dinner representing the country of a 'TRANSylvanian' Britney Spears, did a fun little comedy show at the International Dinner while we waited for the meal."