5 Netflix K-Dramas Premiering in February – Details, Cast, and More
Song Kang and Park Min-young will star in the Netflix K-drama 'Forecasting Love and Weather.' The streaming platform will also debut Nam Joo-hyuk and Kim Tae-ri's 'Twenty-Five Twenty-One.'
Netflix is debuting a handful of February Korean dramas as part of its plan to dominate K-content. Fans can look foward to riveting office romance starring the 'Son of Netflix' Song Kang and mature love stories of a group of female friends. February is every K-drama fan's dream come true as Netflix will cover everything, even a new tension-driven legal drama. Here is everything you need to know from premiere dates, the main cast, and synopsizes.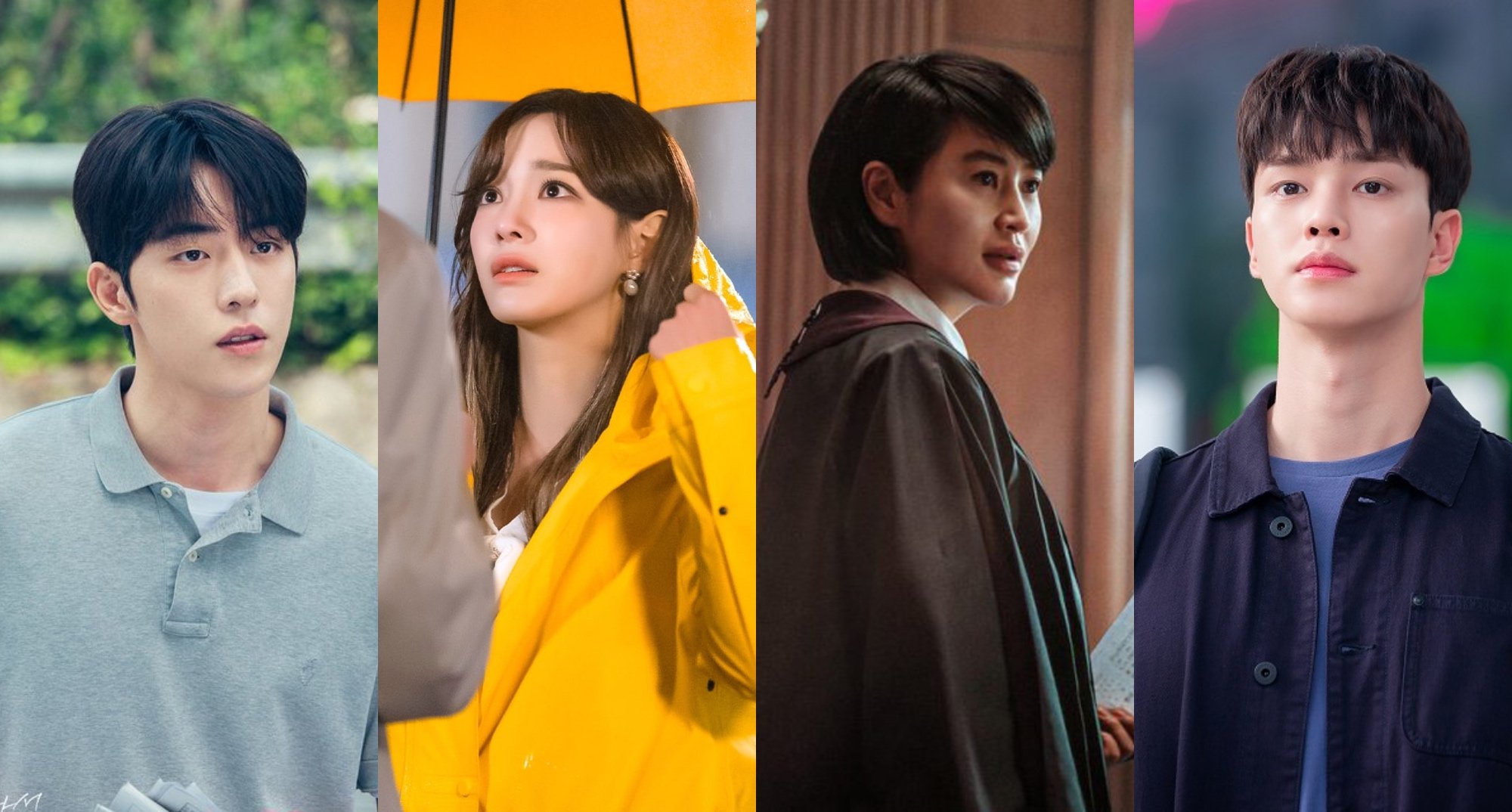 'Juvenile Justice' takes crime to a new level with youth offenders
Netflix's February K-drama Juvenile Offenders centers on a new type of criminal. The drama conveys how society treats and deals with juvenile criminals. Signal and Hyena star Kim Hye-soo plays the main character Shim Eun-seok.
Eun-seok is known for her cold demeanor and brute way of conducting justice. Her peers widely regard her for her dislike toward juvenile offenders. As the crime cases rise, she is appointed the juvenile court judge in the Yeonhwa District. She takes matters into her own hands. Eun-seok breaks away from the court's rules to administer her own punishment. Actor Kim stars alongside Kim Mu-yeol and Lee Sung-min in the main cast.
Juvenile Justice will air on Netflix on Feb. 25.
Netflix's 'Business Proposal' K-drama is a stereotypical unforeseen love story
K-drama fans love a good boss and employee romance story that goes off the rails and ends in an unexpected true love scenario. Netflix's February K-drama Business Proposal stars The Uncanny Counter actor Kim Se-jeong as Shin Ha-ri. Ha-ri is single and has had a long-time crush on her male friend. But when she learns he has a girlfriend, her hopes are depleted.
She meets with her friend, a chaebol heiress, to let off some steam. Her friend convinces Ha-ri to take her place on a blind date. Ha-ri has full intentions to make the possible suitor reject her but is dumbfounded to learn the date is with her boss Kang Tae-mu. The male lead is played by actor Ahn Hyo-seop, who fans recognize from Lovers of the Red Sky.
Tae-mu is furious to learn of the blind date set up by his grandfather. To get his family off his back about marriage, he vows to marry the next woman he sees. It happens to be Ha-ri posing as an heiress.
Business Proposal will air on Netflix on Feb. 28.
Actor Son Ye-jin stars in Netflix's February K-drama 'Thirty Nine'
There are high hopes for Netflix's Thirty Nine K-drama. The K-drama tells the story of three lifelong friends who met sophomore year of high school. Crash Landing on You actor Son Ye-jin stars as Cha Mi-jo alongside Hospital Playlist's Jeon Mi-do as Jeong Chan-young. Actor Kim Ji-hyun stars as Jang Joo-hee.
Thirty Nine centers on Ye-jin, a dermatologist, Mi-jo, an acting coach, and Joo-hee, a cosmetics manager, as they navigate through life as they get closer to their 40s. They go through everything together as they deal with grief, love interests, and personal dilemmas as best friends.
Thirty Nine will air on Netflix on Feb. 16.
'Twenty-Five Twenty-One' K-drama takes place from 1998 to 2021
The upcoming February Netflix K-drama focuses on five main characters with its main love story between Na Hee-do and Baek Yi-jin. Twenty-Five Twenty-One stars The Bride of Habaek and Start-Up actor Nam Joo-hyuk as Yi-jin. Nam is joined by actor Kim Tae-ri, who starred in the acclaimed period drama Mr. Sunshine.
Starting in 1998, the financial crisis forced Yi-jin's father's business to go bankrupt. Yi-jin goes from living a privileged life to a poor one. Hee-do is a fencing prodigy. When the crisis hits her school, the team is disbanded. Both characters go through tough times, but Hee-do joins the sabre fencing national team and Yi-jin, a sports reporter.
Actors Nam and Kim are joined by Bona as Go Yoo-rim, Lee Joo-myung as Ji Seung-wan, and Choi Hyun-wook as Moon Ji-woong.
Twenty-Five Twenty-One will air on Netflix on Feb. 12.
Netflix's 'Forecasting Love and Weather' is an age-gap office romance K-drama
Fans of Song Kang get to see him in his first office K-drama role. Forecasting Love and Weather is not Kang's first Netflix K-drama, having starred in Nevertheless, Navillera, and Sweet Home. He stars alongside What's Wrong with Secretary Kim? actor Park Min-young.
Forecasting Love and Weather depicts the lives of weather forecasters and employees at the Korea Meteorological Administration. As the employees keep their eye on the weather and its unforeseen chaos, the office has a brewing romance. Lee Shi-woo (Kang) is a bright and loveable character who boasts about his high IQ.
He is the opposite of Jin Ha-kyung, the general forecaster of the 2nd Division. She is serious, dedicated to her work, and aloof. The two characters clash at work, but Shi-woo falls in love with Ha-kyung and is not afraid of his feelings. Meanwhile, Ha-kyung is hesitant to pursue an office romance with an age gap.
Forecasting Love and Weather will air on Netflix on Feb. 12.