5 Projects Sarah Michelle Gellar and Freddie Prinze Jr. Acted In Together, Even Though They Probably Won't Do It Again Soon
Sarah Michelle Gellar and Freddie Prinze Jr. have been married almost 18 years. They've worked together several times, but probably won't again for a while.
One of Hollywood's best power couples is Sarah Michelle Gellar and Freddie Prinze Jr. They've been married for nearly 18 years, have two kids, and lead a pretty chill life, as seen on their Instagrams. 
They've separately found success in different areas. For Gellar, she's known for All My Children, her role as Buffy on Buffy the Vampire Slayer, and her role as Kathryn Merteuil in the cult classic Cruel Intentions. And Prinze starred as the teen heartthrob in She's All That, along with a lot of TV shows including his own, Freddie, and Star Wars Rebels. 
But they've also worked together several time, which is actually how they met.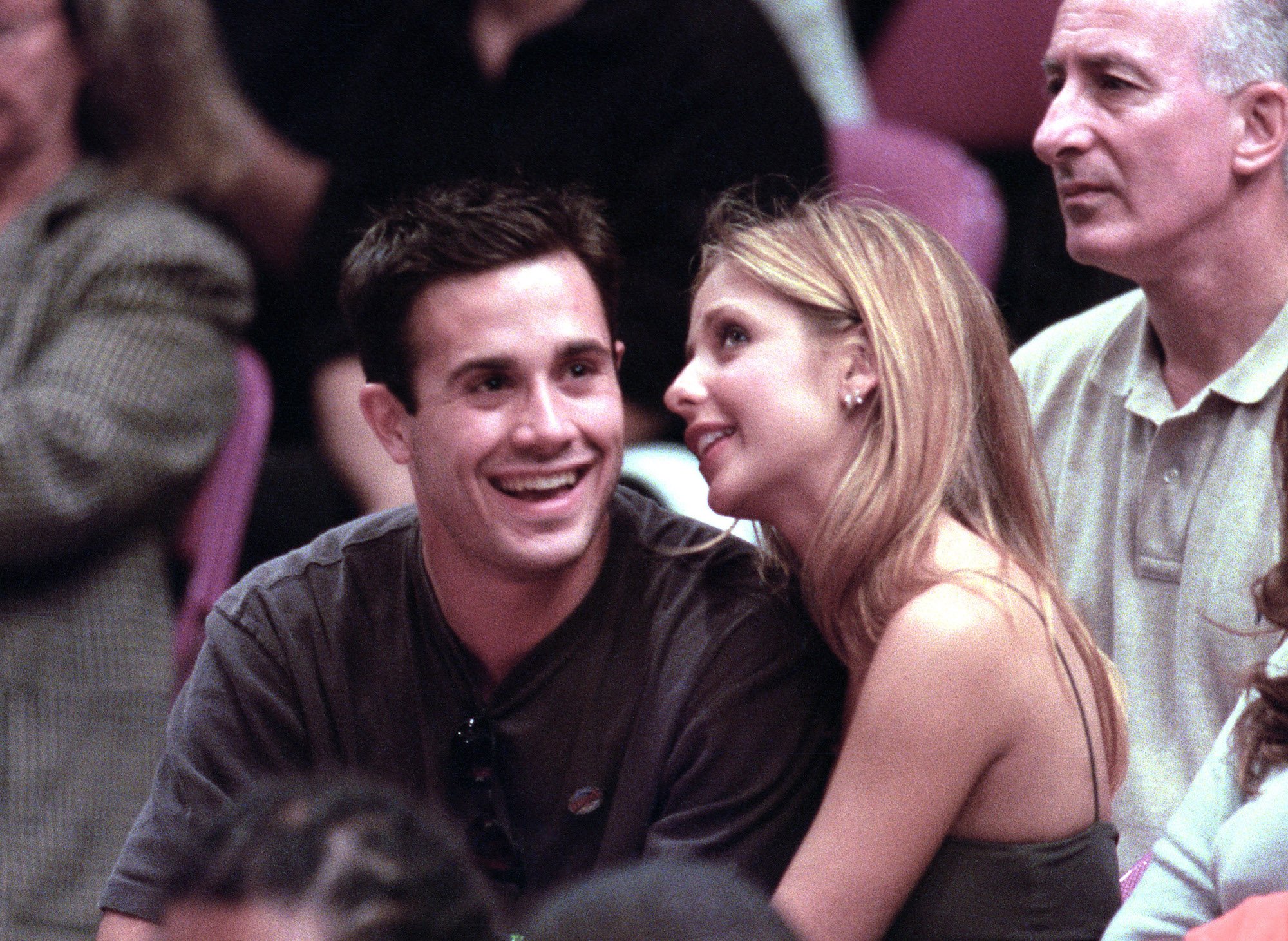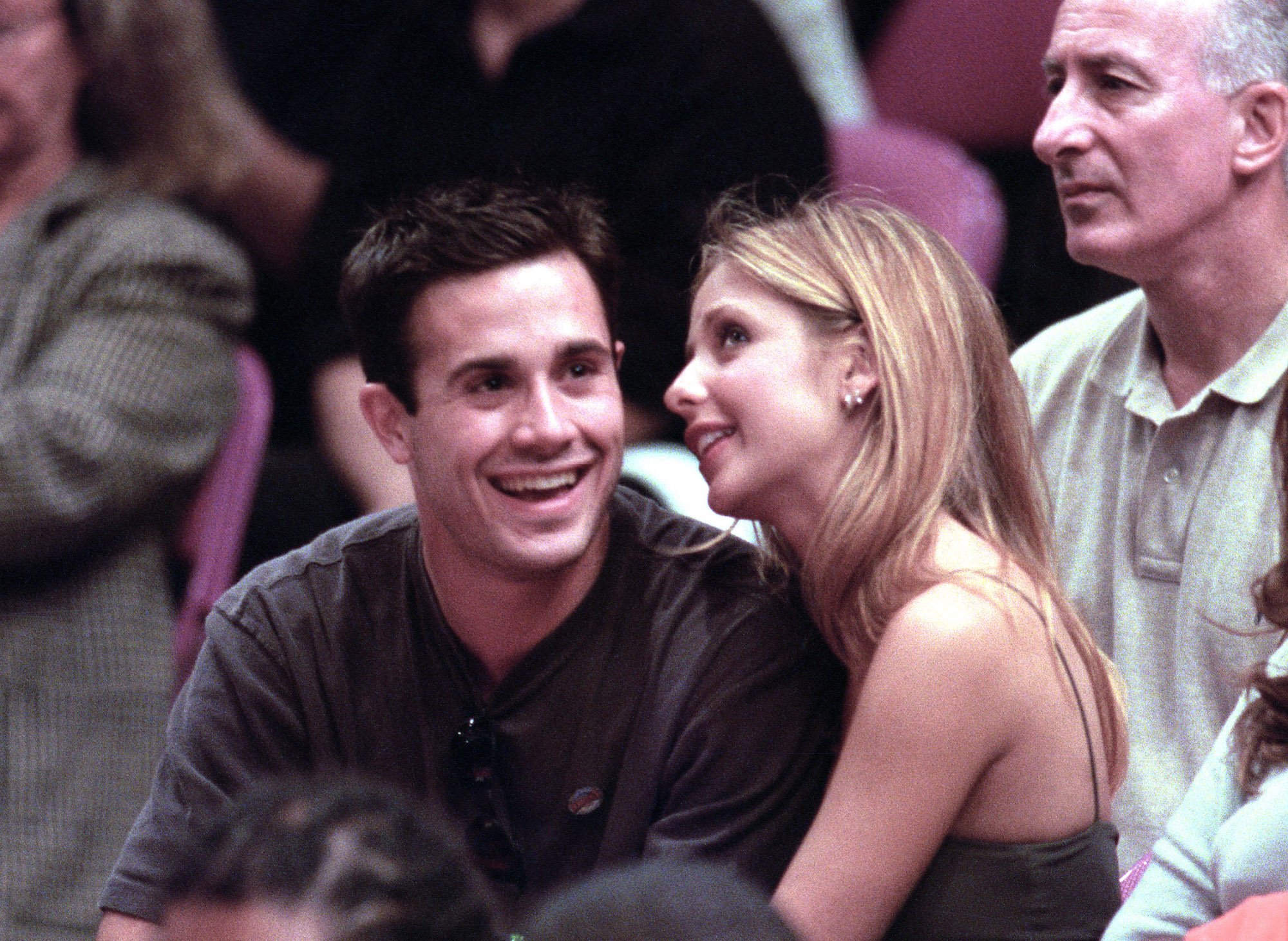 1. 'I Know What You Did Last Summer'
I Know What You Did Last Summer is one of the most iconic horror films of all time, and had a ton of pop-cultural impact as well. The 1997 slasher film is also where Gellar and Prinze met. Their characters aren't together a ton in the movie. But at that time, they became really good friends, thanks to Prinze driving with Gellar as they filmed, since she didn't have her license. It wasn't until later that they actually gave dating a try, and the rest is history. 
2. 'Happily N'Ever After'
This 2006 CGI-animated film starred Gellar as Ella (a version of Cinderella) and Prinze as Rick. The movie is a different retelling of classic fairytales, where Ella's evil stepmother tries to intervene and change Ella's fairytale ending. It's cute, and Gellar and Prinze's characters fall in love in a very non-conventional storybook ending.  
3. 'Scooby-Doo' and 'Scooby-Doo; Monster's Unleashed'
Probably one of Gellar and Prinze's most famous movies together, the two live-action Scooby-Doo movies feature the two as a perfect Daphne and Fred. They really embody the classic Hanna-Barbera characters in a fun, early 2000s way. It's also fun to see their dynamic as a couple in the movies, as they were a real-life husband and wife too. 
4. 'Robot Chicken'
Both Gellar and Prinze are friends with Seth Green, co-creator, and executive producer of Robot Chicken, and they've both appeared in the show. Gellar more often than Prinze, but the two of them did parody skits of Scooby-Doo, with the rest of the cast from the 2002 live-action movie (Matthew Lillard and Linda Cardellini). They reprised their roles in a very non-PG way, which makes it that much funnier. 
5. 'Star Wars Rebels'
Their latest project together was on the Disney XD show Star Wars Rebels. Prinze had a starring role from the beginning as Jedi master Kanan Jarrus. And then Gellar came on the show as Seventh Sister, one of the Inquisitors that reports back the Empire and Darth Vader. 
BONUS: 'She's All That' 
A bonus project is the rom-com She's All That, which Prinze starred in as Zack Siler. Gellar made a cameo in one of the lunchroom scenes, as another high schooler. She looks like she came right off Season 2 or 3 of Buffy. 
But, don't expect them to act together anytime soon
However, even though they've made some great movies and shows in the past, they're not planning on working together again. At least not in the near future.  
"No, [we would never do another movie together]," Gellar told Us Weekly in October. "Right now, we don't work at the same time anyways. So, now, it would never happen."
But she didn't put it off forever, saying to "never say never" about possibly appearing alongside one another again.
"There's gonna be a time when [the kids are] grown and they're out of the house," she said. "But right now, we commit to one of us being home. So, when our daughter fractures her hand and needs a cast, there is a parent there while this parent is sitting here with you."
Whatever they choose, it seems like they have it all figured out and have a pretty good system going.