5 'Seinfeld' Characters Who Annoyed Jerry the Most and Where They Are Now
Jerry Seinfeld had a lot of annoying people in his life on 'Seinfeld'. Here's a few of them and an update as to where the stars are now.
Jerry Seinfeld made a living out of standup routines that referenced everyday scenarios and everyday people he encountered. The comic's stylings became a part of the 1990s sitcom, Seinfeld. A few of the characters that annoyed Jerry became as much a part of the show than the main cast. Here's what a few of them have been up to since their time on Seinfeld.
Poppy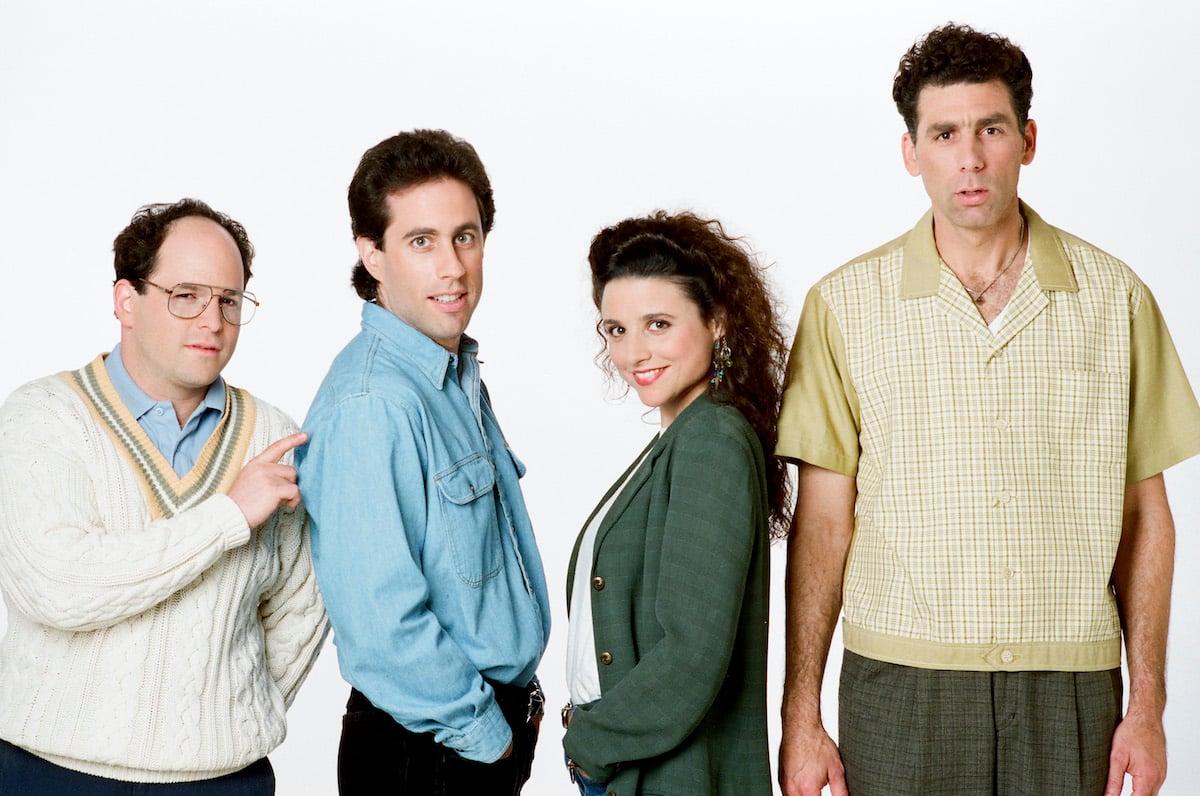 In 1994, Seinfeld's episode "The Pie" featured Jerry's girlfriend, Audrey — who wouldn't try a bite of his apple pie — and her father, Poppy, played by Reni Santoni. Jerry runs into Poppy in the bathroom and notices he doesn't wash his hands, then proceeds to kneed the pizza dough Jerry and Audrey ordered to eat.
When Jerry refuses to try the pizza, Audrey thinks Jerry is doing it as a form of revenge when she refused to try the pie. He later discovers Audrey ate pie from the same place she refused it from Jerry. When he goes to Poppy's to tell her off, a health inspector is there to shut down the restaurant. The incident is said to be based on true events, as Seinfeld spoke about in his standup.
Santoni appeared in four episodes of Seinfeld, becoming one of Jerry's biggest annoyances when Poppy peen on Jerry's couch. The actor — who played Clint Eastwood's partner in Dirty Harry — died in August 2020 at the age of 81.
"He had been sick for quite a while," close friend and TV producer Tracy Newman said via Deadline. "Those of you who knew him know how funny he was, what a terrific actor, improviser, performer, etc. So brilliant. I loved him very much and will miss him terribly. Another great one is gone. I have a lot of wonderful pictures of him, and will post them over the next week. My heart goes out to his son, Nick, who has been such a comfort to Reni over that past five years or more."
Kenny Bania
Many remember Kenny Bania — played by Steve Hytner — who offered Jerry an Armani suit with "no strings attached." However, that turned out not to be true as Bania, who was also a comedian that looked up to Jerry, decided Jerry owed him dinner in exchange for the suit.
Naturally, Jerry offers "soup," in which Bania replies, "soup's not a meal." The conversation is one that lives in TV history, cementing Hytner as one of Jerry's most-hated supporting characters.
In real life, Hytner does standup and still refers to his memorable character and time on the set. The actor has made a living in other projects such as The Goldbergs, Silicon Valley, and even Seinfeld co-creator Larry David's show, Curb Your Enthusiasm as himself.
Newman
We'd be remiss not to include mail carrier, Newman, played by Wayne Knight as one of Jerry's least favorite people. For reasons unknown, Newman is the villain to Jerry's heroism.
Knight may be most remembered for his role as Newman (from 1991-1998), but he also held recurring roles in a few other notable shows and films such as 3rd Rock From the Sun, the Toy Story franchise, Jurassic Park, and many more. The point is, he's more than Newman and his more than 40 years of credits are proof.
Joe Davola
The character of "Crazy Joe Davaola" is based on a real man, though portrayed by actor Peter Crombie. On Seinfeld, Joe develops such a strong dislike for Jerry, he ends up stalking him. His pathological tendencies put him in five episodes between 1992-1993.
The real Davola is a TV producer and longtime friend of David's. Though many assume he is the character, Jennifer Keishin Armstrong wrote in her book Seinfeldia that he not only knew how the character would be portrayed, he received the scripts ahead of time and signed off on them.
Crombie had less than two dozen credits after his Seinfeld fame, with his last project, Threshold, in 2006. It's unknown what he's been up to since as the actor has little social media presence.
The Soup Nazi
The terminology for "The Soup Nazi" may not be politically correct in today's climate, but in the '90s, the character became synonymous with a real New York soup kitchen, owned by Al "Ali" Yeganeh (who vehemently condemned the association).
Actor Larry Thomas played the role of Yev Kessem and didn't realize he was based on a real man. However, in the time since, Thomas has become the face of The Original Soupman.
The company "Soupman" filed for bankruptcy in 2017 and has since rebranded. As for Thomas, he's been acting for decades but his role on Seinfeld is his most recognizable and he's cashing in on it to this day.
According to The Hollywood Reporter, Seinfeld told the former bail-bondsman "the meaner the better." From there, the Emmy-nominated actor made "The Soup Nazi" his alter ego.