50 Cent's Next TV Show Will Be All About Snoop Dogg's Murder Case
Curtis "50 Cent" Jackson has made a name for himself in the TV industry. His next show "Murder Is The Cast" will focus on rapper Snoop Dogg's 1993 murder trial
Curtis "50 Cent" Jackson has a TV empire. Though the Queens-born rapper began his career in music. He has taken on the TV industry fearlessly. On Starz alone, 50 Cent executive produces the Power Universe which includes Power Book II: Ghost, Power Book III: Raising Kanan, Power Book IV: Force, and Power Book V: Influence. His freshman series BMF also has a massive fan base and will return for season 2.
Now 50 Cent says his next show will be based on Snopp Dogg's murder case.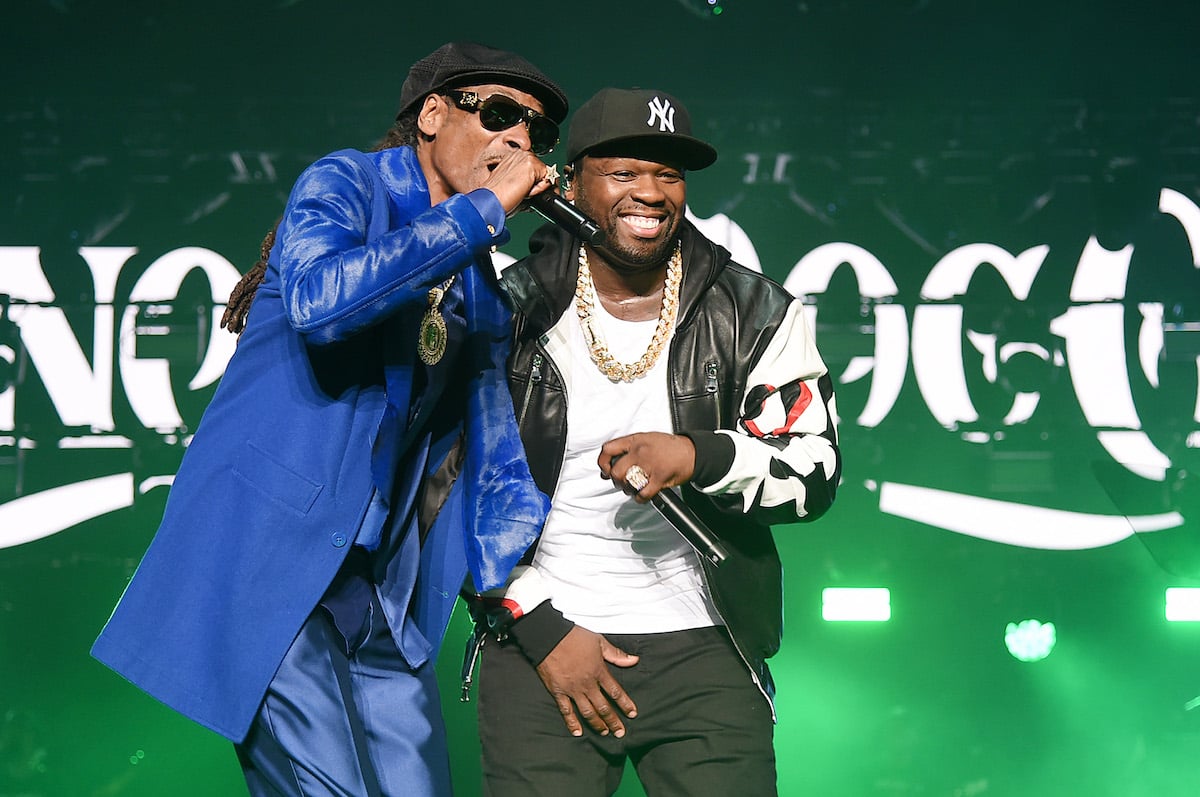 50 Cent says he knows why his TV shows do so well
From For Life to the Power Universe, 50 Cent's TV empire is thriving across various networks. Though many people may have underestimated the Queens-born rapper at first, he has perfected the formula for good TV. "When they start to say diversity when you see these projects hit the bullseye and its targeted audience is watching… like when Power went number one with African Americans and Latinos and the universe continues that success, it says you don't have to have that cookie-cutter mentality that Hollywood has had," he told CNN. "It's exciting because things are shifting and changing," he added. "By the time they see what I did here with BMF, [Hollywood] will be impressed. I've got the cheat code."
In addition to diverse storytelling, 50 Cent also knows how to market his shows and keep his audience engaged.
50 Cent's next TV show will be about Snoop Dogg's murder case
With BMF going off the air until next season and Power Book II: Ghost Season 2 on the horizon, 50 Cent has his plate full. However, he's ready to start on his next project. The TV mogul explained that his next show is going to focus on the 1993 murder trial of rapper Snoop Dogg. The rappers have been close for years, and Snopp even guest stars on BMF.
"I'm afraid this is going to be a problem for everything on Tv," he tweeted. "A moment in time ( MURDER WAS THE CASE ) when the dream you have been wishing for feels like a nightmare. You think you know you have no idea. @snoopdogg story is crazy. BOOMGreen Light Gang. I DON'T MISS."
Snoop Dogg was acquitted of murder in 1996, but it looks like 50 Cent is ready to bring Murder Was the Case to life.
Will 50 Cent buy Starz network?
Though 50 Cent has been in partnership with Starz since he became an executive producer on Power in 2014, it has not always been a smooth relationship. In the past, the rapper/actor/director has expressed frustration with his pay. More recently he's even talked about exiting the partnership. In the summer of 2021 ahead of the premiere of Power Book II: Raising Kanan he shared his thoughts on social media. "STARZ is upset i posted @patinamiller (smh emoji) I didn't know that picture wasn't out, but i do know i have to build faster and get the f*ck outta here this sh*t is a mess," he shared on Instagram.
Now, after Starz accidentally leaked BMF episode 107 one week ahead of its official release, 50 Cent has spoken out about buying the network.
"WTF is this, ​🤷🏽‍♂️ No Raising Kanan, No BMF, what do you think made their stock jump," he shared. "I gave them two hits back to back Smh ​😆these people be crazy, smart as hell but no common sense." He then added, "I'm gonna look into buying the STARZ network."
We will see how it all pans out when the rapper's $150 million deal with the network comes to an end in 2022.