6 YouTube Channels With Great Easter Cocktail Recipes To Make In Quarantine
Since most of us are spending Easter 2020 in lockdown, we might as well enjoy a springtime cocktail or two, right?
These YouTube channels will give you some Easter cocktail inspiration for drinks you can whip up in quarantine. There's no reason the coronavirus outbreak should mean you can't have any holiday cheer at Easter brunch or dinner.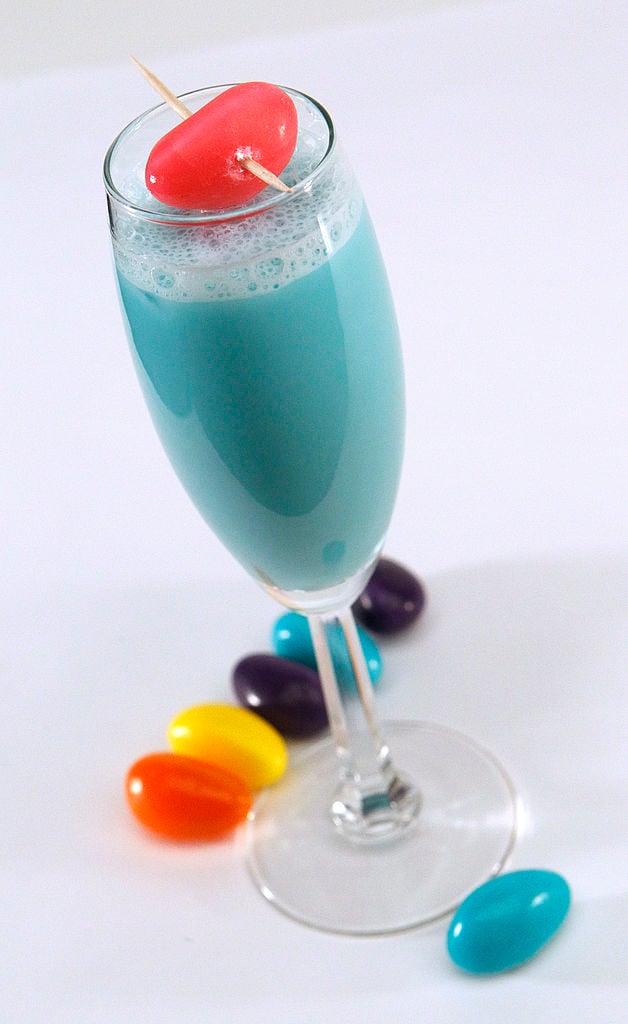 Bar Talk & Cocktails
On Bar Talk & Cocktails, you'll find themed, improvised drinks and some of the most creative cocktails on YouTube.
There are several festive Easter drink recipes on this channel, ranging from the layered Cottontail Shooter (with whipped cream, Irish Mist, Irish cream, and crème de cacao dark) to the Creamy Bunny Cocktail, with coconut rum, a splash of Advocat, a chocolate granola rim, and a Cadbury crème egg. The original Br'er Rabbit Cocktail pairs vodka, Cointreau, and Advocat with orange juice, carrot juice, lemon, and a cherry.
Tipsy Bartender
The ultra-popular Tipsy Bartender channel has creative ideas for Easter cocktails that you won't find anywhere else.
Try vodka slushies in painted Easter egg shells for something boozy and festive with your fellow quarantine buddies, or drop jelly beans into the bottom of a blue and white Easter egg martini for garnish. You can also make easy Easter shooters, like crème egg shots or boozy Easter bunny shots that you can drink straight out of a chocolate bunny.
Mr. Fredenza
Mr. Fredenza hosts craft cocktail how-to sessions from his own bar, so there's a homey feel to his videos. If you want to make a variety of springtime cocktails during Easter or throughout the self-isolation period, these five Easter drink recipes are a good start.
The drink "menu" on this YouTube channel includes a Cadbury Egg Cream cocktail, the Peep Show (with vanilla vodka, Chambord, and condensed milk), the classic Easter Egg, a fruity Southern Delight, and a refreshing Jelly Bean (with banana and pineapple flavors).
Common Man Cocktails
The Common Man Cocktails YouTube channel is all about helping home bartenders make craft cocktails—a perfect fit for coronavirus quarantine. Nothing could be more of a classic Easter treat than a Peeps marshmallow bunny, so this channel's Liquid Peeps shooter idea (with vanilla schnapps and whipped vodka) is perfect for day drinking or pre-gaming before a big Easter dinner.
Drinks Made Easy
On Drinks Made Easy, you can make a drink right along with the host bartenders in real time. Chocolate syrup and heavy cream make their Easter Cadbury Crème egg martini extra-special. This holiday drink is perfect to pair with Easter brunch, lunch, or dinner for an adults-only chocolatey sugar rush.
DrinkLab Cocktail Recipes
DrinkLab Cocktail Recipes' YouTube channel is chock-full of festive, zany, and creative holiday drink recipes. With cream, Irish Cream, caramel or chocolate liqueur, chocolate eggs, and a giant chocolate Easter bunny, you can make quite the splash on social media (even during the coronavirus outbreak!) on Easter morning with the Chocolate Caramel Cream Easter Egg Cocktail.
Or, if you're having an Easter quarantine party and want to get in a rowdier mood, you can try your hand at crafting DrinkLab Cocktail Recipes' Easter Egg Jello Shots. You'll only need chocolate eggs, hot water, vodka, and a Jello packet.