7 Dave Chappelle Comedies You Can Watch on Netflix Right Now
Dave Chappelle is a comedy giant whose talent to observe and connect real-life situations with humor is unmatched. Netflix Is a Joke recently released a 27-minute set called 8:46, in which Chappelle addresses George Floyd's death and makes a powerful statement about the need for justice.
In every stand-up set he does, the comedian brilliantly contextualizes race and humanity in such a way, that it doesn't just make his audiences laugh, it makes them think as well.  So, if you're looking for more of Chappelle's insightful comedy, here are seven titles you can add to your Netflix queue right now.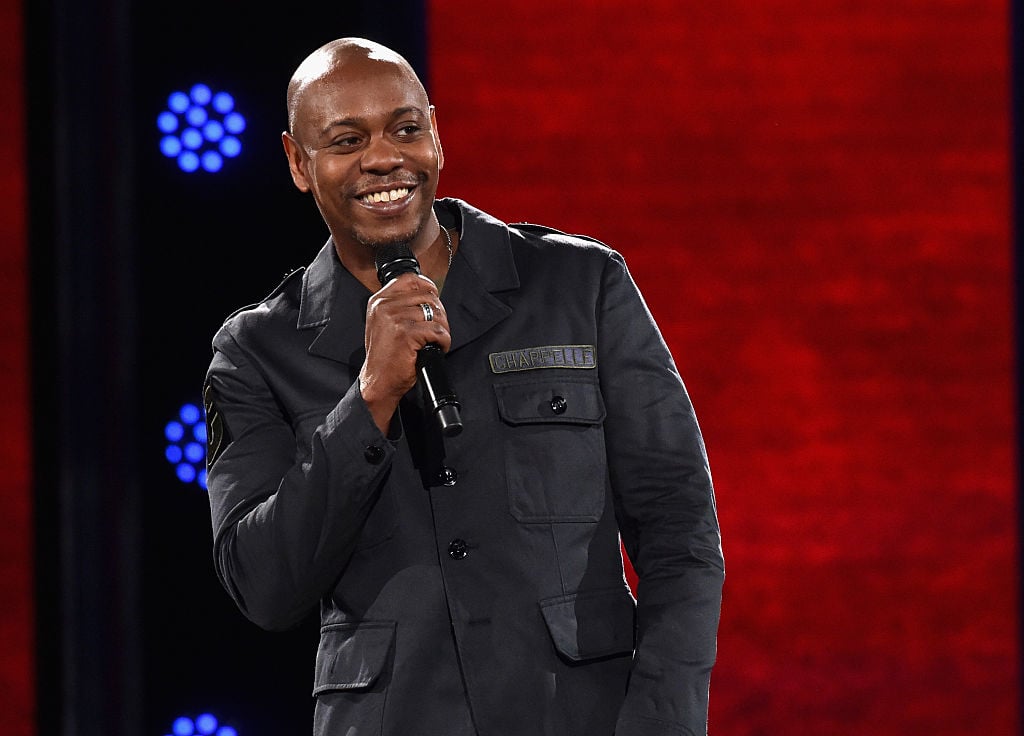 'Screwed'
In the 2000 film, Screwed, Dave Chappelle and Norm Macdonald play Rusty and Willard, two best friends who plan to steal their boss's dog for revenge. The movie also stars Danny DeVito, Sarah Silverman, Sherman Helmsley, and Elaine Stritch. 
'The Age of Spin: Dave Chappelle Live at The Hollywood Palladium'
After 10 years away from comedy, Dave Chappelle returned with a two-part comedy special for Netflix. The first part, The Age of Spin: Dave Chappelle Live at The Hollywood Palladium was filmed in Los Angeles in March 2016. During his set, Chappelle talks about skipping out on a philanthropic event to attend the Oscars with Chris Rock, and his friendship with Kevin Hart. 
'Deep in the Heart of Texas: Dave Chappelle Live at Austin City Limits'
The second part of his Netflix special, Deep in the Heart of Texas: Dave Chappelle Live at Austin City Limits was filmed in Austin, Texas in April 2015. In his set, Chappelle talks about being the target of a racist assault, Ebola, and his family.
RELATED: Dave Chappelle Calls Candace Owens 'The Worst' in New Set About George Floyd, Here's Her Response
'Equanimity' and 'The Bird Revelation'
Chappelle's third and fourth Netflix specials, Equanimity and The Bird Revelation were released together on Netflix in 2017.  Equanimity was filmed at the Warner Theater in Washington, D.C. in September 2017. And The Bird Revelation was filmed a month later at The Comedy Store in LA.
During his sets, Chappelle addresses the election of Donald Trump, growing up poor, and the growing culture of intolerance.
'Def Comedy Jam 25'
In 2017, dozens of comedy giants came together to commemorate the 25th anniversary of Def Comedy Jam. The star-studded special included appearances by Steve Harvey, Cedric the Entertainer, and Tiffany Haddish. 
With commentary by comedians like Trevor Noah, Kevin Hart, Tracey Morgan, the special highlights all the black stand-up legends who came through Russell Simmons' Def Comedy Jam stage. Clips from sets of comics like Martin Lawrence, Chris Tucker, and Bernie Mac appear throughout the one-hour event.
But it's at the 56-minute mark where the special takes an unexpected, yet brilliant turn. As D.L. Hughley and Dave Chappelle step on stage to talk about "being Black in America," they are cut off by upbeat music. Rather than pretend as if nothing happened, Chappelle outright makes fun of the moment.
Then, the two comics go off-script and end up riffing with the audience for 10 straight minutes. With all the comedic energy in the room, this raw, improvised moment by Chappelle could easily be one of his funniest ever.
'Dave Chappelle: Sticks & Stones' 
Chappelle's Netflix special, Sticks & Stones, was filmed at the Tabernacle concert hall in downtown Atlanta in 2019. His controversial set includes commentary about the Michael Jackson and R. Kelly scandals and addresses this new age of cancel culture.
'The Kennedy Center Mark Twain Prize for American Humor' tribute special
In 2019, Dave Chappelle received one of the highest honors a comedian can get. He was awarded the Mark Twain Prize for American Humor at the Kennedy Center. 
Many of Chappelle's friends, family, and colleagues were in attendance. And comedians like John Stewart, Neil Brennan, and Sarah Silverman all took the stage to honor their friend and talk about his life and contribution to comedy. 
After being honored, Chappelle gets on stage to discusses his life in comedy. The special also features clips from a private stand-up set he did for his closest friends the night before receiving the honor.