7 Dolly Parton Songs To Help You Relax and Be a Bit Happier Because That's What She Inspires
Dolly Parton is a national treasure. She's been making some of the best music for decades and continues to brighten people's days with not just her songs, but her personality. Her smile and sayings completely fill the hearts of many, and her good deeds are the perfect cherry on top as well. 
With the coronavirus, COVID-19 pandemic going on right now, Dolly Parton is leading the charge of how celebrities should respond to the crisis. For one, she's hosting a weekly book reading every Thursday as "a welcome distraction during a time of unrest and also inspire a love of reading and books," NPR reported. 
On top of that, she's donating $1 million to COVID-19 vaccine research. "My longtime friend Dr. Naji Abumrad, who's been involved in research at Vanderbilt for many years, informed me that they were making some exciting advancements towards that research of the coronavirus for a cure," she wrote on Instagram. "I am making a donation of $1 million to Vanderbilt towards that research and to encourage people that can afford it to make donations."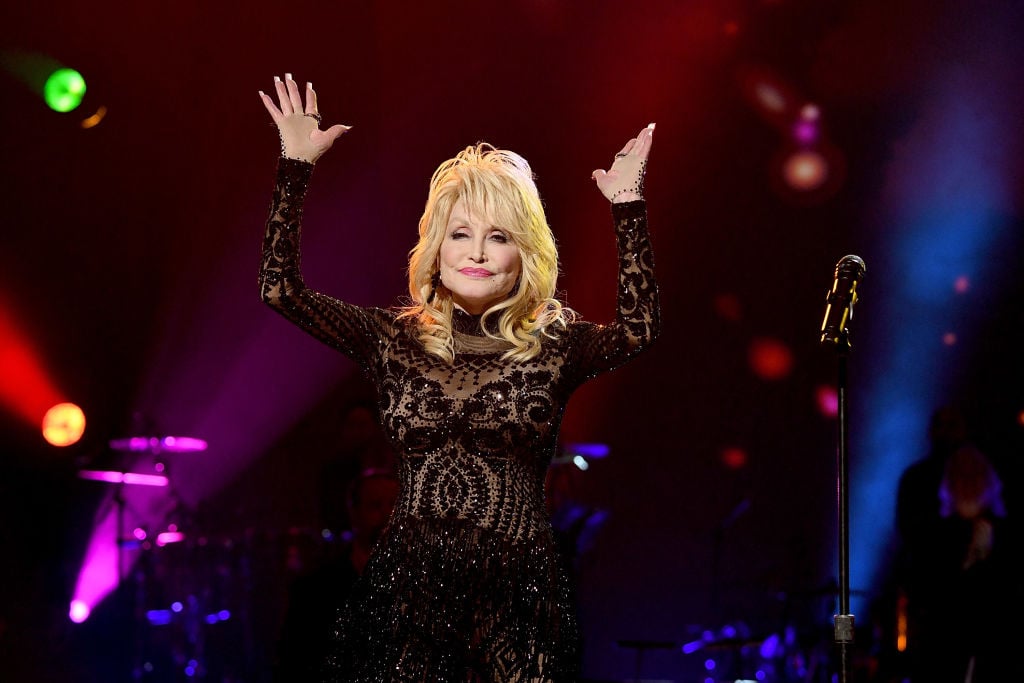 To honor the Queen of Country, and our hearts, here are 7 songs that'll hit your Dolly Parton needs right now.
1. "9 to 5"
You can't have a Dolly Parton playlist without having "9 to 5" on there. She wrote it for the '80s comedy she starred in of the same name and is all about how you have to work to live no matter what. And mostly, it talks about the downsides of a 9 to 5. But with Parton's sweet voice and lively beat, it's a great song for many occasions. 
2. "I Will Always Love You"
Did you know Dolly Parton wrote "I Will Always Love You"? Yep! Before Whitney Houston added her legendary vocals to it, the Queen of Country had it. And both versions so vastly different. Parton's is slower and acoustic so it's very much a somber ballad. 
3. "Jolene"
Another very popular Dolly song, "Jolene" never gets old. She's begging this woman to step off of her man, saying she can't compete with Jolene's beauty. But as she says in the beginning of this video, she didn't take it quite so passively in real life. 
4. "Here You Come Again"
Nearly every song Dolly put out became a classic. "Here You Come Again" is the epitome of what a Dolly Parton song is: it's happy-sounding, has clever lyrics, and puts her lovely vocals on display. Parton actually dove into pop with this one, other than her usual country, and became her first pop chart hit. 
5. "Dumb Blonde"
"Dumb Blonde" is a song from Dolly Parton's early days and was the first song of hers to chart on the Billboard Hot Country Singles chart, at 24th. It's another that's so very memorable and very Dolly; it's catchy and has her sass infused in there. Plus, diverting the whole "dumb blonde" stereotype is something she does often. She famously said, "I'm not offended by dumb blonde jokes because I know that I'm not dumb. I also know that I'm not a blonde." Queen indeed.
6. "Island in the Streams"
This song from the '80s was a duet with Kenny Rogers, who recently passed away. It went straight to number 1 on the charts and is still loved by many today. When Rogers passed on March 21, Parton shared a touching video post on Instagram. "You never know how much you love somebody until they're gone," she wrote in the caption. "I've had so many wonderful years and wonderful times with my friend Kenny, but above all the music and the success I loved him as a wonderful man and a true friend."
7. "Coat of Many Colors"
Finally, "Coat of Many Colors" features Dolly Parton's guitar skills in a tranquil, pleasant song that is one of her biggest hits. It's such an endearing song about her childhood, and she's even said that it's her favorite song that she's ever done. The idea of a coat of many colors comes from Joseph, in the Bible, who also had a technicolor coat. It was made of rags, so children made fun of it. But it didn't matter to her in the end. "One is only poor, only if they choose to be. Now I know we had no money, but I was rich as I could be. In my coat of many colors, my momma made for me."