7 Moments That Made Naya Rivera's Santana an Iconic LGBTQ Character on 'Glee'
Glee had a lot of issues; that is nearly a fact. But it also gave us characters with so much heart. And with Naya Rivera's Santana, the show gave LGBTQ youth so much more. There really wasn't — and still isn't — a lot of gay representation within the Latinx community. Rivera played one of the first, and definitely one of the most prominent, LGBTQ, Latinx characters.
With Rivera's passing, a lot of fans are looking back on what she did for gay youth in the early 2010s. While heartbreaking, she impacted so many. Here are just a handful of moments that struck a chord with her LGBTQ audience, and made Santana an iconic gay character on Glee.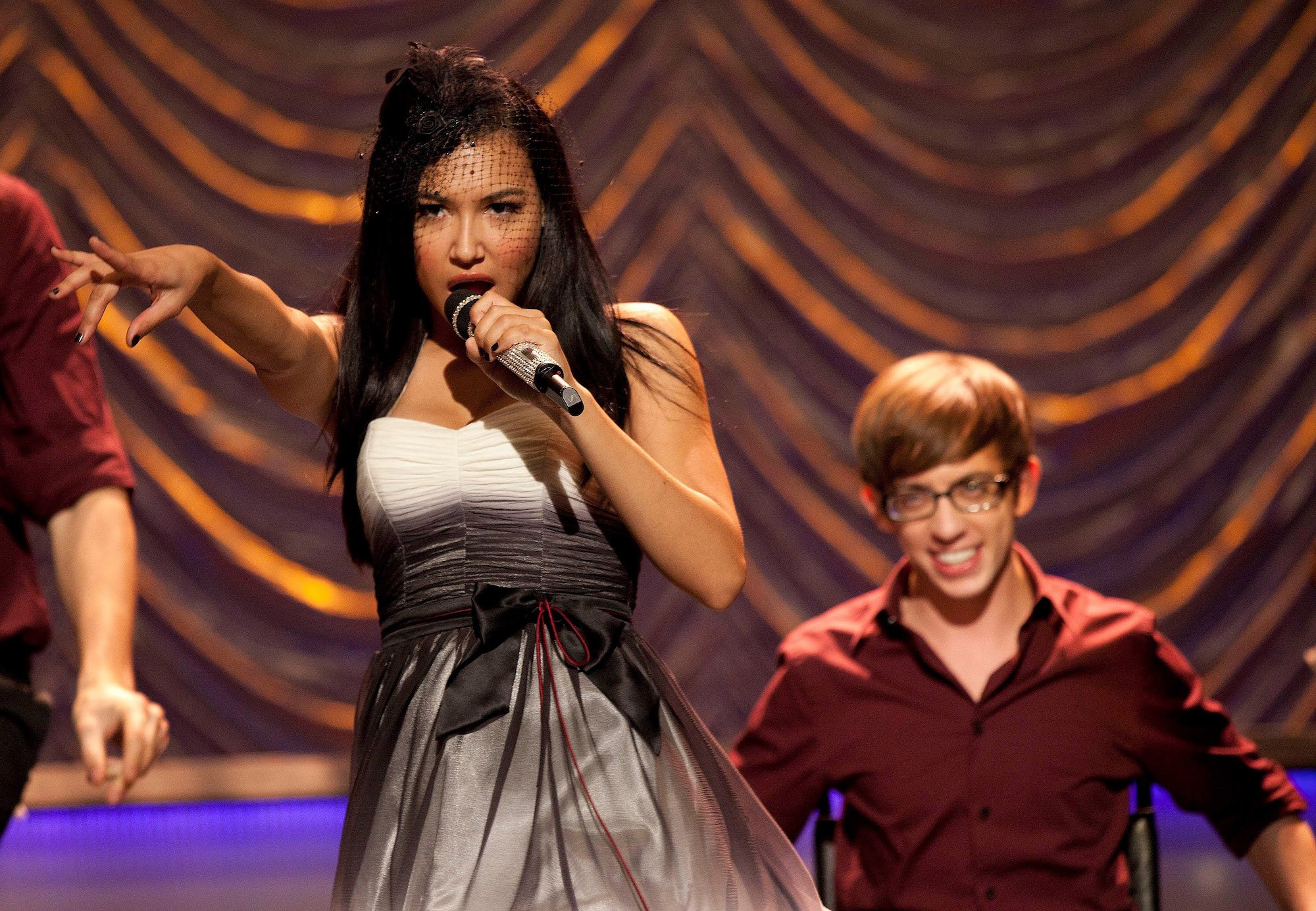 1. When she confronted Karofsky's homophobic bullying
Santana had a complicated relationship with Kurt, who she defends in this scene. She confronts Dave Karofsky for harassing him (yet again) and it's just one of those moments that made you see Santana's heart of gold. She isn't out yet, here, but she does have a sort of solidarity with Kurt, despite the fact that they're not really friends. It's a good scene to show off the many layers of Santana Lopez. 
2. 'Me Against The Music' is gay culture
Alright, onto a fun one. This is one of Santana's most fun performances and, once again, highlights Rivera's talent. The (first) Britney Spears episode was all a joy, and this scene united Santana with Brittany in the best way. And doing a Madonna duet? Truly gay excellence. 
3. Santana declaring her love for Brittany
Like many young, LGBTQ viewers had to go through, coming to terms with your own sexuality can be daunting, tough, and truly terrifying. There are so many warring feelings involved, and Santana's character was a pretty good representation of that. She was this tough, strong, and outgoing cheerleader who was mean when she wanted to be, but sweet with those she cared about.
But being gay scared her. And her coming out story wasn't linear at all, nor did the show sugar coat anything. This scene was one of the first times Santana really bore her heart to Brittany. Unfortunately, Brittany was with Artie, which complicated things. But ultimately, it was an important moment in Santana's story. 
4. Santana comes out to her Abuela 
Speaking of mess and coming out, a major point of fear for many gay youths is the acceptance aspect. There's so much hate for the LGBTQ community, that it's not only tough to come to terms with your emotions and feelings, but it's anxiety-inducing when those you love might not accept you as you are. 
This scene probably hits the hardest for gay kids watching, because it's one of the worst-case scenarios. It showed the reality of a lot of kids' lives and Santana's journey was all too relatable for many here. Her resilience afterward is obviously inspiring as well, but this scene was (unfortunately) relatable which made it all the more important. 
5. Her 'Smooth Criminal' performance changed the game
Going back to yet another performance is Santana's iconic "Smooth Criminal" duet with Grant Gustin's Sebastian. Neither Santana nor Sebastian were going to back down, so instead, they performed a rousing rendition of Michael Jackson's hit with cellos playing in the background. Cultural reset? Maybe so. 
6. When Santana called Mr. Schue out on (one of) his racist performance(s)
This one doesn't necessarily have to do with Santana's queerness, but more so with her powerful ability to call stuff out. Especially being Latina, seeing Mr. Schue's racist performance in Season 3 hit a nerve with her (and many Latinx watching the show). Mr. Schue is known for his silly and sometimes offensive moves, so Santana standing up to him was satisfying to watch. 
Cultural appropriation has always been problematic and long been a problem, but in 2012 when this episode came out, it wasn't necessarily part of the public's consciousness. So she was definitely a little ahead of the curve.
7. Throwing it back to (one of) Santana's most iconic performance(s): 'Valerie'
Lastly, we're ending on one of the best notes: "Valerie." Naya Rivera was so talented; that cannot be denied. And "Valerie" is one of the best examples of her talent. While every song and mashup she performed was truly wonderful, there's just something about "Valerie" that sticks out for fans. 
Maybe it's the way Rivera absolutely embodies Amy Whinehouse's prowess during the performance. Maybe it's her powerful and unique voice that is seriously like honey and electricity had a baby. Or maybe it's just Rivera's inherent star power. But whatever you take away from this performance, Rivera's version of "Valerie" is rightfully revered. 
Rivera's loss is heavily felt and she'll be greatly missed. Her portrayal of Santana impacted so many LGBTQ kids, teens, and more. She helped them feel seen in a world that really doesn't allow that often.