7 of Villanelle's Best Pantsuits So Far, Because Jodie Comer Absolutely Kills This Style
It's been said before, but let's say it again: Villanelle knows how her way around style. With all the money she receives as an assassin, she has a closet of fantastic clothes. From costumes for her hits to just plainly amazing streetwear options, Villanelle is just as known for her sense of style as she is for her murderous ways. One look in particular that she positively rocks is the pantsuit. And here are the seven best times Jodie Comer's character killed it.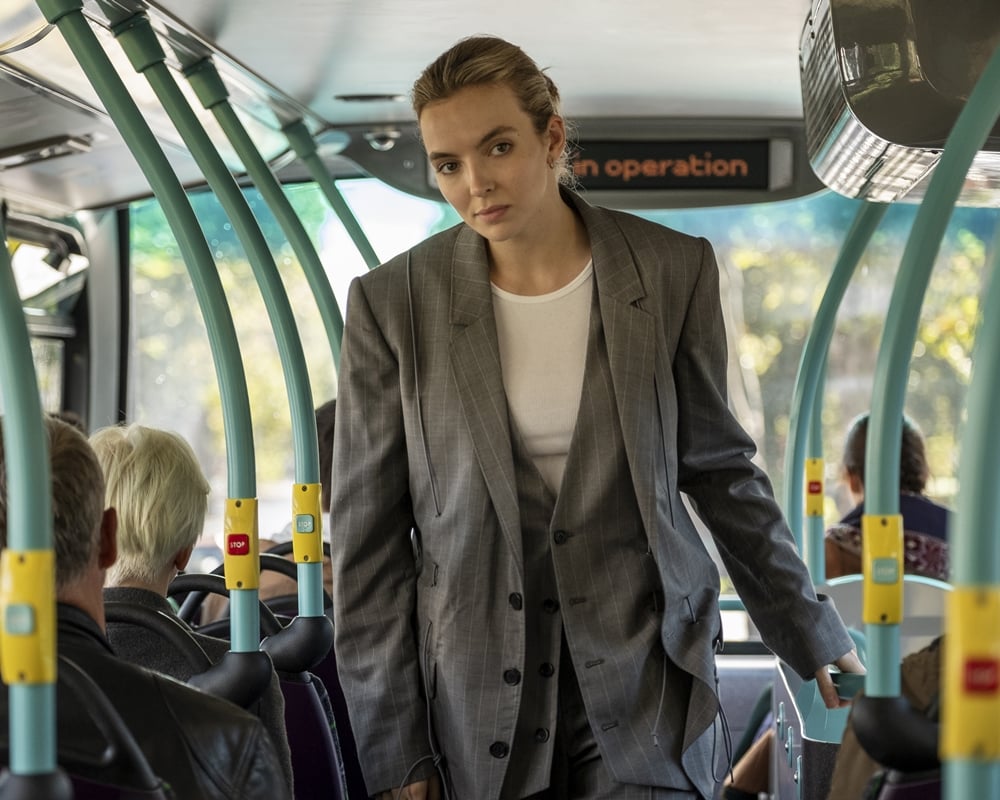 RELATED: Jodie Comer's Two Favorite Villanelle Outfits From 'Killing Eve' Might Surprise You
1. Villanelle's Kill Bill' suit
One of the most memorable scenes from Season 1 of Killing Eve is when Villanelle kills Bill. He was very close to Eve and it was really a turning point in her investigation into the female assassin. And, not to diminish the sadness of the moment, but it also features Villanelle in a trendy suit. It was such a good look, that the star almost took it home for herself. 
"It was super comfortable, I actually really wanted it but then by the time it got to the end of the show I was like 'It's too much,'" Comer told IndieWire in 2018. "If I wore it on the streets I'd feel a bit weird. People would be like, 'What the hell have you done?' So better not, better just give that one up."
2. The 'Villanelle Asserts Her Dominance' suit
RELATED: The Accent Jodie Comer Will Never Do as Villanelle on 'Killing Eve' Is Too Close to Home for the Actress
Coming off of that season, Charlotte Mitchell, the costume designer for the show's second season, told Elle in 2019 that the 'Killing Bill' look prompted her to give Villanelle a ton of more suits.
"I loved that shape on her with the solid boots. That's made me put her in trousers more," Mitchell said. "I like the way Jodie walks in a pair of trousers. She's got such a great strut about her, and when she's in a solid pair of boots she owns it even more… She's also got the most perfect figure, so she can pull off a really lovely, fitted pair of trousers."
Can we all say thank you to Mithcell? In this scene, Villanelle uses her Oxford surroundings to influence her distinguished college student look. That sweater around her shoulders really is the cherry on top for this one. 
3. Villanelle's wedding day look
In the first pantsuit look of Season 3, Villanelle is devastatingly gorgeous in this black suit as she gets married to her Spanish bride, Maria. Not only is it a cropped black suit, but it has a sheer black top with a peek-a-boo moment going on. No one's supposed to outshine the bride on her wedding day, and clearly no one could as Villanelle toasted to her new beginnings. Or rather, what she thought would be a new beginning. 
4. A suit that really enhances Villanelle's accent game
OK, probably the most casually powerful Villanelle has ever looked in a pantsuit is this number from Episode 6 of Season 2. Not only is this one of the best scenes to showcase just how good Comer is at accents and switching up her persona, but it also features this dark green suit. And the way she straightens the jacket right before she goes into her accent roulette? Power in a nutshell.
5. The 'Kissing Eve' suit
RELATED: Is Villanelle's Sexual Orientation the Same in the Novels as It Is on 'Killing Eve'
This meeting in Season 3 is what fans of VillanEve have been waiting for since the very first time Eve and Villanelle met. Their kiss! It was short and not super passionate, but definitely full of meaning. It was a way to distract Villanelle but also you can't tell us that Eve hadn't imagined doing that before. And the suit! It's baggy, but in a very zoot suit, fashionable way. It's definitely a choice, but one that Villanelle, of course, pulls off. 
6. Villanelle's fabulously, feathery green golfing suit
While this is a Look, with a capital "L," because of its boldness, it's also not horrible. On anyone else, this feathery green golfing suit wouldn't really hit well. But on Comer? As Villanelle on a mission? Yes, it works. Plus, with her impeccable Scottish accent, it just all makes sense. 
7. Her 'Too Gorgeous To Dance In' suit
Lastly, one of her best outfits on the show, ever, is this pantsuit in the finale of Killing Eve Season 3. It's a similar type of pattern to the one she wore in Berlin when she killed Bill and with similar shades. But with its brighter color and flashier nature because of its glimmer, it's probably her best pantsuit to date.
Villanelle obviously wanted to dress to impress on this "date" (sort of) with Eve, but it's also a perfect metaphor for her character. Flashy, flamboyant, and loud on the outside, but it's just hiding the vulnerability beneath. This scene shows Villanelle really open up to Eve, and she's met with no judgment, something Villanelle doesn't usually experience. Fantastic fashion choice and a pivotal, beautiful moment for the two Killing Eve leads? Check and check. 
RELATED: Jodie Comer Shared Her Opinion About What Happens Next on 'Killing Eve' and Fans Have Strong Feelings About It