7 Times We Didn't Deserve Keanu Reeves
Hollywood A-lister, Keanu Reeves has a successful track record with hit film franchises John Wick and The Matrix. But, the star's reputation precedes him. Between his humble nature and generous spirit, Reeves has gifted the world many times over. Here's a look at a few of those times.
Keanu Reeves started a children's foundation but didn't want his name attached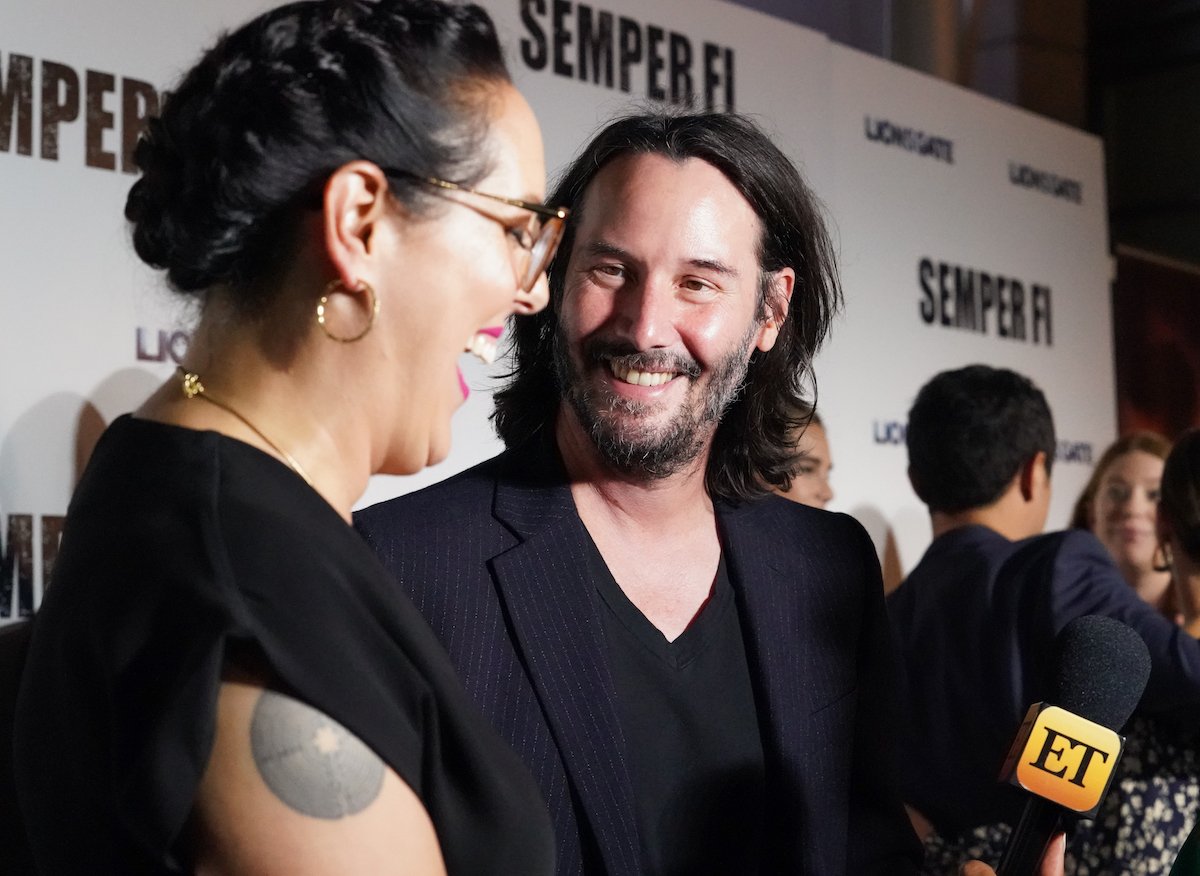 RELATED: Keanu Reeves Has a Refreshingly Honest Approach to Money
Aside from Reeves's apparent good nature, the actor has been donating to children's hospitals and foundations privately for years.
"I have a private foundation that's been running for five or six years, and it helps aid a couple of children's hospitals and cancer research," Keanu said in a Ladies Home Journal article from 2009, which Snopes verified.
"I don't like to attach my name to it, I just let the foundation do what it does."
His reason for the acts of kindness is personal. His sister Kim was diagnosed with leukemia in the 1990s.
He surprises fans when they least expect it
In viral news — which happens often in the case of Reeves — one Louisiana fan got to unexpectedly meet the star. Stacey Hunt discovered Reeves was filming in the area so she and her son made a sign that said "You're breathtaking" to welcome him.
According to Hunt's recollection via Fox 5 News, Reeves was among those that pulled up to see the sign up close. Not only did the actor sign the poster, "Stacey, you're breathtaking," but he posed for photos with the family.
"What you read about him being such a great person with a great heart is true," she told CNN. "At least that's what I think from my few minutes with him."
Reeves calls everyone 'breathtaking' because of course he does
RELATED: Keanu Reeves: 5 Times the 'Bill & Ted Face the Music' Star Took Care of His Stuntpeople and Costars
In reference to Stacey Hunt's sign, Reeves attended E3, the Electronic Entertainment Expo in Los Angeles in 2019. He was apart of the game, "Cyberpunk 2077," and attended to promote the game for Xbox, CNN reported.
While Reeves spoke, YouTuber Peter Sark yelled, "You're breathtaking!" Without skipping a beat, Reeves returned the compliment then called the entire audience "breathtaking." It's said to be one of the best moments of the convention.
He avoids making a scene whenever possible
In polite Reeves news, the star refuses to make a fuss — even when it's about his own movie's wrap party. According to Page Six, Reeves waited outside in the rain for 20 minutes for the party for Daughter of God.
"Keanu was really patiently waiting," Chauffeur Ronny Sunshine told the outlet. "I don't think he said anything to the bouncer, like, 'I'm Keanu.' No one recognized him."
The driver continued: "Keanu looks very ordinary. It was raining, but he just waited for his two friends to come. He didn't act like he had money. I just thought he was a rock 'n' roller."
The club's owner also stated that Reeves said nothing about his status. He waited patiently for someone to let him in.
The star will take a pay cut to keep good employees on the set
RELATED: 'John Wick': How Much Longer Should the Keanu Reeves Movie Series Go?
Money means little to Reeves, as he's shown through his various contributions. While working on The Devil's Advocate, the star took a $2 million pay cut so Al Pacino could come on board. The Wall Street Journal confirmed as much, but that's another celebrity. What about the crew?
"What I did was I put part of what was given in my contract to create a pool so that other people who don't usually do profit participation could see some money," Reeves said during The Matrix Reloaded press junket.
He did it "because I wanted to," he said.
He helps people whenever he can
There are entire Reddit threads dedicated to admiring "the respectful king." This thread has over 2,000 comments with stories of Reeves helping them in ways big to small.
"There are no bad stories about Keanu. I live in LA and work in North Hollywood, and everyone I've ever heard out here tell a story about Keanu says nothing but great things. Everyone loves that guy. It's made me love his movies. I don't care how great they are. I love to see him, because he makes me happy. I like to know there's someone like that," one fan wrote.
He buys ice cream to give autographs
RELATED: Keanu Reeves Reveals He's Given Up on Playing His Favorite Marvel Hero: 'It Is Too Late'
To drive the point home that we don't deserve Reeves, he once purchased an ice cream he didn't want or eat cone so a fan could have his autograph on the receipt.
The tweet that tells the story went viral and rightfully so. With so much bad news, it's nice to know there's a lot of good out there, somewhere.