'9-1-1' Season 5 Showrunner Addresses Potential Eddie Diaz and Buck Romance
Eddie Diaz and Buck have amazing chemistry in '9-1-1' Season 5. Could their relationship turn romantic? Here's what a showrunner said.
Fox's 9-1-1 Season 5 Episode 11 gave fans more Eddie Diaz and Evan "Buck" Buckley content. Eddie and Buck were adversaries at first, but over the seasons, they've grown incredibly close. Many fans would love to see them develop a romantic relationship, too. Here's what a 9-1-1 showrunner said about the potential for a budding romance.
[Spoiler alert: 9-1-1 Season 5 Episode 11 spoilers ahead.]
'9-1-1' Season 5 Episode 11 continued to showcase Eddie Diaz and Buck's close friendship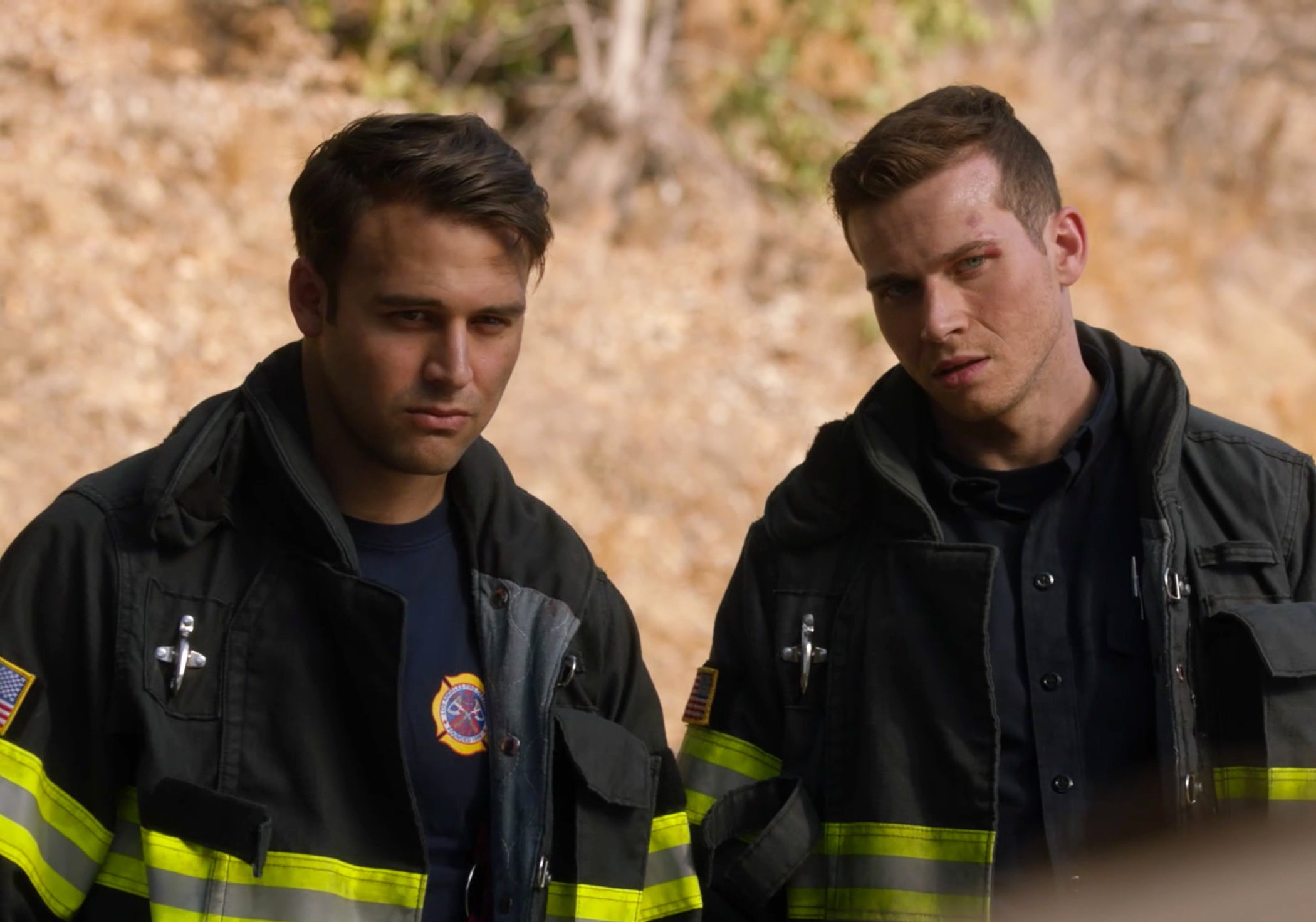 9-1-1 Season 5 Episode 11 brought more of Eddie Diaz and Buck to the forefront. Back in episode 10, Eddie announced he planned to leave Station 118 for his son's mental health. But in episode 11, he regrets his decision. The episode shows how Eddie grows more and more tired with his new position as the LAFD liaison. Finally, after discussions with both Buck and his son, Eddie decides he wants to return to the 118.
Unfortunately, returning doesn't come easy. Bobby Nash tells Eddie he can't return. Even when Eddie offers to go to a different firehouse as a firefighter, Bobby says he can't offer Eddie a recommendation elsewhere, either.
As for Buck, trouble lies in episode 11 for him as well — but a different kind. Buck gets close with Eddie's replacement, the new firefighter Lucy Donato. They kiss even though Buck is still with his girlfriend, Taylor. Finally, Buck asks Taylor if she'll move in with him after concealing the secret kiss.
Do Buck and Eddie end up together? A showrunner addressed the relationship potential
With relationship drama surrounding Buck and job issues with Eddie in 9-1-1 Season 5 Episode 11, fans can expect to see plenty more of the best friends confiding in each other moving forward. But many fans also hope to see more than just friendship between Buck and Eddie. So, will the two 9-1-1 cast members ever get together in a romantic way?
Co-showrunner Kristen Reidel addressed the idea with TVGuide. She noted she views Buck and Eddie as having a "great friendship" only. "But I think the struggle with the Buck and Eddie relationship is, we write a thing and we have an idea in our head of what the scene means and what those lines mean and an intention behind it, and then it goes out into the world," she noted. "People may receive it in a way that we had not expected or that we had not planned on, and I'm not gonna tell people that they're watching the show wrong because people see what they see."
Reidel added she believes Buck and Eddie are "very good friends, and in a lot of ways, they are family, and I think that's where they are right now." This seems to shut down any romance plot points for now.
'9-1-1' cast member Oliver Stark talked about the friendship
9-1-1 Season 5 showrunner Kristen Reidel isn't the only one to address the potential for a Buck and Eddie romance. Buck actor Oliver Stark also talked about where the relationship is headed.
"The truth is, I don't know where the story is going," Stark told fans on social media back in 2019, according to TVLine. "… I have always spoken openly about how amazing I think it is that you are invested in these two characters, and I totally support that. But I feel uneasy about RT'ing stuff because I know it can sometimes come across as me confirming something is going to happen. I don't want to get anyone's hopes up."
9-1-1 Season 5 airs Mondays at 8 p.m. EST on Fox.
Check out Showbiz Cheat Sheet on Facebook!