'90 Day Fiancé': Fans Are Sick of Darcey Silva Flaunting Allegedly Fake Designer Clothes and Accessories
90 Day Fiancé is one of the most popular reality television shows on the air today. Fans clearly love watching international couples try to make it past legal immigration battles and cultural differences to find their happy ending together. 
Interestingly, some cast members of the show have repeat roles over more than one season of the show, so that viewers can watch their lives unfold. Darcey Silva is an American woman who has appeared on more than one season with two different international beaux: her Dutch ex, Jesse Meester, and her British ex, Tom Brooks.
It seems like this woman can't get enough of international love, but that's not what fans criticize her for the most. 90 Day Fiancé fans are most sick of Silva being so fake in everything she does, including the fake designer labels she flaunts around. Fans have receipts of all of the fake designer items that Silva has carried through the years, and they're not holding back on revealing all of her dirty secrets.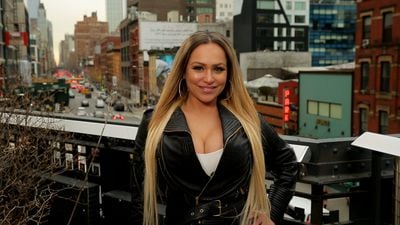 Fans think Silva is fake all-around
Even putting aside her fake designer labels, many fans think Silva is just fake all-around. One "fake" thing about Silva that's obvious just from looking at her is her face, which seems to have been drastically changed by plastic surgery. She and her twin sister Stacey they're virtually unrecognizable from older video. "They both absolutely RUINED their looks with all the Botox and plastic surgery," one fan commented on YouTube. From old videos, it's clear that the Silva sisters looked beautiful then, too!
If it weren't enough to alter her appearance in real life, Silva tries to change her appearance even further in the photos she posts on social media. She's been dragged in the past for her botched Photoshop jobs, in which she clearly just stuck her face onto women's bodies, according to Soap Dirt.
Silva put her Louboutins on the couch next to her
Many fans of the show are laughing at Silva after she put her red-bottomed Louboutin heels on the couch next to her during a recent interview while she was in quarantine. Some fans think the shoes must be fake. Either way, it's clear that Silva is desperate to be seen as the kind of woman who owns expensive heels, and fans are sick of her image-conscious persona.
"OMG that pathetic showing off is giving me severe 2nd hand cringe," one fan commented on Reddit. Fans definitely see her attempts to flaunt expensive things come off as very desperate. Many fans just feel sorry for Silva, rather than hate her. "By her age I hope I never feel like I have to prove anything to anyone. I feel bad for her," another fan wrote. "This is really just sad. She's the loneliest most unsecure person I've ever seen on a reality TV show in my life," another said.
A list of all the fake designer labels that Silva has worn
Other fans, however, aren't so kind. One Reddit user started compiling a list of all of the fake designer labels that Silva has ever worn, with detailed descriptions of how they know they're fake.
On the list is a Chanel backpack that was missing the "I" in PARIS (a tell-tale sign of a knock-off), a knock-off Hermes belt that was found easily on Amazon for $30, and a Hermes Birkin bag that, considering the way Silva swung it around easily, was clearly too light to be a true Birkin. There are another pair of Louboutins on the list, too, which means that fans might be right in assuming that her expensive heels were fake.