'90 Day Fiancé': What Happened at the 'Before the 90 Days' Tell-All Part 1?
The cast of 90 Day Fiancé: Before the 90 Days reunited for the Tell-All Part 1, which aired on Sunday night on TLC.
The explosive start to the reunion featured Darcey Silva and Tom Brooks, Benjamin Taylor and Akinyi Obala, Tim Malcolm and Jeniffer Tarazona, Omar Albakour and Avery Mills, Rebecca Parrott and Zied Hakimi, Angela Deem and Michael Ilesanmi, and even Caesar Mack and the infamous, ever-absent Maria.
As the 90 Day Fiancé cast arrived, tensions seemed high for some. Deem admitted to arriving to the tell-all already on edge, while Silva and Mack were both nervous about possible surprise guest appearances.
Read on to learn what happened at the 90 Day Fiancé: Before the 90 Days Tell-All Part 1 and what's coming up in tomorrow's installment.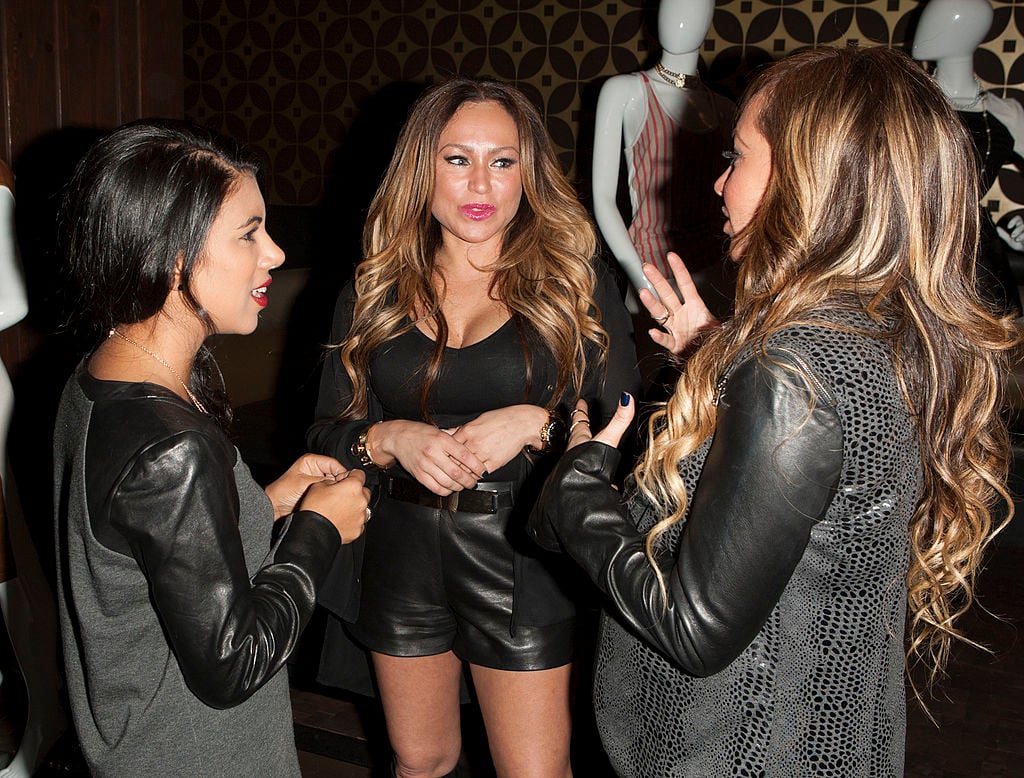 Are Darcey Silva and Tom Brooks still together?
Silva and Brooks were cozy on the reunion couch, despite their recent breakup. At the end of the 90 Day Fiancé: Before the 90 Days finale episode, Brooks broke it off with Silva, citing her tendency to call him "too often" and the difficulties of long distance.
But now, it seems like things between Silva and Brooks have shifted. In response to host Shaun Robinson's question about their current relationship status, Brooks admitted, "We are together." Although the couple hadn't yet sorted things out, Silva's British beau suggested that they were "trying to see" if a long-term relationship between them was "a possibility."
His sister, meanwhile, popped in on video chat to suggest that she didn't think Brooks was ready for a committed relationship. "I think he can get embroiled in a fantasy," she said, adding that she didn't think Silva really knew him or was even interested in getting to know him.
The real kicker, though, came when a secret from Brooks' past was revealed. "Tom, you've been engaged twice before," Robinson said straightforwardly, surprising his on-again, off-again American girlfriend. Viewers will have to see how Silva reacts tomorrow night at the Tell-All Part 2.
The cast pushed back against Caesar Mack's relationship
If there was one thing all the 90 Day Fiancé: Before the 90 Days cast members agreed on, it was that Caesar Mack's no-show Ukrainian girlfriend Maria was bad news. Avery Mills, Tim Malcolm, and other castmates all chimed in to push Mack to move on.
Still, Mack said he just couldn't quit his foreign crush…at least not yet. "It was like I couldn't stop," he said of the red flags in his and Maria's relationship. "My emotions were taking over, and I was like, I'm gonna bring her here no matter what happens."
Maria will actually meet Mack for the first time ever in tomorrow night's Tell-All Part 2.
Have Tim Malcolm and Jeniffer Tarazona been intimate?
The perennial question about Tim Malcolm and his Colombian girlfriend Jeniffer Tarazona is, of course, whether or not they've had sex. (By the way, he still hadn't bought her a ring that didn't belong to his ex by the time of the reunion.)
Malcolm said he knew that it was strange not to be intimate during their visit, but the couple still hadn't had sex. "Every time we got close, a new obstacle got in the way," he explained.
Tarazona added, "I mean, it's not normal, but he's very respectful, I have to give him that."
How does Avery Mills' mom feel about her daughter's wedding now?
19-year-old Avery Mills spoke with her mom Teri Mills about her cultural differences with her Syrian fiancé, especially those that Teri had viewed as misogynistic or patriarchal. "To be honest, it wasn't her day," Mills said of her mom's discomfort during her wedding to Omar Albakour.
Avery's mom added that, as long as her daughter moved to a country that wasn't in the middle of a civil war, she would support her. Albakour attempted to assuage Teri's fears, saying that she should remember that he loved Avery as much as she did.
What could happen at the '90 Day Fiancé: Before the 90 Days' Tell-All Part 2?
The 90 Day Fiancé: Before the 90 Days Tell-All Part 2 will air tomorrow night at 8 p.m. EST on TLC, and it looks like it will be more than eventful.
Angela will get into it with both Rebecca and Avery, sparking a fight that rocks the whole cast.
Akinyi's family will also be on hand on video chat to…emasculate Benjamin some more?
Maria will make her first-ever in-person appearance on the show, setting eyes on Caesar Mack for the first time ever.
Rebecca will explain why she didn't tell Zied about her marriage earlier.
Finally, Darcey's ex Jesse Meester, who appeared alongside her on 90 Day Fiancé, will be in studio to confront both his ex and her new boyfriend.