'90201': Is Tori Spelling Acting Too 'Pathetic' for Her Own Good?
The Beverly Hills 90210 reboot on Fox was expected to be a big success. However, viewers didn't tune in for the second episode, and actress Tori Spelling may be to blame. Her attitude around one specific issue is having a major impact on the show. Here's what we know about why viewers didn't bother to watch the second episode of the 90210 reboot.
'90210' reboot numbers dropped for the second episode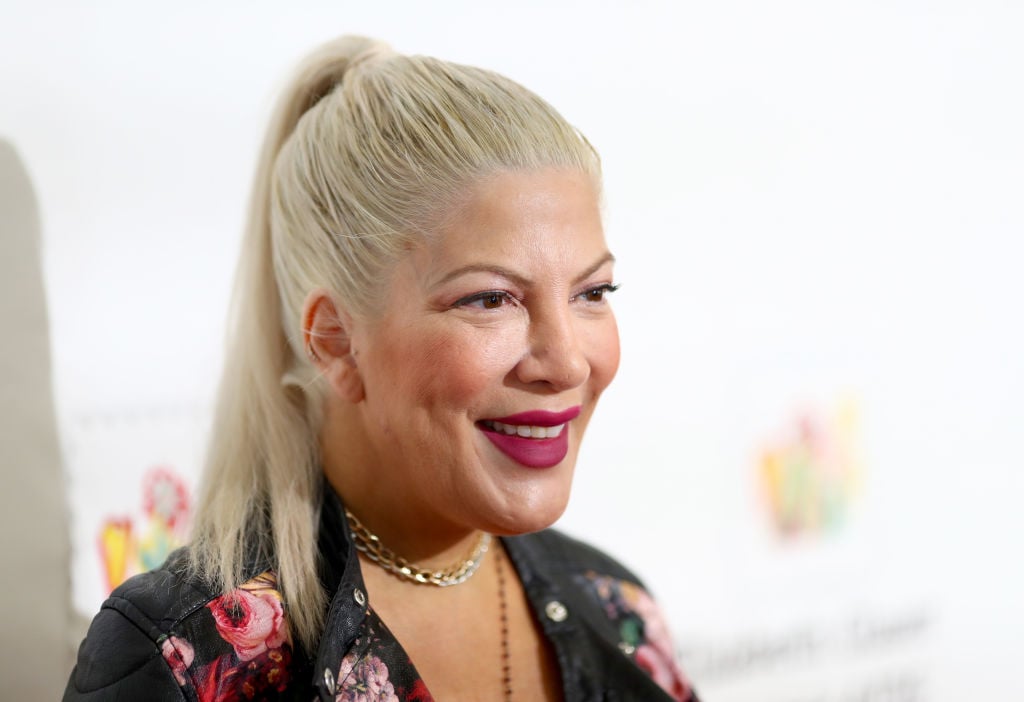 The premier episode of the 90210 reboot had everyone excited, and the number of viewers who tuned in to watch reflected that: 5.2 million people tuned in or watched the playback on their DVR for the first week's episode. However, the number dropped substantially for the second episode, which lost 40 percent of its viewers since only 2.6 million viewers tuned in.
What could have caused these falling numbers? The report from the first episode shows that people are still interesting in 90210 and willing to give it a try. But the fact that they lost nearly half their audience for the second week shows that viewers were not impressed with what they saw. Perhaps it wasn't what they were expecting.
The new version of 90210 was labeled a reboot, but it's not a true reboot. It's a strange mix of reality and fiction, focusing on the lives of the 90210 actors instead of the characters everyone had come to love. The promotion that Fox did prior to the show's premiere did make it clear what the format would be. But perhaps more people were expecting it to be closer to the original that it was.
The other major issue that came up in several comment sections discussing the episode was Spelling's attitude toward money. Much of the episode seemed focused around her money problems, and how she really needed a reboot to happen so she could pay her bills.
Why does Tori Spelling have money problems?
Spelling's money issues aren't just a fictional storyline. The actress has big problems with credit and managing her money in real life. In 2016, Spelling was ordered to pay $87,000 to American Express as part of a court-ordered judgment against her for unpaid credit cards. She's also involved in a legal dispute with City National Bank: Spelling and her husband, Dean McDermott, owe $400,000 for an unpaid loan.
And that's not all. In 2017, Spelling and McDermott had more than $700,000 taken from their accounts by the IRS due to unpaid taxes.
Money management has never been a strong point for Spelling. She attempted to explain her money issues in her 2013 memoir, Spelling Like It Is, where she wrote: "It's no mystery why I have money problems. I grew up rich beyond anyone's dreams. Even when I try to embrace a simpler lifestyle, I can't seem to let go of my ­expensive tastes."
Growing up in Los Angeles, Spelling's childhood was one of incredible privilege. Her father was Aaron Spelling, producer of many hit TV shows, including Charlie's Angels, The Love Boat, and Beverly Hills 90210. He amassed a huge fortune over his career, and it's safe to say the Spelling never had to want for anything as a child. Unfortunately, because of that, she is terrible at managing money.
Fans are not interested in hearing about Tori Spelling's money problems
Spelling once told People that she included the chapter in Spelling Like It Is about her financial problems because she thought it would make her seem relatable. Unfortunately, it probably had the opposite effect.
Families all over America are living financially stable lives with much less than Spelling makes. She currently has a net worth of $500,000. In 2016, she was renting a home for $9,500 a month, which is not exactly a budget-friendly home, or one that a person with "financial problems" would normally choose to live. Even though we may understand why Spelling has money trouble, that doesn't make her relatable to most people.
One of the big complaints about the new 90210 was people who were tired of hearing Spelling complain about her money troubles. We all know she's in that position because of overspending, not for lack of income to cover basic expenses. For that reason, viewers just don't want to hear her complain.
Many fans voiced that they feel that her complaints are pathetic. The harsh sentiment is understandable considering many Americans are struggling with a fraction of the money Spelling has.