'90210' Star Shannen Doherty Receives Messages of Support from Tori Spelling, Selma Blair as She Battles Stage IV Cancer
Shannen Doherty's breast cancer has returned, the actress revealed in a 'Good Morning America' interview that aired Feb. 4.
Shannen Doherty's breast cancer has returned, the actress revealed in a Good Morning America interview that aired Feb. 4. 
"It's going to come out in a matter of days or a week that — I'm stage four, the 48-year-old shared in a tearful converstiton with Amy Robach. "So my cancer came back. And that's why I'm here." 
"I don't think I've processed it," she went on to say. "It's a bitter pill to swallow in a lot of ways."
Doherty was diagnosed in 2015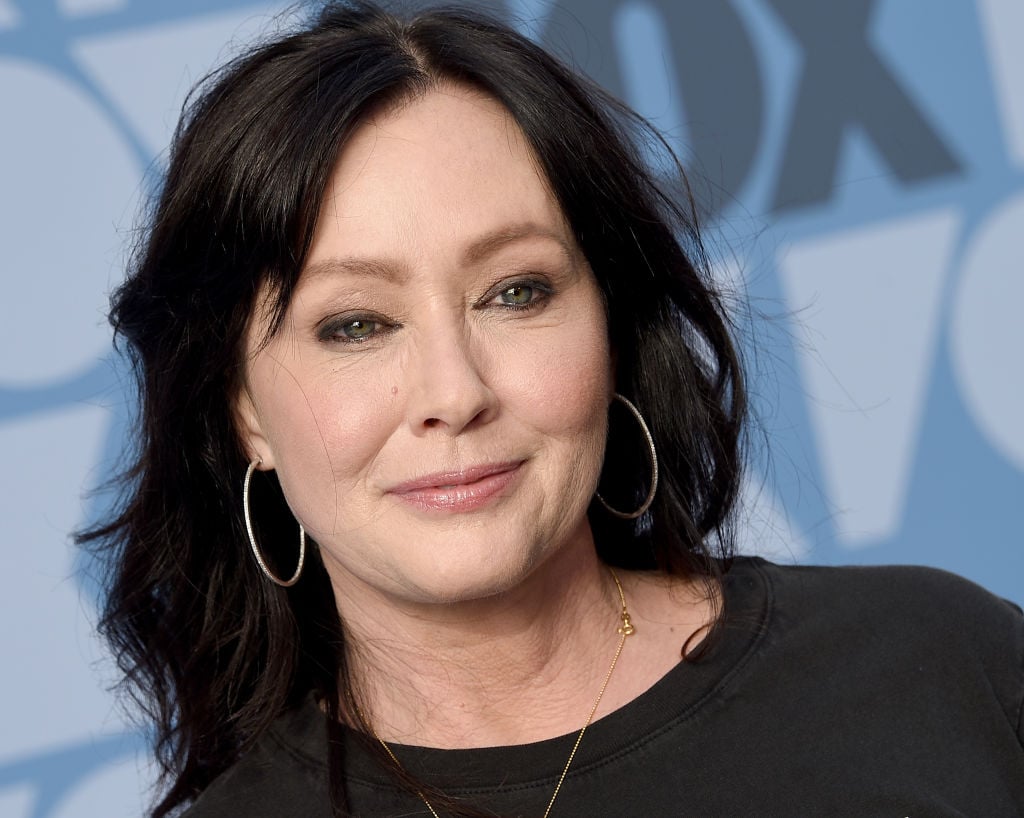 Doherty, who is best known for her work on the TV series Charmed and Beverly Hills, 90210, was diagnosed with breast cancer in 2015. She was open about her diagnosis and treatment. In 2017, she announced that her cancer was in remission, but also said she was aware the disease could return. 
"As every single one of my fellow cancer family knows, the next five years is crucial," she wrote on Instagram. "Reoccurrences happen all the time."
Unfortunately, Doherty's cancer is back. 
"I definitely have days where I say why me. And then I go, well, why not me? Who else? Who else besides me deserves this? None of us do," she said to Robach.
She kept her condition to herself and went back to work
Doherty learned about her cancer's recurrence last year, but she kept the news to herself and a few close loved ones. Despite her health challenges, she decided to go back to work on the Beverly Hills, 90210 reboot BH90210. That decision was driven in part by the sudden death of her 90210 co-star Luke Perry. 
"It's so weird for me to be diagnosed and then somebody who was, you know, seemingly healthy to go first," she said. "It was really, like, shocking. And the least I could do to honor him was to do that show."
Brian Austin Green supported her 
While Doherty kept quiet about her cancer, she did tell one of her co-stars. Brian Austin Green ended up helping her through some of her roughest days on set. 
"I had moments of great anxiety where I thought, 'I can't really do this,' and Brian was the one person who — of that group of people that knew — that I told, like, pretty quickly and said, 'Here, this is what I'm dealing with,'" she said. "So prior to shooting he would always call me and say, 'Listen, you know, whatever happens, I have your back.'"
Selma Blair and Tori Spelling offer words of support 
Doherty is also receiving supportive words from other stars. After the actress took to Instagram to share a Peanuts cartoon where Charlie Brown and Snoopy reflect on life and death, the kind messages rolled in. 
"I get to live my life with you, that makes me the lucky one," wrote her Doherty's friend Sarah Michelle Gellar. Actress Kate Beckinsale responded to the post with four heart emojis.
"You are lighting up the path. ⭐️ You are loved," commented Selma Blair, who has been public about her multiple sclerosis diagnosis.
"Sending lots of love, support, and animal vibes to make you smile xoxo," added Doherty's 90210 co-star Tori Spelling. 
"Holding you tight in my heart, @theshando 🙏" Alyssa Milano, who starred with Doherty on Charmed, wrote in her own Instagram post.