A 'Challenge' Competitor Said He Was Nervous He Might Ruin His Relationship While on 'Total Madness'
Relationships are put to the test on MTV's 'The Challenge,' and one 'Total Madness' competitor was worried for his.
So far, there have been a lot of firsts on The Challenge: Total Madness. Wes Bergmann and Johnny "Bananas" Devenanzio are teaming up for the first time in Challenge history. And competitors must win an elimination round before becoming eligible to compete in a final. But there are still plenty of patterns on the show that will never die — and one of them is that romantic relationships are put to the test.
Whether competitors form romances on the show or try to sustain relationships with their loved ones back home, the stress of The Challenge doesn't make it easy. And one new competitor this season said he wasn't sure his own relationship was going to make it out alive.
A number of 'Challenge: Total Madness' stars had their relationships tested
The Challenge: Total Madness already put plenty of relationships to the test. Kailah Casillas entered the competition in a long-term partnership — but it didn't take long for Stephen Bear to sweep her off her feet. While she ignored Bear's obvious advances for awhile, Casillas started to open up about the insecurities she had with her relationship back home.
From there, Casillas made out with Bear in the bathroom and even told her parents about what was going on. Today, she and her now-ex are no longer together — and they even had a Twitter spat about the situation.
Jenna Compono also had serious difficulties with Zach Nichols. Nichols accused of Compono of cheating and demanded she come home. She didn't quit, but she did seem totally checked out from the competition. Now, she and Nichols are engaged, but fans are begging her to leave him behind.
Ex-contestant Thomas Buell said the show is 'where relationships go to die'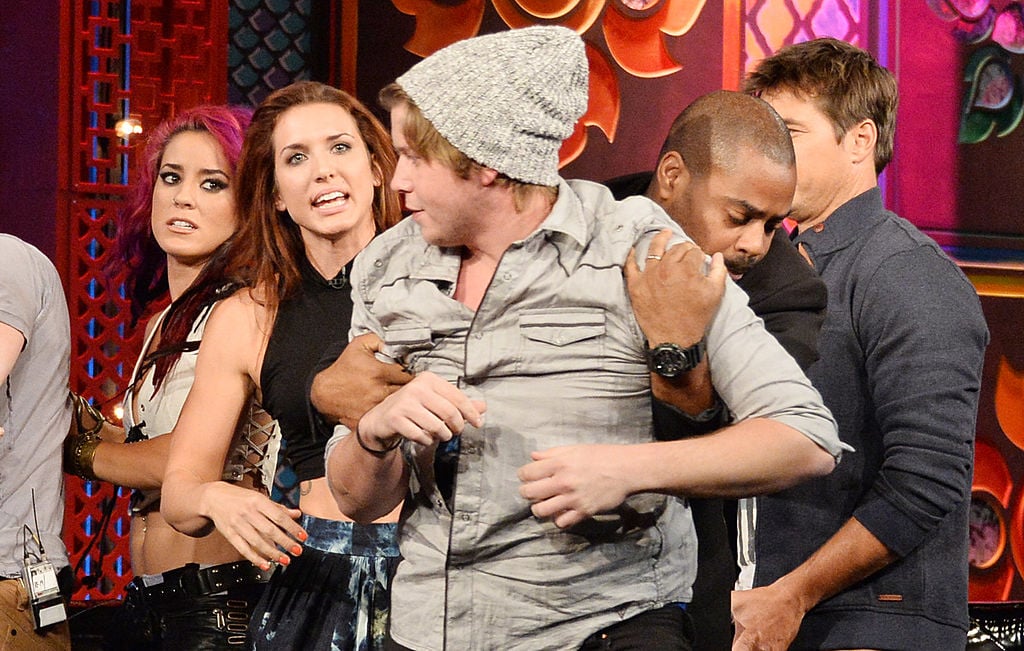 Thomas Buell isn't on this season of The Challenge, but he's had his moments of reality TV fame thanks to his hookup with Cara Maria Sorbello. During Battle of the Bloodlines, Sorbello was caught cheating on her then-boyfriend Abram Boise with Buell, and it caused absolute mayhem for everyone involved. Now, Sorbello is with Paulie Calafiore — but even that relationship was marred with a cheating scandal from Calafiore at the beginning.
Buell has had years to consider what went on during Battle of the Bloodlines. During an interview, he recommended that everyone who wants to go on the show enters single, as relationships never seem to last.
"I'm telling you … a group of good-looking people all with a lot of testosterone and estrogen running through them … and alcohol," Buell started. "And here's the other thing people forget is you're only interacting with those people 24 hours a day. … I think you go to The Challenge, that's where relationships go to die. And I hate saying it, but it's the truth. Go on that show single for sure."
Fessy Shafaat said he thought the show might ruin his romance
Fessy Shafaat proved he's a tough competitor, as he took Jordan Wiseley out during an elimination round. He recently spoke to the Challenge Mania podcast about his season, and they discussed what it was like for him to go on the show while he had a serious relationship at home. While he deeply cares for his girlfriend, Haleigh Broucher, he noted even he was a bit worried something might happen.
"Honestly, I was kind of nervous going out there because I was going to be away from her and there was going to be other girls," Shafaat noted. "But, once I got out there I was pretty immediately at ease because I looked around, and I was like honestly, I'm not really interested in any of these girls even if I didn't have a girlfriend. None of those girls really were doing it for me. And the girls kind of respected it, honestly."
There were a few rumors that something was going on between Shafaat and Mattie Lynn Breaux, but Shafaat maintains nothing occurred. We're glad to see at least one partnership made it through Total Madness without any serious setbacks!
Check out Showbiz Cheat Sheet on Facebook!