A COVID-19 'Parks & Recreation' Reunion Is Happening
With the coronavirus (COVID-19) pandemic literally all anyone can think about — understandably — it can make leisure time a bit more stressful. For obvious reasons, but also entertainment is changing. Concerts and tours are canceled or postponed, television schedules were upended, and movie theaters shut down. It's hard to find happy entertainment news to distract you from the world. However, a new reunion from the cast of Parks and Recreation is coming to brighten your day with your favorite Pawnee characters to also raise money for a great cause.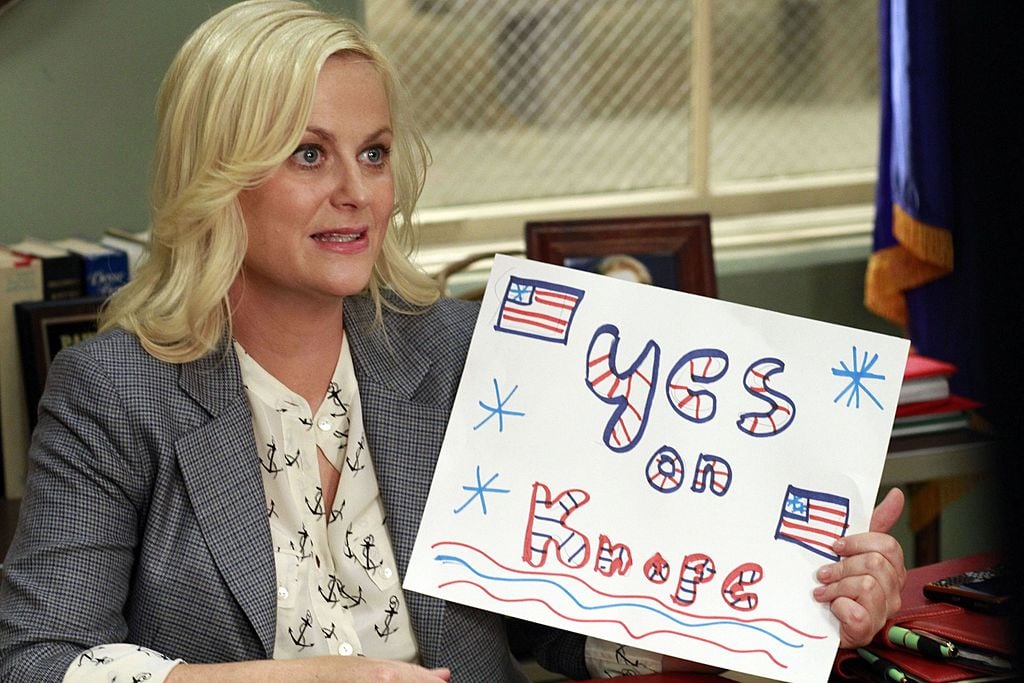 A scripted 'Parks and Recreation' reunion is airing next week, and the characters are dealing with the COVID-19 pandemic
The Parks and Recreation Instagram account posted a video on April 23 about the special reunion, coming to NBC on April 30, 8:30 p.m. ET. Amy Poehler announced that it's in partnership with State Farm to raise money for Feeding America. Specifically, Entertainment Tonight reported it's for Feeding America's COVID-19 Response Fund. This raises money for food banks that need extra resources and help during this financially stressful time, to feed "the most vulnerable members of the community."
The reunion will star all your favorite Pawnee citizens. Entertainment Tonight reported that the cast members starring in the reunion will be Amy Poehler (Leslie Knope), Chris Pratt (Andy Dwyer), Nick Offerman (Ron Swanson), Adam Scott (Ben Wyatt), Rob Lowe (Chris Traeger), Rashida Jones (Anne Perkins), Aubrey Plaza (April Ludgate), Aziz Ansari (Tom Haverford), Retta (Donna Meagle) and Jim O'Heir (Garry "Jerry" Gergich).
"Like a lot of other people, we were looking for ways to help and felt that bringing these characters back for a night could raise some money," Michael Schur, executive producer, said in a statement. "I sent a hopeful email to the cast and they all got back to me within 45 minutes. Our old Parks and Rec team has put together one more 30-minute slice of (quarantined) Pawnee life and we hope everyone enjoys it. And donates!"
The statement also said Leslie Knope could "unite our country with her unbridled enthusiasm and compassion," which is definitely accurate. Between never giving up and her non-stop supply of waffles, the woman is a powerhouse. It'll be fun to see everyone in character again from their homes. While it's scripted, the hilarity will surely be there, per usual.
Interestingly, the writer of 'Parks and Rec' already guessed how Leslie Knope would handle the crisis
Vulture did a feature on April 2 that looked at how popular characters would handle the coronavirus pandemic, and Schur was positive Leslie Knope would be more than up to the task.
"First of all, Leslie would've known the CDC protocols for social distancing already, and they would've been instituted within 24 hours of the first reports of the coronavirus in America," Schur explained. 
No doubt Leslie would have a full binder by lunchtime on the day the first case occurred, and her love for visual aids would come in handy too. Schur said she'd "write a song with lyrics explaining what everyone's responsibilities were going forward," even though it'll, unfortunately, be to the tune of John Lennon's "Imagine." "The lyrics would help people. And not make everyone angry," Schur explained. Gal Gadot could never. 
Turns out, Pawnee would be in great hands with Ron Swanson on the case too
Seth Meyers asked Offerman how exactly his Parks and Rec character would handle the crisis as well, on Late Night with Seth Meyers. And Offerman said that his character wouldn't even notice what was going on. 
"But if he did," Offerman explained further, "Leslie would probably send him a missive or some sort of message and he'd just take his family to one of his cabins in the woods where he was heading anyway and they would just enjoy some fishing and some items from his garden until things blew over."
Ron always has his head on his shoulders in times of chaos, and one of his cabins seems like the perfect place to wait out the pandemic. Now, with this new reunion special, fans will see exactly what happens for the residents of Pawnee.