A Definitive Ranking of the 'Twilight' Soundtracks, Because They Were Truly Ahead of Their Time
The 'Twilight' movies aren't the most well-liked, although they were extremely popular. But their soundtracks will go down as some of the best of all time; here's a ranking.
Say what you want about the Twilight movies — because you can say quite a lot — but don't ever say their soundtracks didn't go hard. They are an amazing mix of indie and alternative rock, a little punk-pop, and ethereal sounds throughout. Listening to the albums as a standalone experience tells the stories by itself, which can't be said about a lot of movie soundtracks. Here's a definitive ranking, from one former Twihard to another.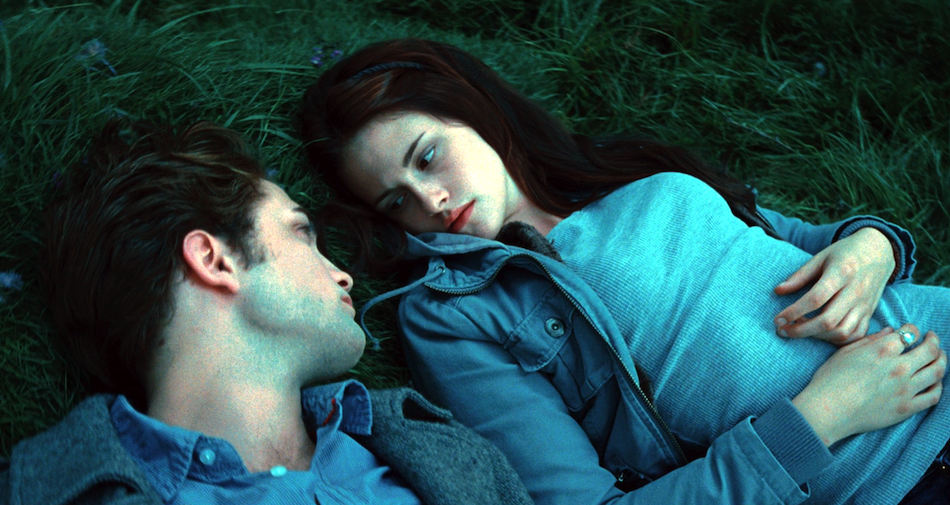 5. 'Breaking Dawn Part 2' (2012)
Before getting into anything, "Where I Come From" by Passion Pit is legit the perfect song to start this album and film off on. While things got insanely dark in Breaking Dawn Part 1, this song really fills you with happiness and is super simple. It shows that this movie is starting on a different foot. Also, very commendable to include Ellie Goulding at long last, because she is the queen of movie soundtracks.
The album has vastly different tones in the first and second half, due to the journey that the movie takes. There is happiness and contentment with the first half because Bella didn't die. But then the Cullens face a major threat from the Volturi, which is expertly displayed in the second half of the soundtrack. 
It's at the bottom because it's kind of forgetful. There weren't a lot of memorable moments from this album other than what's mentioned. And compared to the others, it's not one that makes you want to come back to it. But, even though it's at the bottom, it's still a great soundtrack. 
4. 'New Moon' (2009)
After the massive hit Twilight became, New Moon was a way more polished film. From production to the music, it was a revamped project (excuse the pun). This soundtrack is also a really interesting piece as a whole because you have songs like "Meet Me On The Equinox" by Death Cab for Cutie and "Friends" by Band of Skulls that are fun and lively. But then, of course, Bella goes through a massive depressive stage so you get amazingly sad and moving songs like "Satellite" by Anna Marina and "Possibility" by Lykke Li, the one where Bella stares out her window for four months to. 
Overall, this has a more somber tone, of course. And that does make it a little more introspective. Even though the subject matter of this movie is really grounded in sadness, the soundtrack does a really good job of mixing happy songs that make you want to rock out or dance to, with songs that are great for crying to. Again, it's near the bottom because, in comparison, there are others that stand out more. 
3. 'Breaking Dawn Part 1' (2011)
Because the majority of this movie revolves around Edward and Bella's wedding and subsequent honeymoon, it has more of a joyous tone to it. Not just that, but also the songs take on a more romantic, "I'd die for you because I love you so much" tone, like with the songs "It Will Rain" by Bruno Mars and "Turning Page" by Sleeping At Last. And let's not forget that the special wedding version of "Flightless Bird, American Mouth" is included here, bringing it all full circle to the first time Edward and Bella danced. 
It was hard to place this one. It's not as memorable as a lot of the others, at least when it comes to the feeling of it or the songs on the soundtrack. Except, the reason it's ranked higher than New Moon's soundtrack is because of the few songs that are well known. Like "A Thousand Years." That song is literally the song associated with the whole saga to this day, which carries a bit of weight. But, this can be interchanged with the spot below it probably depending on who you are.  
2. 'Twilight' (2008)
The Twilight soundtrack really leans into the indie film aspect that the first film had. It truly was just that; no one knew or expected the movie to blow up like it did. So this first soundtrack is a really nice mix of indie sounds, alternative rock, and punk (thank you, Paramore). It also has a lot of songs that send off that supernatural feel to it. Like "Full Moon" by The Black Ghosts, or "Tremble For My Beloved" by Collective Soul. The latter being the song famously played when Bella nearly gets hit with Tyler's van. 
Overall, the soundtrack hits all the eerie points a modern, vampire movie should have. Even though the Cullens aren't fanged or feast on humans, it is still about vampires. And this album inexplicably has that vibe. Not to mention, you also have great slow songs like "Flightless Bird, American Mouth" by Iron & Wine. Also, a big round of applause for the inclusion of Robert Pattinson's two songs on the soundtrack.  
This was hard to place. For one, it's the first soundtrack and paved the way for the rest of them, starting a great precedent. It really comes down to individual song preference at this point. As a whole, this soundtrack is the best because of the aforementioned reasons. But the next one beats it because each song is just so good. However, "Decode" almost put this one on top. Almost.
1. 'Eclipse' (2010)
OK, without being too favorable of the album, let's just say that the Eclipse soundtrack was doing what the others weren't. It had songs written for this soundtrack specifically, like "Eclipse (I'm All Yours)" by Metric. And then it also had absolute bops like "Neutron Star Collision" by Muse and "With You In My Head" by UNKLE. It also had dark, but cool, songs like "Rolling in on a Burning Tire" by Dead Weather. 
The feel of this soundtrack was edgy and dark, but it also had its love songs and lighter tunes. Sia's "My Love" is one of the most gorgeous songs on all five albums. It's fitting for the scene where Bella finally accepts Edward's marriage proposal (in exchange for some intimate time on their honeymoon). And don't even get me started on "Heavy In Your Arms" by Florence and the Machine. That song has so much emotion; along with its gorgeous lyrics, this song is the perfect anthem for Eclipse. It really tells Bella's story well, including the helplessness she possesses often. 
While the Twilight soundtrack is near the top because it started it all and has such unique sound and feel to it, Eclipse truly hits it out of the park. It's the movie with the most conflict and the soundtrack portrays that to a T. The heavy-hitters on this album send it above the rest. 
Now go off, listen to the albums, and reminisce on when you wanted to marry a sparkly vampire or werewolf as a teen and prosper.