'A Million Little Things' Season 4 Episode 16 Recap, 'Lesson Learned' — Who Killed [Spoiler]?
Someone dies in 'A Million Little Things' Season 4 Episode 16, but viewers don't find out who. Read the recap for the breakdown of who we think did it.
In A Million Little Things Season 4 Episode 16, "Lesson Learned," Gary (James Roday Rodriguez, Maggie (Allison Miller), Eddie (David Giuntoli), and Anna (Erin Karpluk) run into Anna's ex-husband. Anna finds out that Peter Benoit (Andrew Leeds), who sexually assaulted Sophie, is now dating one of Anna's friends. Meanwhile, Rome (Romany Malco) and Tyrell (Adam Swain) receive good news in the ABC series. Find out what happened in tonight's episode of A Million Little Things Season 4 Episode 16 with the recap below.
[Warning: This article contains spoilers from A Million Little Things Season 4 Episode 16, "Lesson Learned."]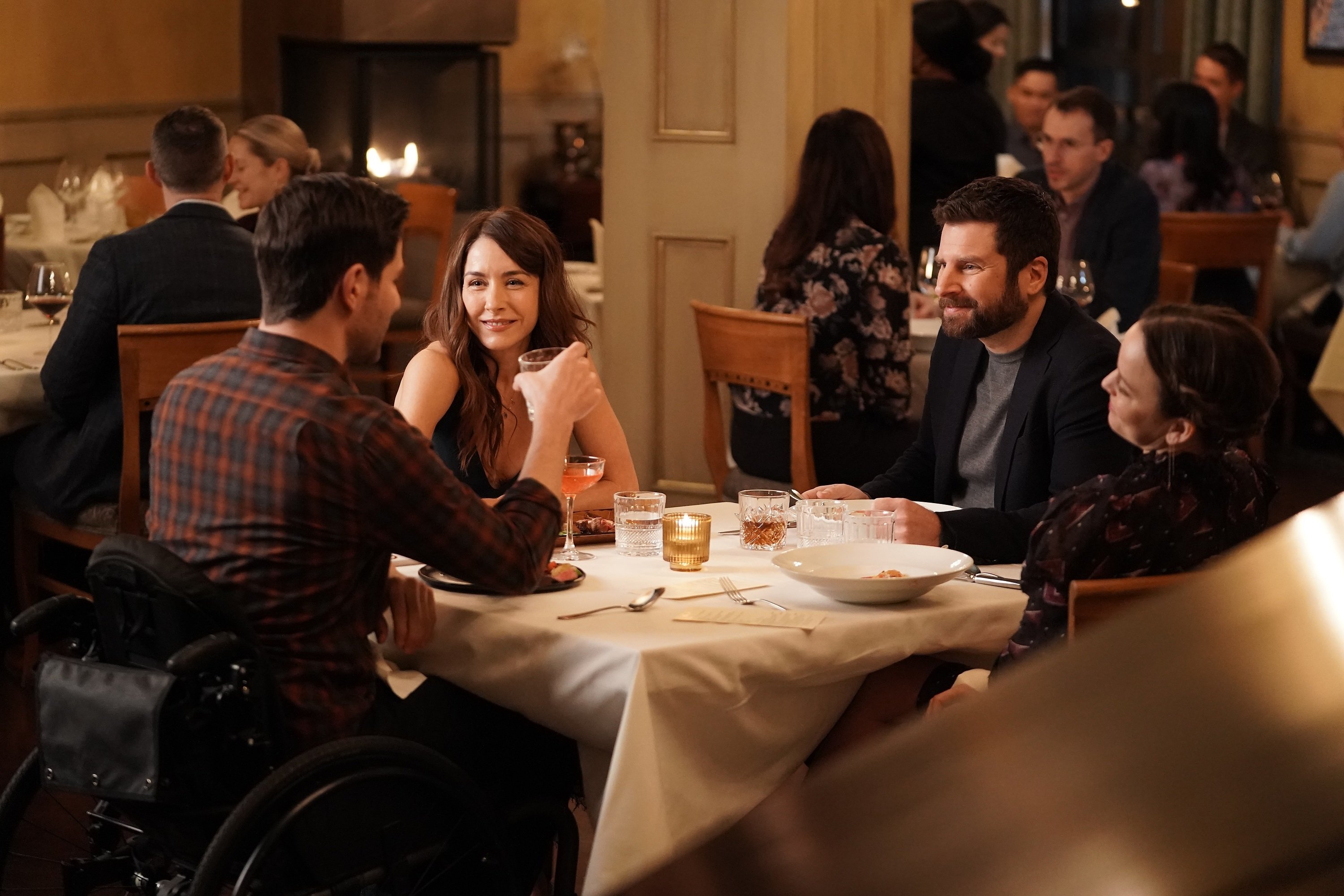 Peter Benoit returns in 'A Million Little Things' Season 4 Episode 16
The A Million Little Things Season 4 Episode 16 begins with a celebratory dinner. They celebrate Maggie and Gary moving in together and Eddie's autograph signing the next day. Then, Anna secretly grabs a shot at the bar and runs into an old friend, Carly (Robyn Ross). Anna finds out that her friend is dating her ex-husband, Peter Benoit. She can't believe that Carly would date Peter after hearing Sophie's testimony on Maggie's podcast. 
Anna has an outburst, and Gary suggests Peter leave. However, Peter refuses. Instead, Peter points out that Gary looks familiar (Viewers should recall that Gary and Christopher attacked Peter). Gary responds by threatening him, and the group of four decide to leave. When Eddie drops Anna off at her house, she insists that he doesn't need to stay with her. However, when she walks away, viewers can tell the run-in with Peter is still on her mind.
Eddie answered his phone excitedly during dinner about Charlie's first day of preschool. However, she's still sleeping, and he doesn't get to talk to his daughter. There's still no mention of Delilah Dixon (Stephanie Szostak) returning from France.
Rome and Regina both find a new job
Later in A Million Little Things Season 4 Episode 16, Rome gets a call from Dre Washington (Keith Robinson), who is now the Sussex Prep School Dean. He took the position of Dean Dennings (Sam Anderson), who retired a few days after Rome was at the school in episode 14. Dre offers Rome a position as a teacher of an elective art class. 
Meanwhile, Tyrell finds out he was not accepted to his fallback school, the University of Southern California. After a pep talk, Tyrell finds out that he was accepted into Yale University and thanks Rome for being an amazing father. Then Rome returns Dre's call and takes the teaching job.
Meanwhile, Regina and Valerie (Andrea Navedo) lose a catering job because Valerie made a mistake, forgetting a gluten-free allergy. She insists that Regina should find someone else. However, Regina explains that she would rather have someone she trusts. The two end up selling all of the food they made out of the truck. Instead of a catering business, did they become a genuine food truck vendor?
'A Million Little Things' Season 4 Episode 16: Sophie and Danny reminisce about Jon Dixon
Sophie and Danny go through old artwork and photos to clean out the Dixon house in A Million Little Things Season 4 Episode 16. They find a clue from one of the scavenger hunts that their dad put together when they were kids. Brother and sister go on a mission to find the treasure from Jon Dixon (Ron Livingston). When they finally find it, they are in awe over Dad's handwriting and thumbprint. He left them one root beer with two straws and a sweet note that made them realize they should stop fighting. Sophie asks Danny to move in with her; however, Danny insists that he will go back to France for their little sister, Charlie.
Katherine meets Greta's wife
Katherine (Grace Park) drops in at the tattoo parlor to drop off lunch for Greta (Cameron Esposito) and runs into Greta's wife, Julia (Jessica Lindsey). The two women fight over whether to sell their house before or after the divorce. 
However, the argument makes Katherine worry that Greta and Julia still seem passionate together. Instead, Greta explains how Katherine is the right person for her. Katherine suggests Greta give in and sell the house because she's already won. Katherine also asks Greta to move in with her.
'A Million Little Things' Season 4 Episode 16: Colin Hay guest stars
After the convention ends, Colin Hay talks with Eddie about the joy that his fans bring him. Eddie admits he can't find happiness in the music anymore. Colin suggests that he try to find his love for the music, not for the recognition. When the convention organizer (Joshua Pak) asks Eddie to return for the next one, Eddie agrees.
'A Million Little Things' Season 4 Episode 16: Who killed Peter Benoit?
Later, Maggie and Gary visit their fertility specialist and find that her eggs are in the best position. When they get home to make a baby, Detective Saunders (Brian Markinson) confronts Gary about Peter. He tells Maggie and Gary that Peter Benoit is dead. They provide Gary's alibi and new address. 
When Eddie finally goes to Anna's house, she says she broke her phone. She's also acting weird. The clues dropped in A Million Little Things Season 4 Episode 16 point to Anna Benoit as the cause of Peter's death. However, as the detective noted, it could be an accident since he fell down the stairs in his home. There was no evidence of a forced entry, but that might be because Anna still has a key. 
Detective Saunders visits Gary's new residence with Maggie to tell him that he corroborated his story. However, Rome overhears the detective mentioning the doctor and gets worried. Gary and Maggie tell Rome and Regina that they are trying to have a baby.
According to IMDb, A Million Little Things Season 4 airs Wednesdays at 10 p.m. EST on ABC and is available for streaming the next day on Hulu.