'A Quiet Place Part II' Is Actually Getting 2 Follow-Up Films
You've heard of the Oscars, but have you heard of the Isaacs? The Isaac Awards, in honor of the great Oscar Isaac, are Showbiz Cheat Sheet's unique spin on the Academy Awards. However, the Isaac Awards are different from the Oscars in that they celebrate the best movies of 2021 that deserve recognition but will not receive that recognition through Oscar nods. The 2022 Isaac Awards feature five categories: Best Performance, Best Scene-Stealer, Best Crowd-Pleasing Moment, Best Action Sequence, and Fan-Favorite Movie. Voting will be open via this form from March 7-20. Winners will be announced on March 24.
These days, it feels like most movies aim to become a franchise. Perhaps that's partly why A Quiet Place was such a pleasant surprise. Director John Krasinski had no apparent goals to turn his post-apocalyptic horror movie into an ongoing series. And yet, A Quiet Place Part II became a critical and commercial hit, even securing a nod for Fan-Favorite Movie at Showbiz Cheat Sheet's 2022 Isaac Awards. Now fans are eagerly awaiting what comes next.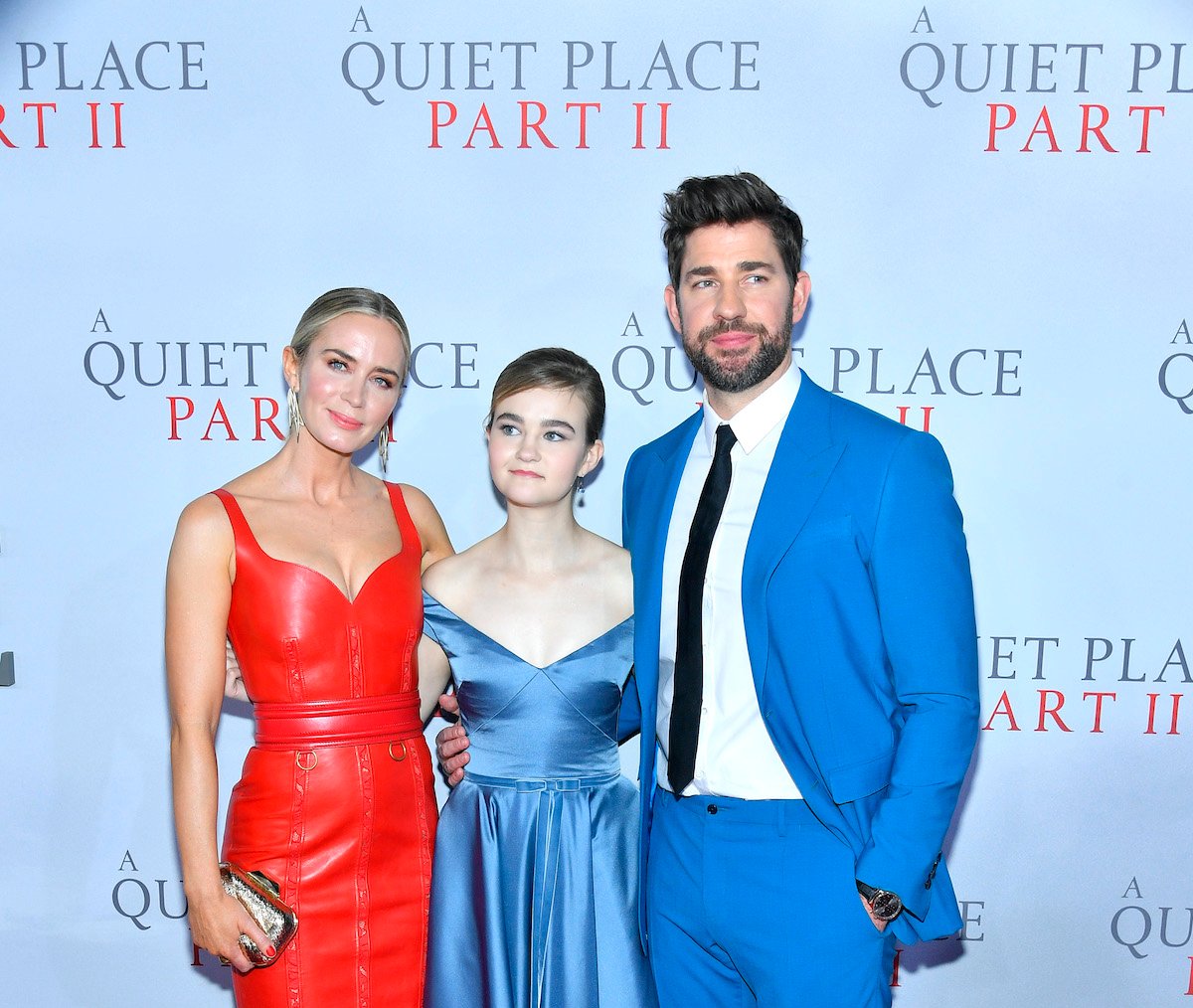 'A Quiet Place' accidentally became a movie series
The ending of A Quiet Place feels fairly definitive. While the monsters themselves aren't defeated once and for all, the emotional stakes of the Abbott family reach a conclusion. And more broadly, Regan (Millicent Simmonds) discovers the key that may lead humanity to defeat their alien oppressors. But after A Quiet Place brought $341 million worldwide — according to Box Office Mojo — Hollywood naturally turned to Krasinski for more.
Alas, the filmmaker was hesitant to deliver a sequel. After all, he likely didn't want to squander the success and fan goodwill he received from the first film. But Krasinski ultimately landed on an idea that could turn A Quiet Place Part II into a natural extension of what he wanted to say in the first film. Once he convinced his co-star and real-life Emily Blunt of how a sequel could work, the movie was off and running, eventually hitting theaters in 2021.
John Krasinski is involved in 2 upcoming movies
Part of Krasinski's plan to move the franchise forward involved filling in some backstory. So A Quiet Place Part II opens with a flashback featuring Krasinski's character and his family as the monsters arrive. This sets the tone for where the sequel ultimately goes. And that ending teases larger roles for Simmonds and co-star Noah Jupe. However, fans have more than one upcoming installment in the series to look forward to.
A Quiet Place Part III is currently in the works, with Blunt, Simmonds, and Jupe reportedly onboard and Krasinski back in the director's chair. But as reported by Deadline, Paramount Pictures is also developing a spin-off film with Michael Sarnoski signed to write and direct. Sarnoski made his feature directorial debut with 2021's Pig starring Nicolas Cage. Though plot details are scarce, the film is reportedly based on an idea by Krasinski himself.
'A Quiet Place Part II' fans won't have long to wait
A Quiet Place fans left hungry for more will be reassured to know the series' return is right around the corner. The third entry in Krasinski's trilogy isn't due until 2025, according to Deadline. But Sarnoski's movie is due in theaters a lot sooner. That film has already claimed a release date of Sept. 22, 2023.
Those eager to revisit the first two movies in the meantime can stream them now. A Quiet Place and its sequel are both available exclusively on Paramount+. Time will tell whether A Quiet Place Part II defeats The Green Knight, Malignant, and Titane at Showbiz Cheat Sheet's 2022 Isaac Awards, where all four are up for Fan-Favorite Movie.
Vote for the 2022 Isaac Awards here now through Sunday, March 20. Winners will be announced on March 24.