A 'Solo: A Star Wars Story' Sequel Would Only Work if It Didn't Focus on Han Solo
Since George Lucas sold Lucasfilm to Disney, the studio has made many more Star Wars movies and series. Whereas before, fans had the six films and The Clone Wars, along with other content here and there, Disney brought about another trilogy, two spinoff movies, and more series. It's had its hits, but also its misses, with Solo: A Star Wars Story being one of them. But fans still want a sequel. The only way it would work, though, is if Han Solo wasn't the main character.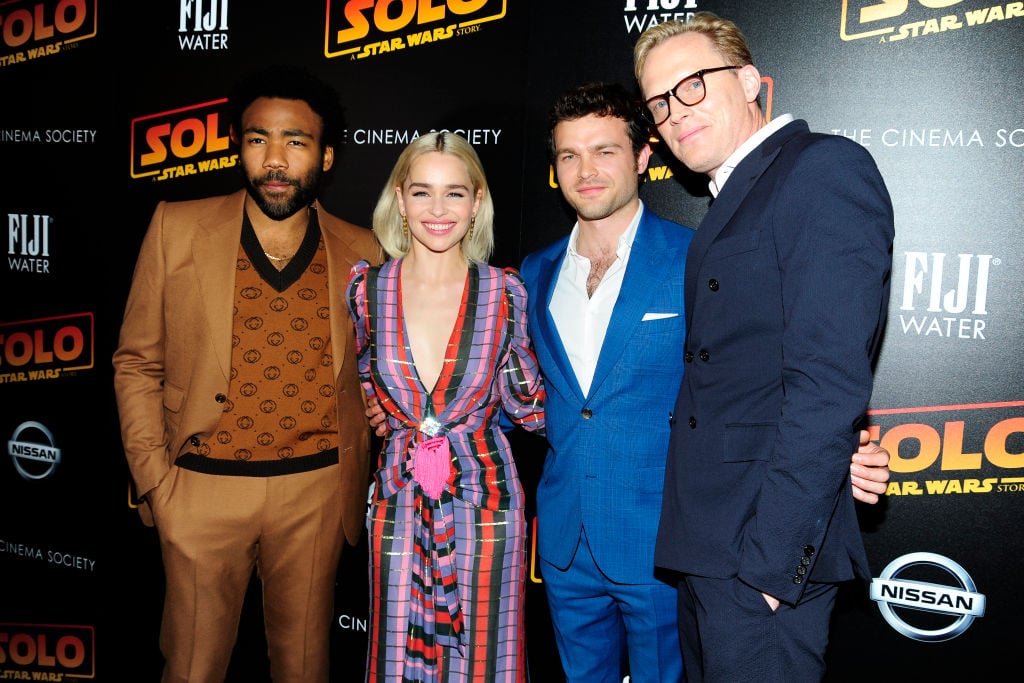 Two years after its release and fans are calling for a sequel, but will it happen?
On Twitter around May 25, fans started "Solo 2" trending. Many people talked about how they actually loved the movie, and despite its semi-poor performance, they wanted a sequel. It was the second anniversary of the movie, so it makes sense that people brought it back to the forefront of everyone's minds. 
But in September of 2018, co-writer Jonathan Kasdan said there isn't a high chance that a sequel would happen, Comicbook.com reported. Kasdan tweeted several things about the movie, and he addressed that question. 
"To be honest, I think the challenge has more to do with the foreign box office than the U.S.," he wrote in a lengthy thread. "Personally, I think there are great Star Wars movies to be made that don't need to cost quite so much. Hopefully that will be the trend in years to come, and maybe, just maybe, that trend will allow us, one way or another, to tell more stories with Alden [Ehrenreich], Joonas [Suotamo], Emilia [Clarke], and Donald [Glover]."
So while it's not a definite "no," there wasn't a plan to do a second film then. However, over a year later, that could change. He added that "the odds seem like they're against it happening anytime soon," so who knows.
Alden Ehrenreich is signed on to play Han Solo in two more movies
Interestingly enough, though, the lead of the film, Alden Ehrenreich, shared a fun fact in an interview with Esquire in April of 2018. In it, he revealed that he actually is signed on to do at least two more movies with Lucasfilm. 
"I don't know if that's officially, uh, public. But—yeah," he said. It doesn't seem like Ehrenreich was meant to divulge that information, but he did, and here we are. Now, that was before the film came out and it was before its performance at the box office was added into the picture. 
It's unclear whether a Lucasfilm contract like this would become voided or if either party could get out of it or cancel it if they wanted. And does it work with series too? Not just movies? With Disney+'s success, they could go that route. But, if the contract is still viable, that means young Han Solo is meant to show up at least two more times at some point. 
Maul's scene at the end shows where the next movie needs to go
However, as we wrote before, there's an argument to be made that the next "Solo" movie should focus on someone other than the scruffy-looking nerf herder. The last scene, in particular, strengthens the argument that a sequel Solo film should focus on Maul and Crimson Dawn. 
There's no denying the massive fan base that Maul and Sam Witwer have. Maul's character is one of the best developed and most complex characters in Star Wars, aside from Ahsoka Tano and Anakin Skywalker. He has been through a lot and while a Big Bad, he's also not entirely on the Dark Side. At least, not on the side of the Sith. 
The final season of The Clone Wars showed the beginnings of Crimson Dawn, even showing Dryden Vos in animated form. The reveal that Qi'ra was a part of this criminal syndicate was not only a shocker but brought Ray Park's Maul back in such an exciting way. With Witwer behind the voice, too, it was chill-inducing for fans. 
While Solo was good and added something to the overall Star Wars universe, it showed that the fervor for Han Solo's solo adventures wasn't that in-demand for fans. However, it's still an important time period, and the final scene with Maul and Qi'ra is the most intriguing part of that whole film. Han Solo should be a part of any sequel that happens, but wouldn't be the focus. It really makes the most sense to hone in on the Crimson Dawn aspect and create the Maul-centric film fans are dying for.