'A Star Is Born': Bradley Cooper Finally Addresses Lady Gaga Romance Rumors — and That Steamy 'Shallow' Performance at the Oscars
In 2018, Bradley Cooper and Lady Gaga showed the world what true romance is all about. In the fourth remake of the 1937 film, A Star Is Born, they convinced audiences they were wildly in love. The depth of their performances pulled on the heartstrings of moviegoers, with the film earning eight Oscar nominations and grossing $436.2 million worldwide. When Cooper and Lady Gaga took to the Academy Awards stage to perform a live version of the hit song "Shallow," people were captivated once again with their apparent undying love for one another. Social media couldn't stop commenting on the steamy performance, noting the loving gaze shared between them. Now, two years later, Bradley Cooper is finally putting the rumors to rest about a romance between him and Lady Gaga.
Fans were convinced Cooper and Lady Gaga had feelings for each other IRL
A Star Is Born got nominated for Best Picture, and Cooper and Lady Gaga received a nod for Best Actor and Best Actress, respectively. "Shallow," with music and lyrics by Lady Gaga, won the Oscar for Best Original Song.
The story revolves around Jack (Cooper), a struggling musician who spirals out of control as he battles alcoholism and the fate of his dying career. Lady Gaga portrays Ally, a young and aspiring performer who finds inspiration from the aging singer. They become involved in a torrid love story that leaves audiences feeling the onscreen chemistry as it leaps off the screen.
The connection between the two actors was so intense, that fans were convinced the pair were dating in real life. Their Oscars "Shallow" performance only solidified the rumors.
Bradley Cooper recently addressed romance rumors and the steamy 'Shallow' performance with Lady Gaga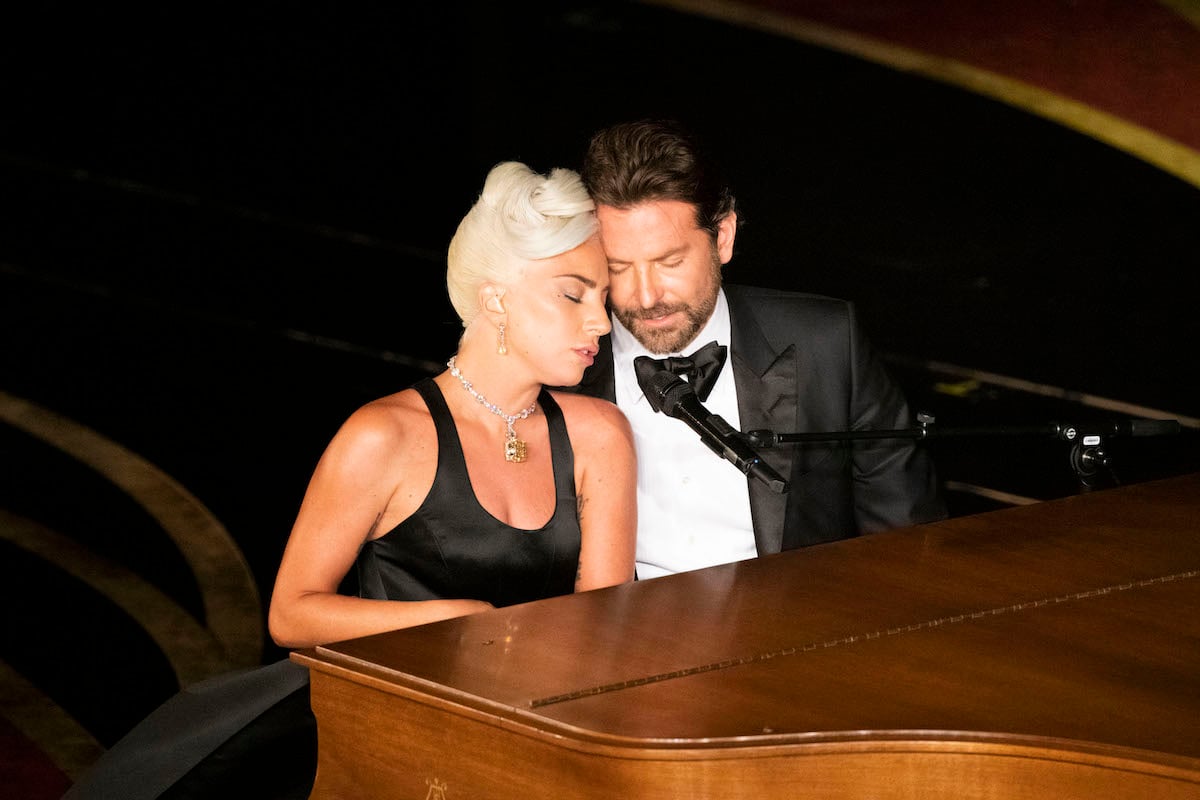 Lady Gaga is no stranger to performing live in front of massive audiences. In addition to her countless sold-out concert performances, the "Born This Way" singer has appeared twice in the Super Bowl halftime show, performed three times at the Oscars, and even sang at President Joe Biden's inauguration ceremony.
Cooper, on the other hand, is not a seasoned stage performer, especially as a musician. He is admittedly more comfortable acting on a movie set than singing in front of a large crowd.
In a recent interview with The Hollywood Reporter, discussing Lady Gaga's performance in the upcoming film, House of Gucci, Cooper talked about the provocative Oscar moment. Cooper explained that he was nervous about singing live in front of his peers and wanted the performance to play out like a scene from the movie to reduce anxiety. 
The Guardians of the Galaxy star said, "They kind of fall in love in that scene in the film. It's that explosive moment that happens to happen to them on a stage in front of thousands of people." Cooper admitted, "It would have been so weird if we were both on stools facing the audience."
Cooper revealed that while the pair became close during the filming of A Star Is Born, they were never romantically involved. When asked about the sparks that flew during the Academy Awards performance, The Hangover actor said they were both definitely acting.
What has Lady Gaga said about the rumored romance?
At the time of the Oscar performance, Cooper was involved in a long-term relationship with the mother of his child, Russian model Irina Shayk. They split shortly after rumors about a romance with Lady Gaga went viral.
Lady Gaga had recently separated from Christian Carino but repeatedly denied rumors that she and Cooper were romantically involved. She claimed she and Cooper were strictly good friends.
According to E! Online, the "Poker Face" singer said back in 2019 that the moment they shared on stage was nothing more than "powerful acting."
The eccentric performer explained the intention was to recreate the fictional love story from the movie on stage. She said, "For me, as a performer and as an actress, of course, we wanted people to believe that we were in love."
Lady Gaga explained that during the Oscars duet, they "wanted people to feel that love." She said, "We wanted it to go right through the lens of that camera and to every television that it was being watched on."