Aaron Paul Asked Bryan Cranston to Play a Special Role in His Son Rydin's Life
When Aaron Paul's son Ryden was born, he called on his 'Breaking Bad' co-star, Bryan Cranston, to take a part in the child's life.
Aaron Paul and Bryan Cranston go way back to 2008 when Breaking Bad debuted on AMC. The hit series featured Cranston and Paul in the leading roles of Walter White and Jesse Pinkman, respectively. The two actors appeared in the series until 2013, when Breaking Bad went off in the air in grand style, receiving overwhelming critical acclaim.
Over the years, Cranston and Paul have remained very close, with Cranston playing a pivotal role in Paul's inner circle. Recently, Paul opened up about the new addition to his family. And he revealed he asked Cranston to be his young son's godfather. 
Aaron Paul and Bryan Cranston became very close after working together on 'Breaking Bad'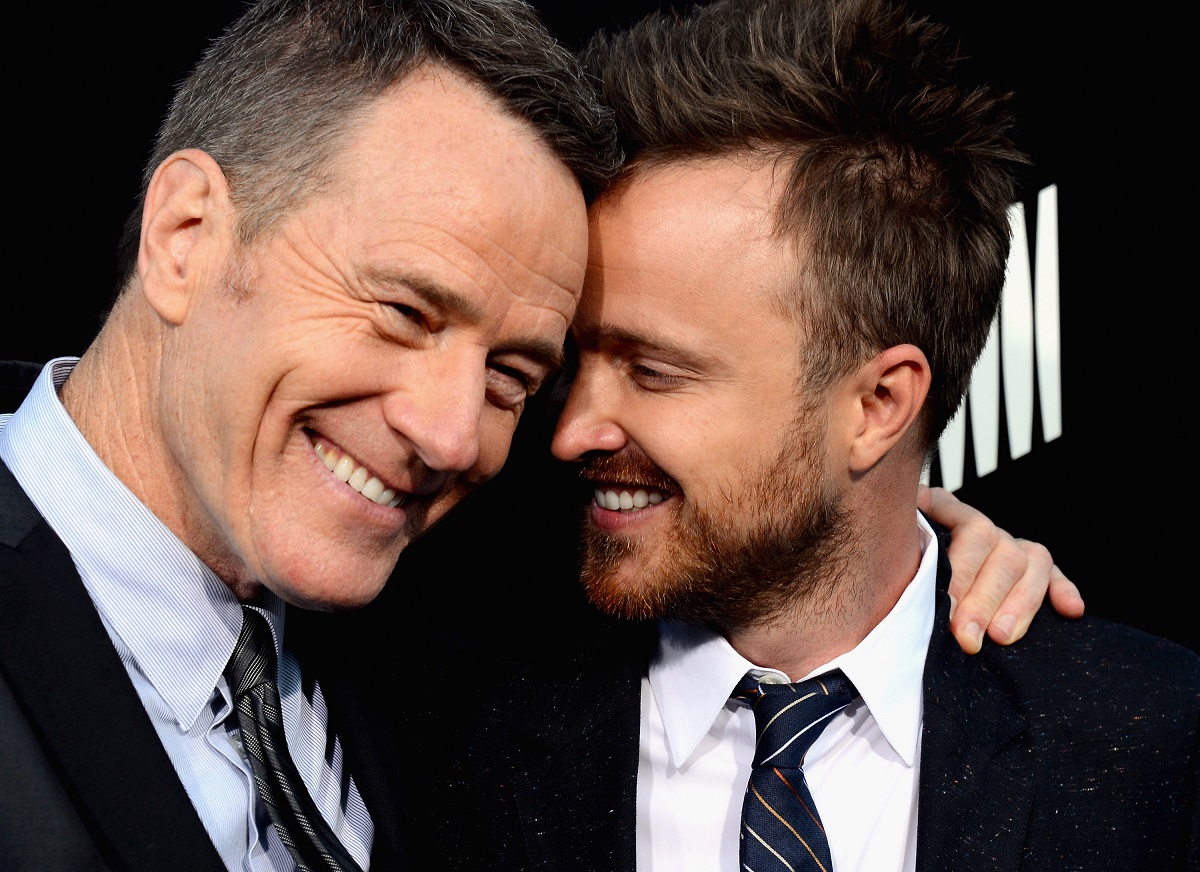 Paul was a young up-and-coming actor when cast on Breaking Bad. Working alongside Cranston, an established character actor, Paul was able to rely on his co-star for acting advice. The two also formed a deep friendship, with Paul documenting many of their hilarious moments on social media. 
In 2016, according to People Magazine, Paul took to Instagram to share a picture of himself with Cranston, writing, "To quote the man himself 'Drink that bottle of wine. Burn that special candle. You don't know how long you will be here so you might as well enjoy the things that you have.' Bryan my beautiful friend…thank you for your wise words and thank you for your friendship. I have learned so much from you my friend."
In 2013, when Paul married Lauren Parsekian, Cranston acted as one of Paul's groomsmen. In the years since, Paul's family has expanded. And Cranston remains close to his former co-star, offering advice and support. 
Aaron Paul asked Bryan Cranston to be the godfather of his newborn son
In February 2018, according to Us Weekly, Paul and Parsekian welcomed their first child, a daughter named Story. Then, in April 2022, the two had their second child, a baby boy named Ryden. In an April interview with Jimmy Kimmel, Paul opened up about the birth of his son, revealing that he asked Cranston to play a special role in the child's life. "You know, I asked Bryan on his birthday if he would be our baby's godfather," Paul told Kimmel. "He was very excited, very honored. I love the man to death, you know."
Paul went on to call Cranston one of his best friends, noting that the decision to ask him to be Ryden's godfather was a "no brainer."
What projects have Aaron Paul and Bryan Cranston worked on recently?
While Paul and Cranston have familial ties now, everything started with Breaking Bad. So it fits the two recently reunited to reprise their roles as Walter White and Jesse for the sixth season of Better Call Saul. The sixth season may be the final one for the Breaking Bad spinoff. So it's the perfect time to bring in Walter and Jesse for a cameo appearance. However, it is still unclear in what capacity viewers will see the characters since those episodes haven't aired yet.
In addition to their onscreen collaborations, Paul and Cranston worked on another exciting business opportunity. In 2019, the two actors released their mezcal line dubbed Dos Hombres. Paul and Cranston first developed the idea in 2016, according to Ocean Drive, and have worked intently on the brand. "We honestly want to be the No. 1 mezcal in the world," Cranston said. "That's our goal. It's a dangling carrot and we want to achieve that. It's something that we feel we can do because we believe in this so much and it's an awful lot of fun."