Aaron Paul Met His Wife Lauren Parsekian at Coachella
People love to get the juicy details behind today's biggest celebrity relationships. Those star-studded unions with unique beginnings are even more interesting. One such tale of a fun meet-cute involves the story of Aaron Paul and his wife, Lauren Parsekian.
The Breaking Bad star had his first encounter with Parsekian at Coachella. Since then, they've committed their lives to each other and started a family. Here's how it unfolded.
How did Aaron Paul meet his wife Lauren Parsekian?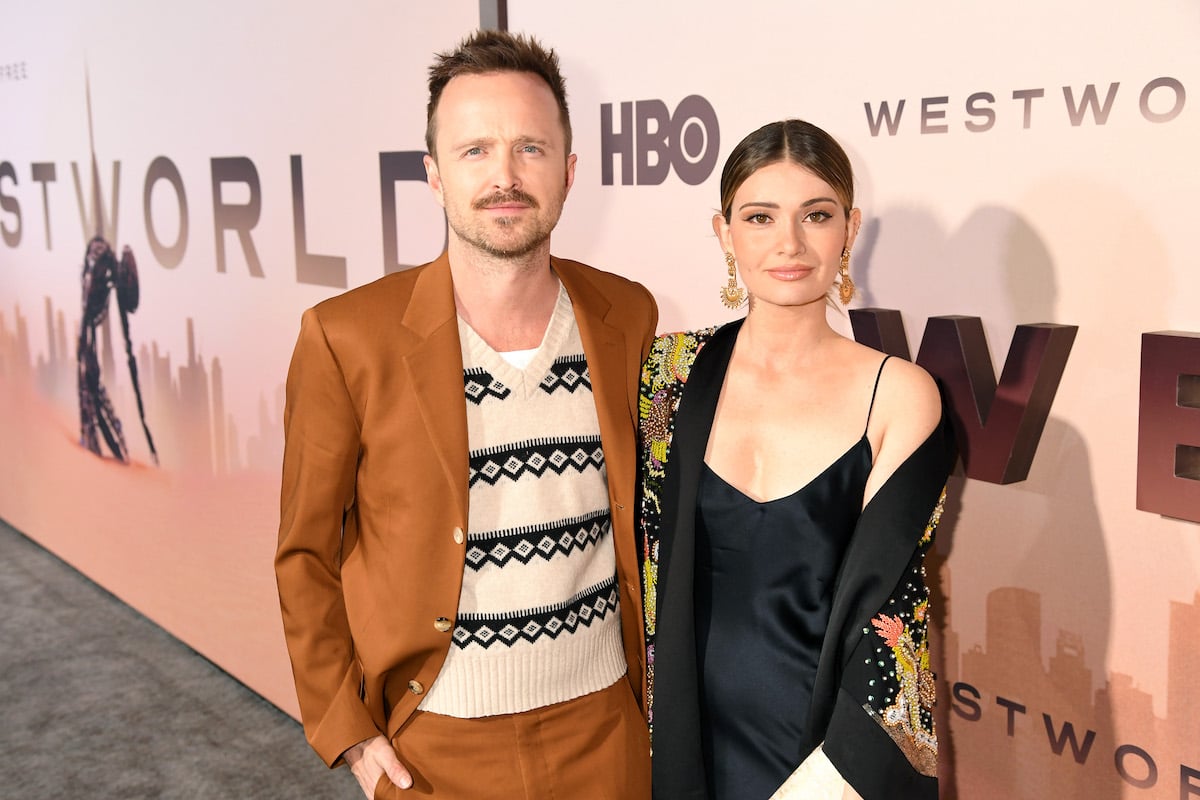 Parsekian is an Orange County, California, native who's been a successful actor and director for several TV shows. You'll find recognizable projects on her resume like NCIS: Special Agent DiNozzo and Dr. Phil. Her mother, Debra Kelly, also acted, as The Sun reports, so Parsekian grew up familiar with the industry.
But Paul and Parsekian didn't meet on the set of a series show or movie. In fact, the couple first laid eyes on each other at Coachella. As Parsekian described it, the first time she saw Paul, she caught a glimpse of what would be "the most perfect visual snapshot of my life."
How long have Aaron Paul and Lauren Parsekian been together?
The two have been together since the chance meeting at Coachella. In 2011, they got engaged in Paris. In 2013, they got married. People reported that the event was a Parisian carnival theme. Parsekian said, "It was beautiful and so emotional." Paul said, "Everything was perfect." Roughly 250 guests attended, including Paul's best man and Breaking Bad co-star Bryan Cranston.
In 2018, the pair welcomed their first child, a daughter named Story Annabelle Paul. In December of last year, they announced Parsekian was pregnant with child No. 2. Ryden Caspian Paul was born on April 20, 2022.
Aaron Paul shared his most recent pride and joy on Instagram. He wrote, "So happy you are out in this world," and "I promise to make you proud." Parsekian posted equally joyous sentiments and said their newborn son's name was inspired by the couple's "favorite artist," Mark Ryden.
Aaron Paul's acting career
Paul is kind of a big deal. Celebrity Net Worth reports that he's worth $20 million. Fans recognize him as Jesse Pinkman, a drug dealer on the AMC television series Breaking Bad. It's his most notable role, as IMDb states, earning him three Emmy Awards in 2010, 2012, and 2014 for Outstanding Supporting Actor in a Drama Series.
Before Paul became Jesse Pinkman, he had a slew of other appearances and continues to be a fan favorite in other shows. He debuted in 1990 on Beverly Hills, 90210, and made another appearance on Melrose Place in 1992. Today, you'll find him on Westworld, where he plays Caleb Nichols. But you'll also catch him on Better Call Saul, BoJack Horseman, Truth Be Told, and The Path.
Paul's on the big screen, too, with roles in Dual (2022), Adam (2020), and El Camino: A Breaking Bad Movie (2019). He's played opposite some heavy hitters, too. Paul played Jeff Bridges' estranged son in K-Pax (2001). Paul also played Tom Cruise's brother-in-law in 2006's Mission: Impossible III.
In Hollywood, star-studded couples don't always have the staying power. But for Paul and Parsekian, who met at Coachella and got engaged in Paris, every detail oozes long-lasting love.
RELATED: Aaron Paul Asked Bryan Cranston to Play a Special Role in His Son Rydin's Life