Aarti Sequeira Delivers a Subtle Nod to 'The Sopranos' With Her Lasagna Cupcakes
Looking for a new way to present traditional lasagna? Try Food Network star Aarti Sequeira's Lasagna Cupcakes. 
The Aarti's Party host puts wonton wrappers to good use here, creating a fun and playful presentation of a classic dish. And along the way, she pays tribute to HBO's The Sopranos.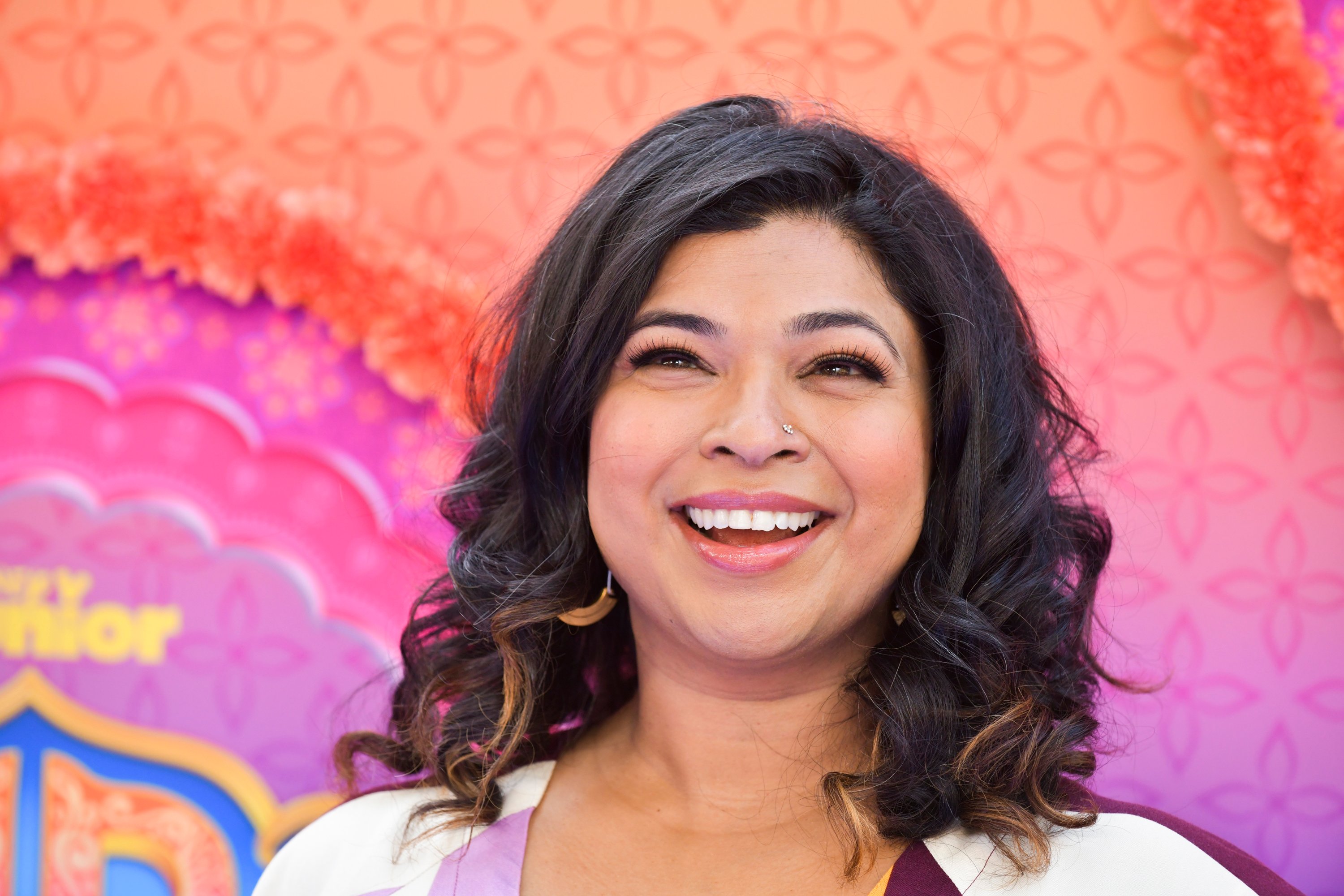 Sequeira adds cloves and cinnamon to her lasagna's meat sauce
"You thought you'd seen every kind of cupcake, but this is the one that really stands out," Sequeira says in the Food Network video for this recipe. … "These cupcakes are irresistible; I mean, I have a gluten allergy and I can't help but eat them."
The Guy's Grocery Games judge starts with the meat sauce: "I'm doing something that's not Italian whatsoever. I'm going to add a couple of Indian spices in here. Some whole cinnamon and some whole cloves. … It'll make the sauce taste richer and deeper and it'll give it that all-day flavor."
She heats the cinnamon stick and cloves in warm oil and then removes them after a few minutes.
Chicken sausage, removed from its casing, follows into the pot: "You can use whatever kind of sausage you like, but the chicken's a little bit lighter. I like the flavorings that come in a traditional Italian sausage, you know, all the fennel and stuff."
Cook the sausage until it's browned, then add tomato paste, crushed tomatoes, and fresh basil. Allow the sauce to simmer, and while it does, the chef says, it's time to start on the ricotta filling.
Ricotta, Parmesan, and mozzarella cheeses are combined in a bowl, followed by store-bought mango chutney. "It's cooked-down mangos, with lots of spices and sugar, a little vinegar so it's nice and tangy," Sequeira says. "And this just adds a little extra, 'Huh! What's in there?'"
The filling is salted and peppered, and "it's time to assemble the cupcakes!"
Sequeira's unassuming nod to 'The Sopranos' is deep in each Lasagna Cupcake
Wonton wrappers serve as the lasagna noodles for these cupcakes. "They're easy to come by, they're already the right size, it's perfect," she adds.
One wrapper is packed in each of the cups of a 12-serving muffin baking pan. Now, a teaspoon of the meat sauce is spooned in, followed by a teaspoon of the ricotta filling spooned over it.
Place another wonton wrapper over the filling, but first, Sequeira says to rotate the pan "about 90-degrees so that the corners of the first wrapper and the second wrapper aren't right on top of each other." Another teaspoon each of the meat and ricotta fillings are added.
And then the chef adds a wink of an ingredient for a show dear to her heart: "I put a little basil leaf on there; it's my nod to The Sopranos. Because Carmela would always, that was her secret, that she would put the basil leaves under the pasta, so that's what I do." 
To top it all off, another wonton is added, then another layer of fillings and each cupcake is topped with mozzarella cheese, "so they're nice and brown and beautiful."
Bake the cupcakes in a 375-degree F oven for 20 minutes; allow them to rest for 10 minutes, then dig in.
Get the complete recipe, video, and reviews on Food Network's site. 
Food Network reviewers confirmed that Sequeira's savory cupcakes are as fun to eat as they are to make
Reviewers loved this fun dish. Perhaps because the chef's Lasagna Cupcakes each playfully looks like a flower, or because of the surprising texture in every bite. Not to mention the welcomed hints of flavor from the cinnamon, cloves, and chutney.
"My mom and I love this recipe so much! It's so delicious and we are making it now. That sauce is so delicious I could eat it on its own!," one home cook wrote.
Sequeira's meat sauce is even better after a long simmer, according to one reviewer: "I used sweet Italian sausage in place of the chicken sausage. The cinnamon stick in the sauce added so much flavor and richness. If you have the time to let this cook out over a couple hours or in a crockpot, I'd recommend it. The sauce only gets better. They were so delicious, I can't wait to make them again."
Try Aarti Sequeira's fun — and fun to eat — Lasagna Cupcakes for a spin on traditional lasagna. And don't forget the basil leaf.
RELATED: Food Network Star Aarti Sequeira's New Book 'My Family Recipe Journal'