'Abbott Elementary' Cast and Characters: A Complete Rundown
ABC's workplace TV comedy Abbott Elementary revolves around the staff teaching at an underfunded West Philadelphia-based public school. Here is a complete rundown of all the cast and characters in the new show.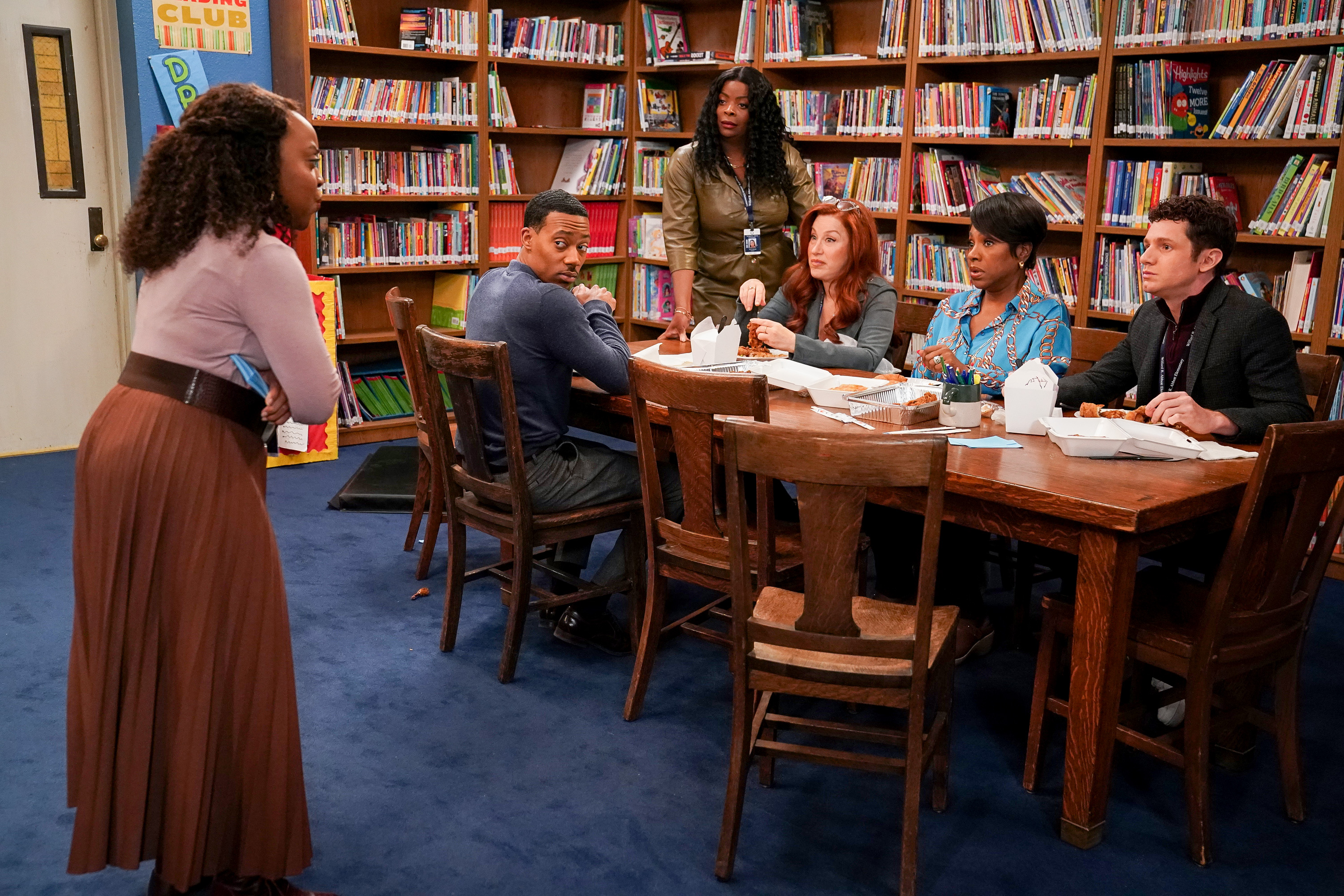 Quinta Brunson leads 'Abbott Elementary' cast as Janine Teagues
While it's an ensemble cast, the show is mainly told through the eyes of the hopeful and dedicated second-grade teacher, Janine Teagues, who is portrayed by the creator, writer, and executive producer, Quinta Brunson.
Other teachers featured in Abbott Elementary include the more experienced second-grade teacher, Melissa Schemmenti (Lisa Ann Walter), who lives in South Philadelphia and has "sketchy" connections, supportive history teacher Jacob Hill (Chris Perfetti), veteran kindergarten teacher who Janine idolizes Barbara Howard (Sheryl Lee Ralph), substitute teacher and aspiring principal who apparently has a crush on Janine, Gregory Eddie (Tyler James Williams) and the unqualified principal Ava Coleman (Janelle James).
RELATED: Is 'Abbott Elementary' Based on a True Story?
William Stanford Davis stars as the odd custodian who loves Boys 2 Men songs, Zack Fox as Janine's longtime boyfriend and hopeful rapper Tariq, Mitra Jouhari as Sahar, Janine's college friend and volunteer art teacher, and Orlando Jones as Gregory's father who doesn't support his principal aspirations.
Philadelphia-based news anchor Jim Gardner also appeared as the staff enjoys watching him in the morning.
Is 'Abbott Elementary' based on a true story?
Shortly before Abbott Elementary made its debut, Brunson appeared on Jimmy Kimmel Live and explained the mockumentary-style comedy is "loosely" inspired by her mother's over 40 years of teaching experience in the West Philadelphia public school system.
She went more in-depth during a Feb. 2022 episode of The Kelly Clarkson Show when the actor spoke about her experience with a parent who teaches, noting that it gave her a "behind-the-scenes" view into the thankless occupation.
The actor continued, pointing out she had her mother as her kindergarten teacher and attended the same school her mom taught until sixth grade. Her exposure riding back-and-forth to school with her mother, watching her continue to work at home, and her mom's "countless stories" inspired Abbott Elementary.
The former Buzzfeed Video producer has also noted she named the fictional school Willard Abbott after her favorite teacher, Joyce Abbott, and Philadelphia-based actor Will Smith.
'Abbott Elementary' is currently on hiatus
After airing nine episodes on ABC, the show went on a break starting March 1. Instead, ABC aired its coverage of the annual State of the Union address.
Abbott Elementary Season 1 Episode 9, "Step Class," followed Janine's after-school step program that gets overtaken by Ava. When the kids express a preference for the principal as their teacher, Janine steps back and allows Ava to change the routine.
However, when the group was scheduled to perform, the principal went missing, upsetting Janine. Additionally, Gregory feels like an outcast when the other teachers poke fun at him for not liking pizza.
Following the episode, Brunson thanked those for watching and revealed viewers wouldn't get another episode for three weeks. Episode 10's "Open House" should air on March 22, 2022, when the series returns. Abbott Elementary airs Tuesdays on ABC.
RELATED: Is 'Abbott Elementary' Airing Tonight, March 1? When Does Episode 10 Return?