'Abbott Elementary': Quinta Brunson Based Desking on a Real TikTok Trend
'Abbott Elementary' creator Quinta Brunson outlined the invention of desking for an episode of her show in which students create their own viral trend.
One of the standout episodes of the ABC comedy Abbott Elementary was "Desking." The teachers of Abbott Elementary discover a viral trend where students run on top of the desks. It begins with the aftermath of a desking, but there is on screen desking in the episode. Abbott Elementary creator Quinta Brunson created a viral phenomenon worthy of TikTok.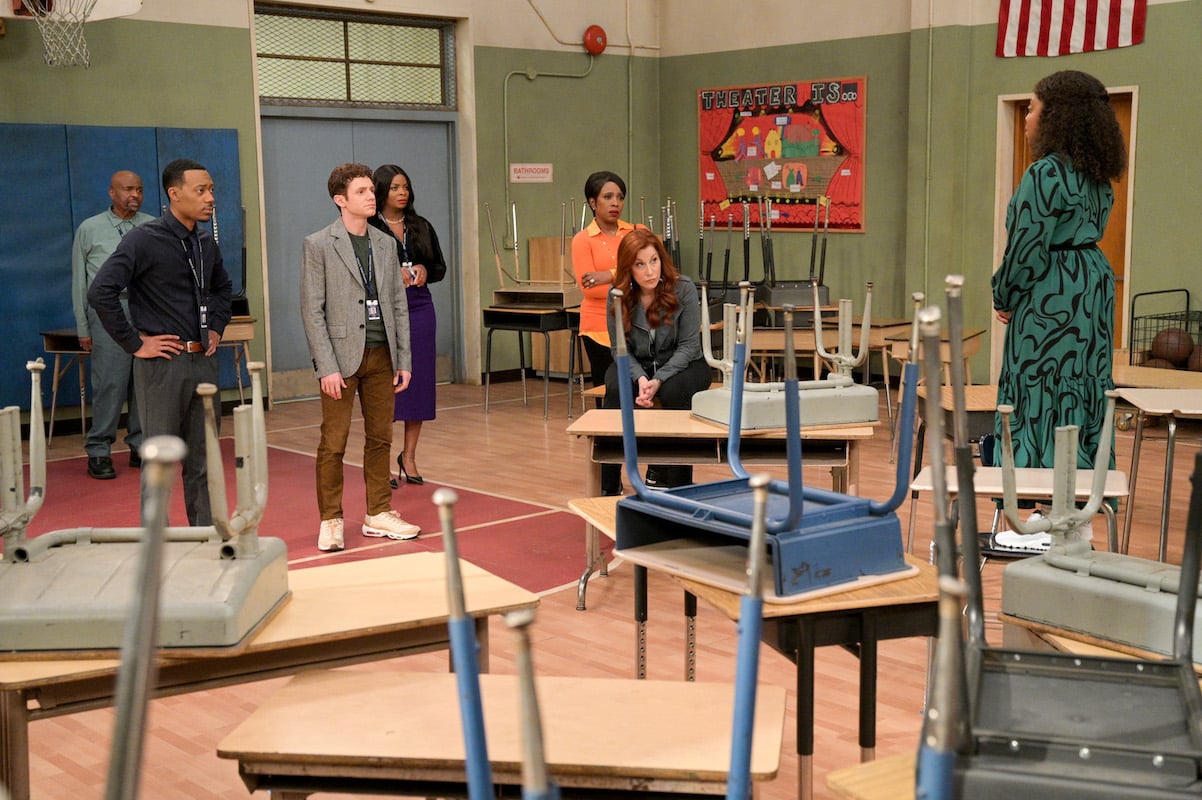 Brunson was a guest on EW's The Awardist podcast. When asked specifically about "Desking," Brunson revealed how she came up with it. ABC renewed Abbott Elementary for season 2, to premiere this fall. 
'Quinta Brunson had to replace another 'Abbott Elementary' episode with 'Desking'
Brunson said "Desking" was not part of the original 13 episodes of Abbott Elementary Season 1. She created it in a pinch. When you think about how "Desking" turned out, that shows you just how creative Brunson can be on short notice. 
"Totally made that one up," Brunson said on The Awardist. "We were last minute trying to find a new episode because one of our episodes, it didn't make it far, we were at the story area with it which is the beginning of the process. We don't know about this because it was very similar to another story we had so we threw it out. I very quickly came up with the idea of desking, just the notion of it. The writers room helped build it out."
Quinta Brunson based desking on real TikTok videos 
Desking is 100% copyright and trademark of Abbott Elementary and Quinta Brunson. However, when thinking about what kids could do to cause trouble, she watched real TikTok videos. The ice bucket challenge has nothing on the TikTok videos that inspired desking. 
"I'd seen kids online who were stealing paper towel dispensers from their classrooms," Brunson said. "This was a TikTok trend. I'm like this is probably driving the teachers crazy but I'm only seeing the kid end of it which is they were stealing it to show on TikTok. And I was like what if something similar like that happened at Abbott? What would that mean for our team?"
Everyone on 'Abbott Elementary' loved 'Desking'
"Desking" just goes to show how inspiration can strike. It was not one of the initial ideas for an episode, but it became everyone's favorite. Brunson said "Desking" also gave her entire cast a moment to shine, especially Chris Perfetti. His character, Jacob Hill, made desking uncool by doing it as a teacher.
"That wound up being one of my favorite episodes," Brunson said. "I know it's one of the room's favorite episodes because we got to be so silly. I feel like everyone's on fire in that one. Janelle [James] and Lisa [Ann Walter], it's so good. Oh my God, Sheryl [Lee Ralph]. Oh my gosh, just silly everybody is just on fire. It's one of our favorite ones for sure, so good.