'Abbott Elementary' Season 2 Has a New Writer With the Same Name as 1 Character
The ABC comedy Abbott Elementary will be back for season 2 in the fall. Creator Quinta Brunson has already opened the Abbott Elementary writers room to prepare scripts to film for the new season. Brunson hired one new writer who shares a name with one of her Abbott Elementary staff members.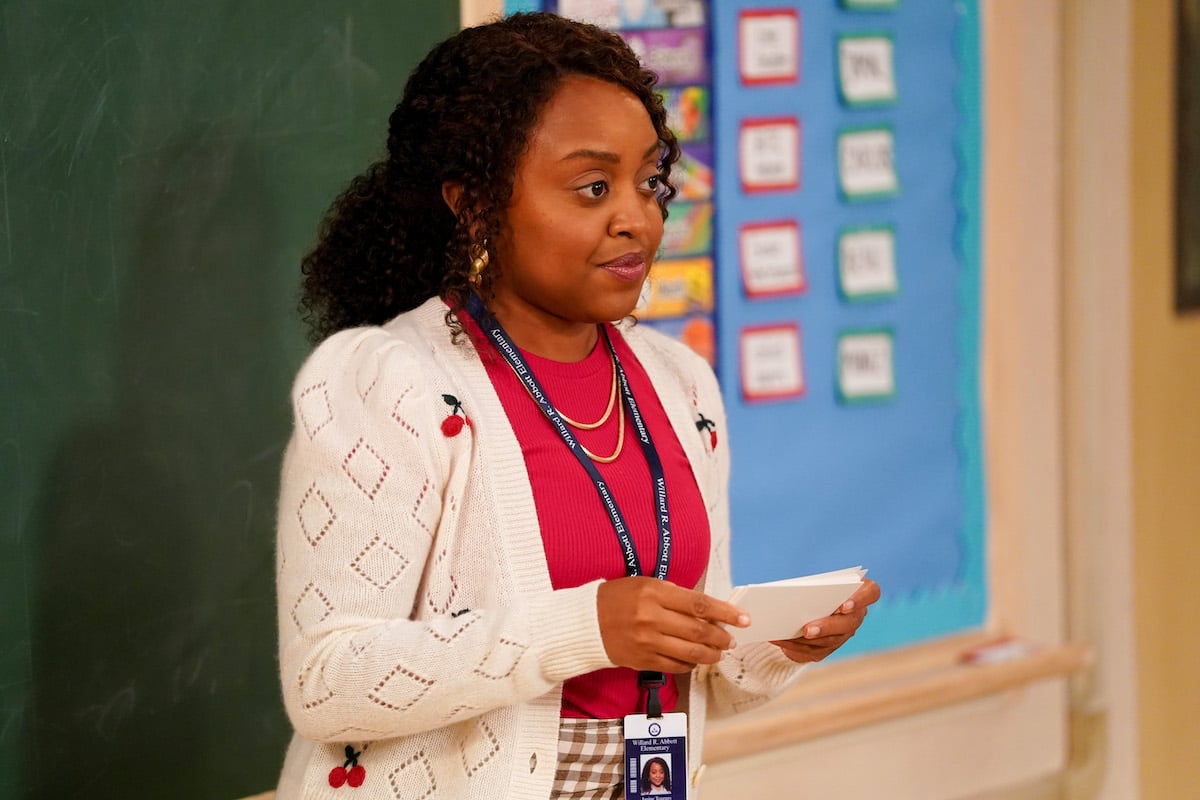 Brunson was a guest on Entertainment Weekly's The Awardist podcast on June 13. When previewing the upcoming season, Brunson revealed how she ended up with a staff writer named after a character on Abbott Elementary. Abbott Elementary Season 2 premieres Sept. 21 on ABC.
Quinta Brunson hired the real Ava Coleman to write for 'Abbott Elementary' Season 2
Janelle James plays principal Ava Coleman on Abbott Elementary. Brunson admits it makes meetings weird when she refers to Ava, since she just hired a writer with the same name to write for Abbott Elementary Season 2. 
RELATED: 'Abbott Elementary': Quinta Brunson Based Desking on a Real TikTok Trend
"We are so excited with what we're doing already," Brunson said on The Awardist. "Sheryl and Janelle don't know yet but we're just so, so excited. It feels so wonderful to get back in the room. Everyone is firing on all cylinders. We have one new writer. All of our old writers came back and we have one new writer who coincidentally is named Ava Coleman. I know that's so weird."
Ava Coleman inspired the character
Brunson explained how the coincidence occurred. She met the real Coleman before season 1, but she was not available. Coleman previously wrote and served as story editor on Girls5eva. Subconsciously, Brunson must have remembered her name. Ava Coleman will write for Ava Coleman in Abbott Elementary Season 2.
RELATED: 'Abbott Elementary' Student Actors Think Their Adult Co-Stars Are Real Teachers
"It was very weird and she was someone I actually wanted for season 1," Brunson said. "I didn't even realize I had named the character the same name as this girl that I knew. It's so crazy. She read the original pilot script and was like, 'So Ava Coleman, huh?' And I was like, 'Oh my God, I'm so sorry.'  She's fitting right in, bringing new juice to the room and we are already so excited about what we get to do."
'Abbott Elementary' Season 2 doesn't feel the pressure
The acclaim for the first season could put a lot of pressure on Abbott Elementary Season 2. Many second seasons fail to live up to their first. Fortunately, Brunson said the Abbott Elementary team remains at the top of their game as they write new episodes.
"We're losing our minds and that's a good feeling to come back feeling that way," Brunson said. "Because it can be easy to be plagued by a good first season and almost be intimidated by having to do it again. I came prepared to maybe feel the pressure but we don't. We feel good. We're going right back to that place we went into when we got to create in the bubble for the first season, harnessing that feeling and pumped about doing more of this show."
RELATED: 'Abbott Elementary': Quinta Brunson Removed 1 Character and It Changed Jacob Hill