Abby Lee Miller from 'Dance Moms' Freaked Out When She Spotted This Celebrity at a Restaurant
Even celebrities get star struck. Dance Moms star Abby Lee Miller is pretty well known in her own right. After all, she's appeared for years on one of Lifetime's most popular reality shows. But the dance teacher and choreographer was still super excited when she encountered a famous actor eating lunch at an L.A. restaurant. 
Abby Lee Miller spotted Michael Douglas 
It's not unusual to see celebrities out and about in Los Angeles. But that didn't stop Miller from having a bit of a fangirl moment when she encountered Michael Douglas at an L.A. restaurant.
Miller was having lunch at Nate 'n Al's, a deli Beverly Hills, when she spotted the Academy Award-winning actor sitting at a nearby table. 
"And this is why I love LA! From a legendary Hollywood film family, MICHAEL DOUGLAS is just having lunch at the next table! He told me to have a wonderful day!" she shared on Instagram. She also posted a photo with Douglas in the background. 
Douglas is a Hollywood legend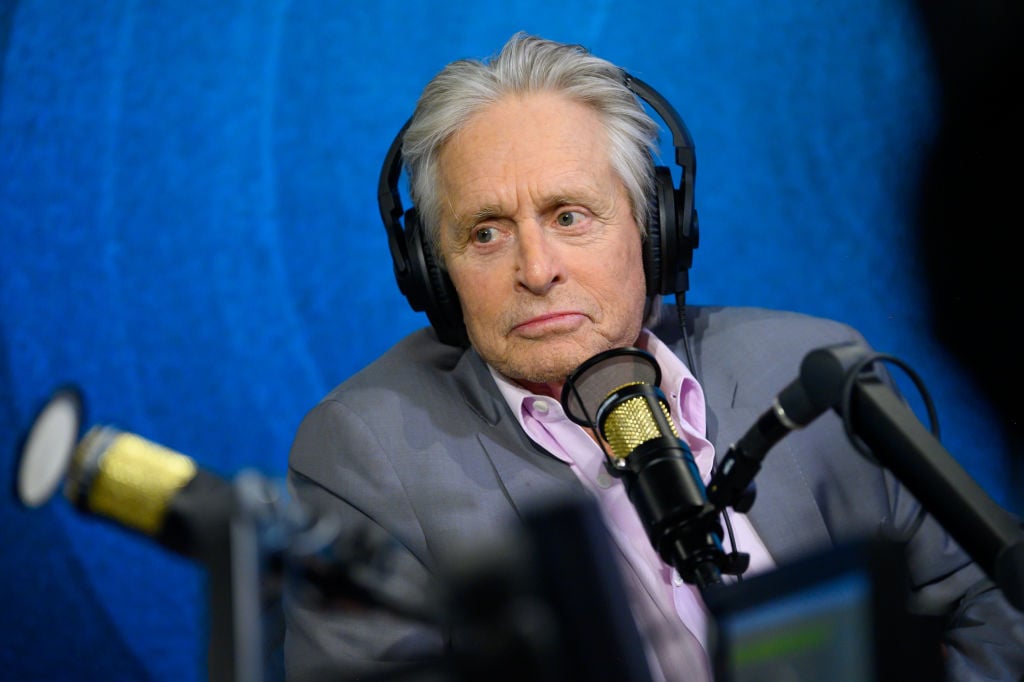 As Miller pointed out, Douglas is a Hollywood legend. His dad is actor Kirk Douglas, who starred in movies like Spartacus and Lonely Are the Brave and who will celebrate his 103rd birthday on December 9. His mom was actress Diana Dill.  
Michael Douglas started out as a television actor in the 1960s. In the mid-1970s he produced One Flew Over the Cuckoo's Nest, which earned him his first Academy Award when the film won Best Picture in 1976. 
In the 1980s, Douglas, 75, became a major movie star with high-profile roles in movies like Romancing the Stone and Fatal Attraction. He won an Academy Award for Best Actor in 1988 for his work in Wall Street. He played the ruthless stockbroker Gordon Gekko, who famously declared, "greed, for lack of a better word, is good."
He's currently starring in 'The Kominsky Method' 
Douglas might be well into his seventh decade, but he's not slowing down. The actor is currently starring with Alan Arkin in The Kominsky Method on Netflix. The second season of the show premiered October 25. Douglas plays Sandy Kominsky, a successful actor turned acting coach. Arkin is his agent and friend. In 2019, he won his sixth Golden Globe for his work on the show. 
Douglas has also entered the Marvel Cinematic Universe, playing Hank Pym in Ant-Man, Ant-Man and the Wasp, and Avengers: Endgame. In 2010, he revisited his Gordon Gekko character for Wall Street: Money Never Sleeps, and in 2013 he played Liberace in the HBO movie Behind the Candlelabra. 
He recently reconciled with his son
Douglas — who is currently married to actress Catherine Zeta-Jones — has often been in the news because of his relationship with his 40-year-old son Cameron Douglas. The younger Douglas started experimenting drugs as a teen and by his 20s was using heroin, cocaine, and crystal meth. Eventually, he spent seven years in prison on drug crimes. 
As Cameron battled his demons, his family cut him off financially. With his son's addiction spiraling out of control, his dad reached a point where he "was not willing to emotionally commit anymore," he said in a recent interview with ABC's Nightline. For his part, Cameron Douglas said the pressure that came with being part of such a famous family was partly to blame for his addiction.
Now out of prison and a dad himself, Cameron says he and his dad have reconciled. Writing in his new memoir Long Way Home, he says, "We're forming the relationship I've always wanted."