Adam Sandler Supports Chris Rock After Will Smith Oscars Slap –'Love You Buddy!'
Chris Rock's close friend Adam Sandler posted on social media that he was looking forward to Rock's upcoming standup tour and added, 'Love you buddy!'
Comedian Adam Sandler showed his support for Chris Rock after Will Smith shocked the Oscars crowd and suddenly slapped Rock during the live broadcast.
Rock joked about Jada Pinkett Smith's alopecia, a condition that causes hair loss, which prompted Smith to not only slug Rock on stage but then yell at him from his seat to stop speaking about his wife. Fans and friends took sides and while Sandler didn't publicly comment on the slap, he showed his support in an Instagram comment about Rock's upcoming standup shows.
Adam Sandler posted 'Can't wait' for Chris Rock's upcoming tour
Rock only posted about his upcoming comedy tour in mid-March and has not issued a specific comment about the incident. Sandler reposted the "Chris Rock Ego Death World Tour" on Instagram and commented, "Can't wait for this. Love you buddy!"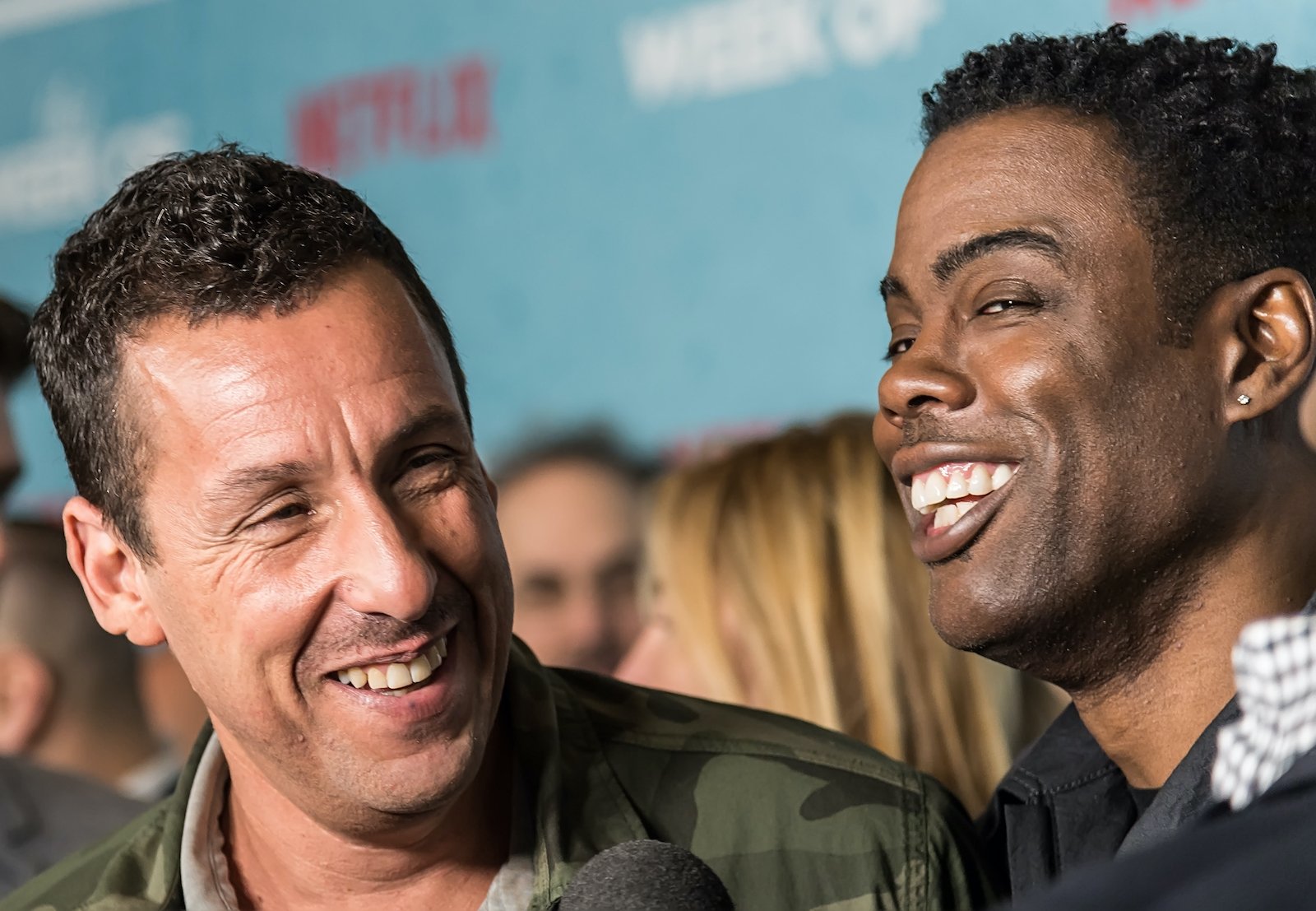 Sandler also referred to Rock as a "young gun" in a recent photo on Rock's birthday in February. But Rock has a deeper presence throughout Sandler's Instagram because Rock and Sandler's friendship tracks back to Rock's pre-Saturday Night Live days. Rock told Esquire: "Who the f*** is better than Adam Sandler? I love him the most because he danced with my Aunt Lillian at my wedding."
Chris Rock was supposed to 'hate' Adam Sandler
Rock recounted to Esquire in 2021 about meeting – and being a little envious – of Sandler and his talent. "I'd never even met Sandler," he recalled. "He's on f***ing Saturday Night [Live]. Like who the f*** is this guy that he's on Saturday Night? Do you know how long I had to work to get on f***ing Saturday Night spot?"
"So I'm supposed to hate him," Rock continued. "I watch his act and he's so funny. He's so funny. I just fell in love with him. Then he got off stage and we talked and we hung out. He was going to NYU and I hung out at his dorm. I just love the guy."
He added, "The guy's one of the best writers I've ever met. Like any joke, any style, he can help you out. And he's a great actor. Have you seen Uncut Gems? Like, who the f*** is better than Adam Sandler? You know what I mean?"
They both had fun memories of how they met
Sandler also considers Rock to be "on the money" when it comes to comedy. He remembered meeting Rock when they were teenagers and shared his own version of how they met.
"I was just a young baby and I was kind of known as the young guy in comedy," he said on The Tonight Show Starring Jimmy Fallon in 2020.
"And then I got to the Comic Strip and then Lucien, who ran the Comic Strip. Lucien Hold kept saying, 'You and Chris Rock,'" he continued.
"And I kept saying, "Who's Chris Rock? What do you keep bringing this other guy up to me?' And they're like, 'Well, he's out with Eddie Murphy right now. Eddie Murphy loves him.' Like Eddie Murphy likes somebody, not me? I was so upset. And then Rock came to the club after hanging out with Eddie, and he came to the club and we met and we just became really tight immediately. I was like, 'Oh man, this guy's funny.'"