'The Addams Family': Tim Burton Rejected the Chance to Direct the Movie
Tim Burton turned down the chance to direct the 1991 film adaptation of 'The Addams Family,' leaving the door open for filmmaker Barry Sonnenfeld.
Even though the results often don't work out, Hollywood loves dusting off old television shows to turn them into movies. Thankfully for moviegoers, this tactic has led to some classic releases. And perhaps one of the most notable is 1991's The Addams Family. Fans of the macabre comedy have long noted how it feels like something Tim Burton (Edward Scissorhands, Beetlejuice) would make. And as it turns out, Burton was one of the first choices to direct it.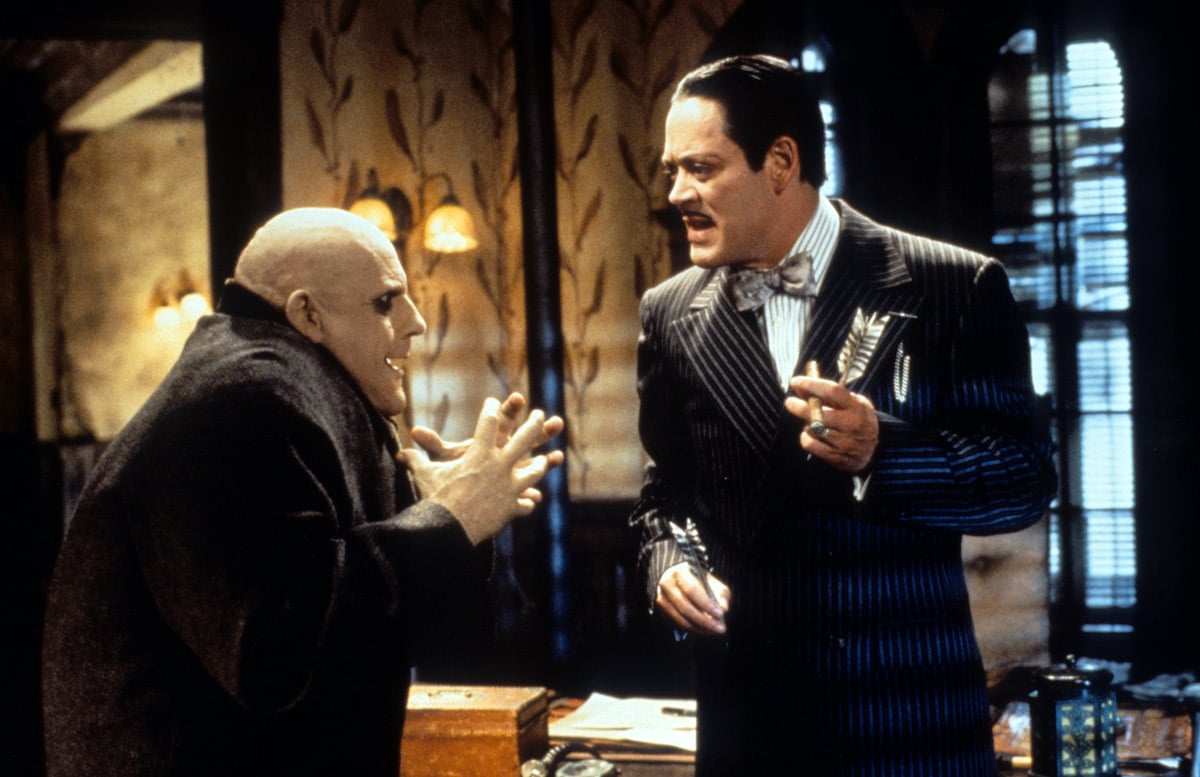 'The Addams Family' made a successful leap to the big screen
Created by cartoonist Charles Addams, The Addams Family was famously adapted for television in 1964. Though the show only ran for two seasons, Gomez, Morticia, and the rest of their spooky brood have lived on in various forms ever since. This includes not only another live-action — which briefly ran from 1998 to 1999 — but several animated shows as well as a Broadway musical. But these days, the best-known version is the 1990s movies.
Barry Sonnenfeld — a cinematographer who'd worked on Raising Arizona, Big, and Misery — made his directorial debut with The Addams Family. And the film became an undeniable hit in 1991. A sequel, 1993's Addams Family Values, reunited Sonnenfeld with stars Raul Julia, Anjelica Huston, Christopher Lloyd, and Christina Ricci. And both films remain heralded as classic comedies even decades later.
Tim Burton turned down the chance to direct the 1991 movie
Looking back, it's easy to see why some fans might assume Burton's hand guided The Addams Family to the big screen. After all, the director's signature visual style and fascination with horror and Gothic imagery certainly fits. In fact, Sonnenfeld confirmed to Variety that Burton was among the producers' first choices to direct the movie before he signed on.
"I will tell you that there were two other directors approached — Tim Burton and Terry Gilliam — and they're both really good choices. But they both turned it down, so that's how I ended up getting it. [Producer] Scott Rudin thought he wanted a visual stylist, not just a comedy director. He thought if I can't get Tim or I can't get Terry, I'll get someone with a strong visual sense."
Reportedly, Burton had already begun work on Batman Returns when the call came. Although unproven as a director, Sonnenfeld's keen eye was a key element in making The Addams Family work cinematically. He'd later bring that same panache to the Men in Black movies. Yet, ironically, Burton and The Addams Family appeared destined to cross paths once again.
Tim Burton directs a new 'Addams Family' show for Netflix
The Addams Family returned to the big screen in 2019 with a new animated movie, which yielded its own 2021 sequel. But the characters are also poised to return to television with Netflix's Wednesday. The show — which is set to star 19-year-old Jenna Ortega as Wednesday Addams — will reportedly debut sometime in 2022. And when it does, it will kick off with a first episode directed by none other than Burton himself.
For the filmmaker, it's an unexpected way for him to finally put his mark on The Addams Family. Wednesday marks his first time directing television. And for fans, the question of whether Burton is the right fit for the material will be answered at last. After Sonnenfeld brought The Addams Family to moviegoers, who knows how Burton might reinvent the material? With a cast that includes Luis Guzmán and Catherine Zeta-Jones, it should be a fun ride.