aespa Follow Hit Singles With Their New EP 'Savage'
On Oct. 5, GISELLE, WINTER, KARINA, and NINGNING of the K-pop group aespa released their first EP and physical album, Savage. The group originally debuted in 2020 with the single "Black Mamba," and aespa released a second single called "Next Level" in May 2021.
In the hours leading up to the release of Savage, aespa held a press conference for reporters to discuss the album. Showbiz Cheat Sheet attended the press conference virtually and learned more about the making of Savage.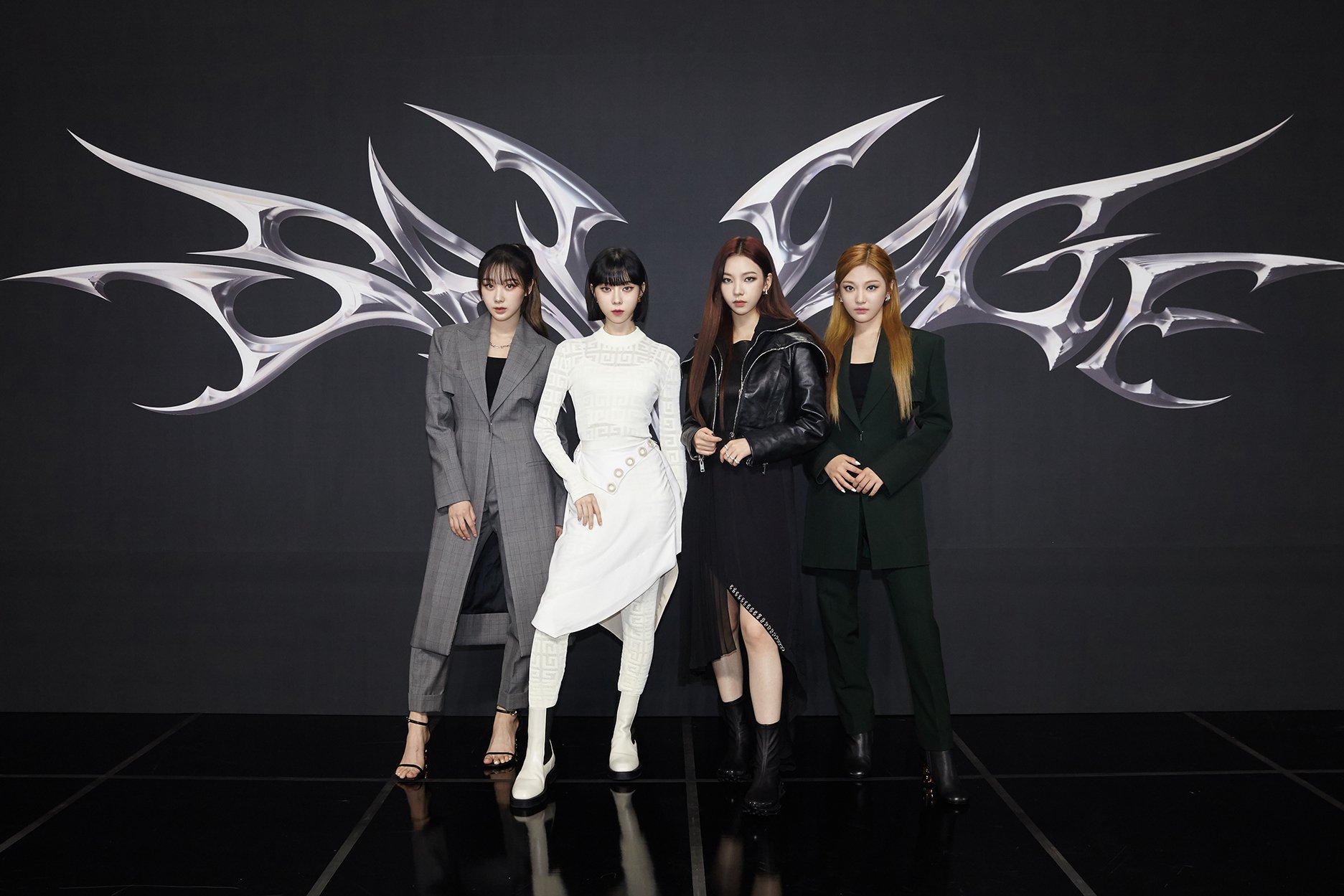 aespa's name combines "ae" (Avatar and Experience) with aspect (two sides). After debuting in 2020, Savage marks the first time aespa have ever released an album. The EP has six tracks: "Aenergy," "Savage," "I'll Make You Cry," "Yeppi Yeppi," "Iconic," and "Lucid Dream."
During a Q&A at the press conference for Savage, the members of aespa shared what it was like preparing the album.
"Many people have been anticipating and waiting for our album and we are excited and nervous at the same time to finally showcase it," WINTER said via a translator. "Most of all, we are happy to be able to share all the different sides of us and our unique charms through not just the title track but the B-sides as well. We hope everyone enjoys it!"
GISELLE added, "We especially had a lot of fun and enjoyed working on the Savage album… our Executive Producer Soo-Man Lee personally directed every small detail of this album such as the pronunciation of each syllable so we wanted to work extra hard and do our best in order to come back stronger than before."
"Savage" is the lead single on the EP, and during the press conference, reporters were able to watch the single's music video and a performance video of the song. Like aespa's previous singles, "Savage" ties into the quartet's concept and SM Entertainment's SM Culture Universe.
"Our previous singles 'Black Mamba' and 'Next Level,' as well as the newly released 'Savage' are all connected to one story surrounding our worldview," GISELLE said of the group's singles. "At first, 'Black Mamba' is introduced. Then, we head to KWANGYA and now we confront 'Black Mamba' with the help of 'Naevis.' The story continues and new characters are introduced, further expanding our worldview."
KARINA also shared that the music video for "Savage" ties into SM Entertainment's new video genre "CAWMAN," which is an acronym of Cartoon, Animation, Web-toon, Motion Graphic, Avatar, and Novel.
aespa's first single "Black Mamba" dropped on Nov. 17, 2020. At the press conference, NINGNING discussed how much the K-pop group has grown since debuting with the single.
"I can't believe it's already been one year. Time flew by fast! At first, I felt a little awkward and nervous in front of the camera but now I feel much more comfortable and enjoy performing more! Also, I appreciate all our fans for supporting us and hope we could continue this journey together," NINGNING shared.
With Savage being the band's first EP, KARINA explained that they hope fans will see a new side of the group and also recognize aespa's potential.
"Since Savage is our first mini-album with a total of six tracks, we want to show everyone that aespa is a group that can pull off various colors and not only powerful songs such as 'Black Mamba' and 'Next Level.' Most importantly, we also want people to know that aespa's worldview will continue to expand with new stories told through our music and performances," KARINA said at the press conference.
aespa's new EP Savage is out now, and fans can listen to the band's new single "Savage" on streaming and music-purchasing platforms.