What Is the Age Difference Between BTS' Jungkook and Jin?
The BTS members grew up in different cities and, although some share the same birth year, are of different ages. There are several years that separate the youngest and oldest members of this group. 
Here's what we know about BTS' "Golden Maknae" named Jungkook and "Worldwide Handsome" Jin.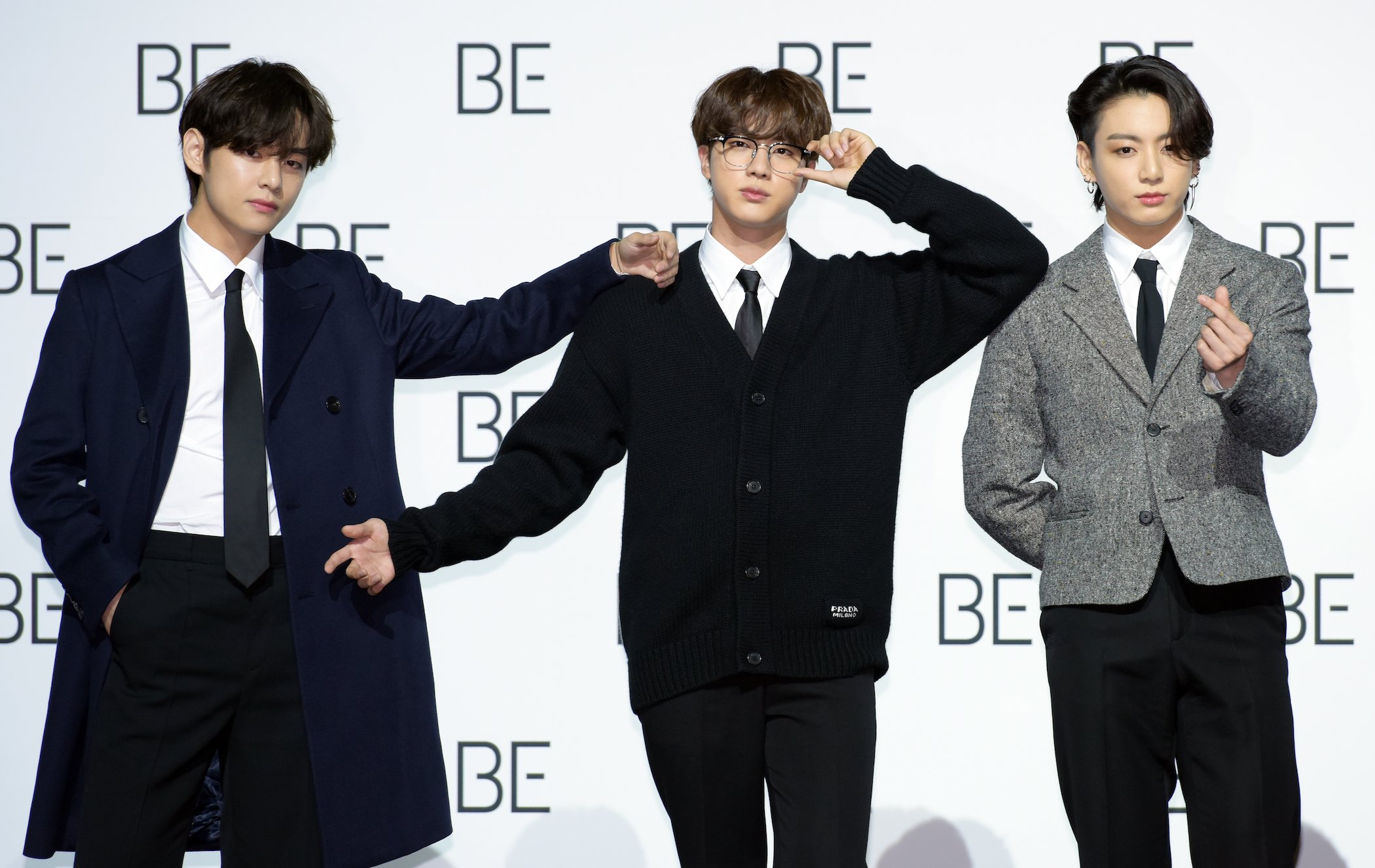 There are seven members in the award-winning K-pop group, BTS
RM, Jin, Suga, J-Hope, Jimin, V, and Jungkook make up the award-winning boy band, BTS. Since their debut, BTS collaborated with chart-topping artists like Halsey, Coldplay, Megan Thee Stallion, and Charli XCX. 
They also broke records with songs like "Butter" and "Permission to Dance." Their 2020 release, "Dynamite" was their first song to earn a Grammy nomination, with the K-pop group later performing the single at the award ceremony. Although their voices and personalities blend well together, the BTS members are pretty different regarding their ages. 
How many years apart are BTS' Jin and Jungkook?
Although these performers sometimes act as if they are the same age, Jungkook and Jin are about five years apart. As the "Golden Maknae" of BTS, Jungkook is the youngest member of this K-pop group. The vocalist was born on Sept. 1, 1997, making him a Virgo along with RM. 
"Worldwide Handsome" Jin is the oldest member of this K-pop group, born on Dec. 4, 1992. That makes the singer a Saggitarius. The other BTS members were born between 1992 and 1997, with Jimin and V sharing 1995 as their birth year.
BTS members Jin and Jungkook share a special relationship
After working together for over seven years, the BTS members developed a unique relationship with one another. Jimin and V are known for being the two artists who frequently bicker. Some fans also noticed that RM often sits next to Jin while abroad. ARMYs also learned that when these artists were first rising in stardom, Jin would drive Jungkook around. 
According to Mnet, "Jin took Jungkook around and even invited Jungkook to eat with his own family. Jin showed Jungkook around Seoul and treated him like a brother… it was all thanks to Jin-hyung who helped him out at the time that he was able to like living in Seoul."
Some cite their physical interactions when discussing Jungkook and Jin's close friendship. For one picture, Jungkook is seen hanging onto Jin's back, looking closely at his face. The two performers are smiling.
"It looks to me like [Jungkook's] checking for Jin's reaction," body language expert Traci Brown said, according to Elite Daily. "Pulling someone in like that from behind can be a sign of control. He may be playing the protector here."
Sometimes, fans can even see more of Jungkook and Jin thanks to their live streams and the variety show RUN BTS. Music by BTS featuring Jin and Jungkook, including their recently released album, Map of the Soul: 7, is available for streaming on Spotify, Apple Music, and most major platforms.