What Is the Age Difference Between Jennifer Lopez and Alex Rodriguez?
Jennifer Lopez, the cougar in the relationship, has a few years on her beau A-Rod.
Jennifer Lopez and Alex Rodriguez boast a modest six-year age gap. The actress-singer is 49 years old, while the former New York Yankee is 43. They share an astrological sign – Leo – as they were both born at the end of July. To be specific, Lopez was born only three days before A-Rod on July 24, six years prior.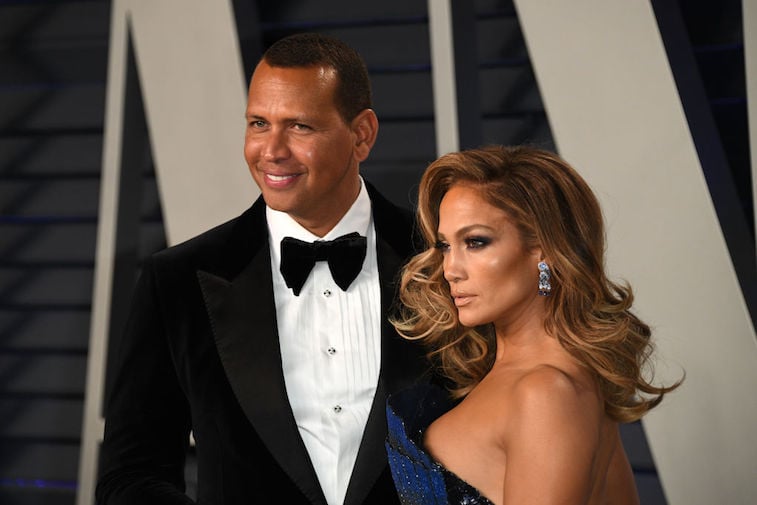 Lopez and Rodriguez announced their engagement via Instagram March 9 while on a tropical getaway. Since then, Yankee fans and Lopez lovers alike have been rejoicing on every social media outlet. The two have been dating since late February 2017, so it's likely that they were celebrating their two-year Anniversary.

"She said yes," captioned Rodriguez, next to a photo of Lopez wearing a beautiful – and very large – engagement ring. Considering Lopez and Rodriguez had already begun blending their families, it was clear that an engagement was on the horizon.
How much did Jennifer Lopez's engagement ring cost?

Love is in the air for these two, and Alex Rodriguez proved his affection when it comes to the dollar. According to E! News, experts estimate that the diamond ring cost approximately $1 million and is likely a 15-carat rock.

Very similar in shape and fashion to other celebrity engagement rings – Kim Kardashian, Mariah Carey, Beyonce, and Paris Hilton – the diamond boasts an emerald cut and an understated prong setting.
How did Jennifer Lopez and Alex Rodriguez meet?

During an interview with Ellen Degeneres, Lopez discussed how she met the former MLB pro. J.Lo stated:

"It's very simple. We Just. I was having lunch somewhere and I saw him, and he passed by…And I was having a cobb salad and some soup (answering Ellen's interspersed questions). I saw him walk by, and then afterward, I went outside. But for some reason, I just felt like tapping him on the shoulder and saying Hi. And I said hi Alex. And he's like, hi! Jennifer! And that was it."

A simple unexpected crossing of paths transpired into a loving relationship. Can it be that easy for the rest of us? A few days later, they went on their first dinner date. Lopez stated, of their first date, "I don't know if he thought it was a date. I thought it was a date. He was nervous, and it was really cute," according to Today.
Apparently, the former MLB star was a bit of a chatty Kathy and dove into his future plans, which isn't necessarily first date conversation material; however, it worked in his favor in the end.
How do their kids feel about their relationship?

Alex Rodriguez and Jennifer Lopez, often going on family excursions as one unit, have gone out of their way to test their children's feelings regarding their relationship. And, it's gone well!

Alex Rodriguez told Hello Magazine:

"My girls adore Jennifer. She's a great role model and they want to do exactly what Jennifer does. They want to sing, they want to dance, they want to produce, they want to direct…A lot of people don't know she's also a great athlete and great business person, and for me, I'm the luckiest father in the world to be able to expose my beautiful daughters to someone as brilliant as Jennifer."

If Lopez has been able to turn the Rodriguez clan into little aspiring performers, she must be doing something right. As for her kids and their relationship with A-Rod, Lopez stated:

"I was so loving to his kids and he was so loving and accepting of mine, and they embraced each other right away"

Motherly
When it comes to the kids, these two have co-parenting down to a science. Their original spouses are also always considered and respected, according to Motherly. From big moments to parent-teacher conferences, everyone who should be present is present. It's no surprise that J.Lo and A-Rod continue to put their children first, as it's likely a significant facet of their relationship's success.