AJ Michalka Wants to Campaign For a 'She-Ra and the Princesses of Power' Movie
'She-Ra and the Princesses of Power' had a fantastic final season. But AJ Michalka and Aimee Carrero want to get back in their roles again.
She -Ra and the Princesses of Power is more than just a Netflix cartoon; it has a dedicated fan base and produced some of the best LGBTQ representation on television. Especially taking in the fact that the show is made with kids in mind, it's pretty helpful for those who are of figuring it all.
The characters are also complex and fans can't get enough of them. That's why the call for a She-Ra movie has grown since the series' finale on May 15. Now, two stars of the show are ready to campaign for a She-Ra and the Princesses of Power movie, too. [Spoiler alert: Spoilers ahead for She-Ra and the Princesses of Power].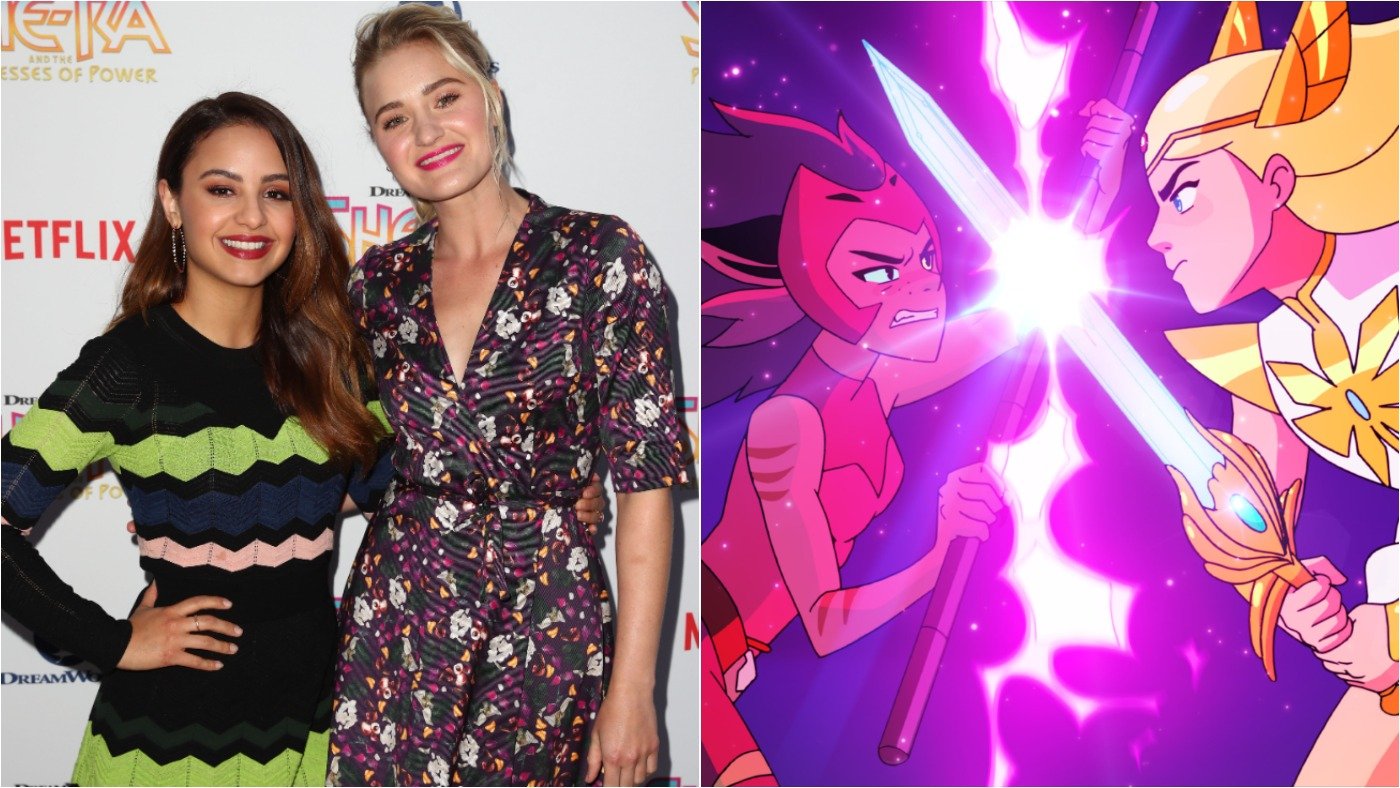 'She-Ra' ended with Catradora, which fans have been waiting for
She-Ra and the Princesses of Power follows Adora, who grew up in the Horde, trained as one of their soldiers, and was ready to take down the princesses and the rebellion. However, she finds the Sword of Protection and discovers her destiny to be She-Ra. Her eyes are opened about who's really hurting Etheria — the Horde — and she makes the tough decision to turn her back on everything she's grown up on. 
In the process, she leaves her best friend, Catra, who starts to harbor resentment for this. The two pull further and further apart through four seasons, until Season 5 when Catra is bested by Horde Prime. 
Even though there was always a bit of underlying romantic tension between the two of them, it wasn't until Season 5 that it became really apparent that they loved each other. They started to work closely together for the Rebellion. And in the end, their love saved Etheria and they finally got their kiss and joyous ending. 
Michalka and Carrero really want to revisit these characters again
Even though all the loose ends of the story were tied up and nothing was left unspoken, fans still, of course, want more She-Ra and Co. And AJ Michalka and Aimee Carrero, who voice Catra and Adora (respectively), are down to give it to fans. 
On June 24, during a 12-hour live stream hosted by Michalka and her sister Aly — yes, Aly & AJ — Michalka and Carrero did a live reading of the She-Ra and the Princesses of Power script. It was a fundraiser, and the two reenacted the scene where Adora almost dies while giving herself up for Etheria. 
Afterward, they chatted a bit about what the show meant to them and a little on their experience with it. And a big topic that came up was coming back to these roles. 
Michalka brought up Kevin Smith's upcoming Netflix sequel to the 1980s He-Man series. It'll be called Masters of the Universe: Revelations and stars Chris Wood, Lena Headey, and Mark Hamill. She personally knows Smith and is crossing her fingers that he somehow brings in the cast of the new She-Ra somehow.  
"I'm really hoping that he somehow incorporates 'She-Ra…' because of how powerful and impactive the 'She-Ra' reboot has been, that he puts them together and we can come back and relive our characters," Michalka said.
They know how much of an impact 'She-Ra' has had on people
Carrero couldn't agree more, and she touched on the fact that their already-big audience grew with the recent premiere of the final season.
"Really people want it," she said. "What's crazy is, I remember… recently, Noelle [Stevenson, the showrunner] was like… so many people have, since the finale, new people have found the show. Because maybe they heard about what happened at the end, so they've been watching the show. So I wonder if Netflix is kicking themselves right now—"
Michalka added, "That they gave it an ending." Carrero agreed, and stated that it was a little bit of a bummer for some that it "ended too quickly." Even though there were five seasons, they premiered over the course of two years, and it took about four years to make it. "People only get to live with it for a short period of time," Carrero said.
Michalka is ready to campaign for a 'She-Ra and the Princesses of Power' movie
The possibility of a She-Ra and the Princesses of Power movie has grown in the past week or so, since Stevenson did a live stream herself and talked about wanting to do one. Again, Carrero and Michalka are interested in seeing what these two are up to in the future as well.
"It would be cool to see what Catra and Adora get on to, post-this revelation," Carrero said, referring to Catra and Adora's proclamations of love and their kiss. 
Michalka then brought up the man fan art of Catradora's future baby, and how they find it so adorable. And while fans do love the show and its arc, it is a bit frustrating to get this couple confirmed as canon, but then have it be all the way in the final episode.
"In this case, I would be so thrilled to get back in the booth with you, playing Adora or something else," Carrero said.
Michalka replied, declaring, "I'm gonna campaign for a Netflix movie, for a She-Ra movie."
Carrero would be the first to sign. There's already one petition going and fans on Twitter hashtagging all the time too. Your move, Netflix and Dreamworks Animation.