'Aladdin' Directors Share the 'Absolute Joy' of Working with Robin Williams
Decades later, we're still talking about Aladdin.
Ron Clements and John Musker might not be household names. But with the impact they've made on cinema, they probably should be. Particularly, fans of Walt Disney Animation Studios will recognize their work. In Disney history, Clements and Musker are legends, having worked on several huge releases over the years.
In fact, the filmmakers helped shape Disney in the late 1980s. The Little Mermaid stands as one of their signature works, as do The Princess and the Frog, Hercules, and Moana. But Clements and Musker are perhaps best known for 1992's Aladdin and their role in creating Robin Williams' iconic Genie.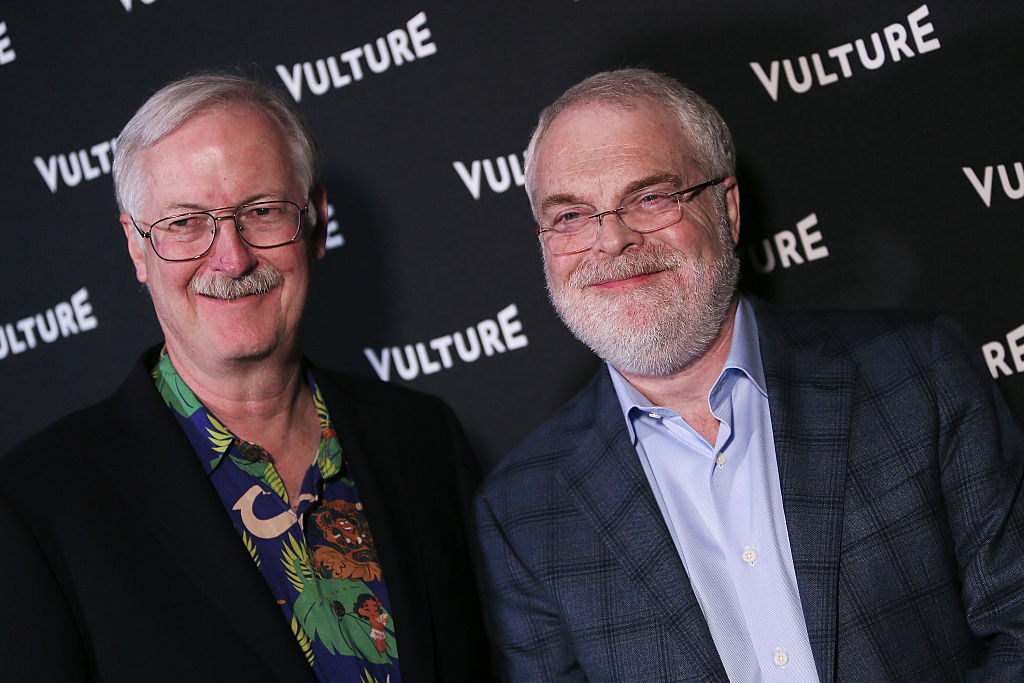 The perfect casting for 'Aladdin'
Disney has delivered some pitch-perfect bits of voice casting over the years. Dwayne Johnson's Maui in Moana stands as one great example, as does James Earl Jones' Mufasa in The Lion King. However, Williams stands apart as an uncanny marriage of actor and character.
The actor had worked in both drama and comedy, having received three Oscar nominations prior to Aladdin's release. But the Disney film tapped into the manic energy that made Williams a star in the 1970s. The magic of animation meant the film could accommodate whatever the Genie's powers (and Williams' imagination) conjured.
Moreover, the character has a lot of pent-up energy after being trapped in his lamp for 10,000 years. So Williams could play up the sort of overeagerness befitting someone desperate to make some new friends. As it turns out, if casting Williams seems especially on the nose with the final product, there's a distinct reason why.
How the Genie was created
In a recent interview with The Hollywood Reporter, Clements shed some light on how he and Musker collaborated with Williams on the role.
"One of the great joys in all my years at Disney was getting to watch Robin Williams at work on Aladdin," he said. "The script was written for him in an improvisational style, and he always started with the script as written. Then he would start embellishing, adding stuff, changing stuff, going faster and faster as he went along."
This give-and-take between Williams and the script certainly comes across on-screen. Genie's knowledge of pop culture might go over younger viewers' heads, but Williams' energetic performance transcends all that. In fact, the actor demonstrated an intense physical commitment to the role.
"[Williams] recorded in four-hour sessions and hardly ever stopped," Clements told THR. "By the end of each one, it was like he had gone through an intense physical workout, covered in perspiration. … There were times when he was especially "in the zone" — on another level — and the stuff he was coming up with was jaw-droppingly awesome."
Robin Williams' legacy still looms large even today
Following its theatrical release, Disney's Aladdin has lived on in various forms over the years. Clements and Musker's film spawned two direct-to-video sequels and a TV series. Then there's the Tony-winning Broadway musical and, of course, the 2019 live-action version starring Will Smith as the Genie.
Yet, most fans — Clements and Musker included — maintain Williams' version stands apart. No doubt this is partly due to the unique way the movie was made. But it's also a testament to Williams' talent itself and the way animation could work within it, Musker said to THR.
"We felt that we could do things with Robin's brilliant mercurial improvs that live action couldn't match," he said. "Animated and shaped by Eric Goldberg, I think we did just that. Robin was an absolute joy to work with, indefatigable and generous with his time and unique talents. Our world is a little dimmer without Robin."