Album Review: Monsta X Finds New Facets of Love With 'Shape of Love'
Showbiz Cheat Sheet reviews Monsta X's new album, an EP called 'Shape of Love.' The EP was released on April 26.
Over the years, love has played a central theme in Monsta X's music. The K-pop group's newest EP Shape of Love is no exception. Make no mistake, Shape of Love is not a rehash of the band's previous work, and listeners should know better than to expect Monsta X to repeat itself.
Released on April 26, Shape of Love follows Minhyuk, Kihyun, Hyungwon, Joohoney, and I.M (Monsta X leader Shownu is currently completing his mandatory military service) as they find different facets of love with each track. The artists match the EP's exploratory theme with their trademark boldness and experimentation.
Read our full review of Monsta X's Shape of Love below.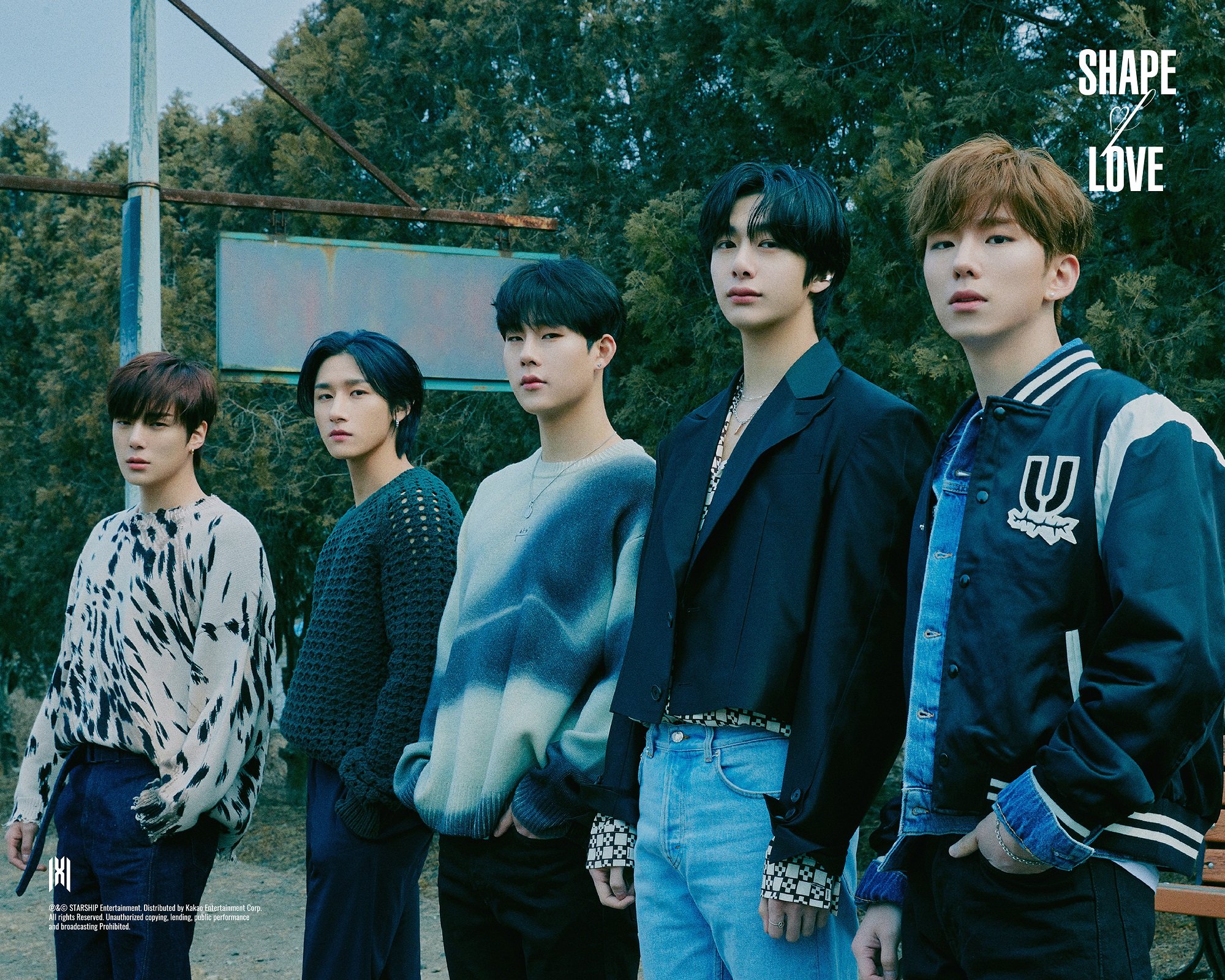 'Love' is Monsta X's newest lead single
Monsta X debuted with Starship Entertainment in 2015, and the members are at a crucial point in their careers. In the same way Monsta X always finds new facets of love to write about, the members continue to evolve as artists and as a group.
Nearing its seven-year debut anniversary, Monsta X has deftly struck a balance of finding a hallmark sound while constantly trying out new genres. It's an impressive feat, and the lead single of Shape of Love, "Love," demonstrates this.
The song opens with the band announcing "We back again, once again" before launching into a genre-blending single. The song incorporates elements of R&B, hip-hop, and jazz, demanding listeners' attention and setting the tone for the remainder of the EP.
I.M co-wrote the song's lyrics. And Joohoney contributed to the title track's lyrics, composition, and production.
A look at the other tracks on 'Shape of Love'
Following the EP's opener "Love," Monsta X moves into "Burning Up" featuring R3HAB. Hyungwon is credited with the song's lyrics, composition, and arrangement.
While "Love" represents the boldness of unconditional love, "Burning Up" is about the delicacy of a new romance and how quickly passion can overtake you. Out of all the songs on Shape of Love, the chorus of "Burning Up" is undoubtedly the catchiest.
If "Burning Up" is catchy, then the EP's next track "Breathe" is its dapper sibling. Smooth and to the point, "Breathe" is the only song on the six-track EP that does not have a Monsta X member contributing as a writer or producer.
"Wildfire" takes the flame of infatuation that grew in "Burning Up" and "Breathe" and transforms it into angst. A song of passion turned toxic, it captures the feeling of love that leaves a scar.
While "Wildfire" deals with toxic themes, it is the song on the EP that best exemplifies Monsta X's cohesion as a team as Hyungwon, I.M, and Joohoney co-produced the track together.
Shape of Love would not be complete without a song dedicated to Monsta X's fandom, Monbebe. With its joyful emotion, "사랑한다" (translated as "Love Forever") was made to be performed at a concert in front of fans. Both Joohoney and I.M played a hand in the making of the track.
Monsta X closes Shape of Love with "And," a track I.M was heavily involved in creating. In a way, "And" serves as an antithesis to "Love." In juxtaposition to the unconditional love sung about in the EP's opener, "And" deals with themes of finality.
Final thoughts on Monsta X's EP 'Shape of Love'
As Monsta X's 11th EP, Shape of Love is another solid addition to the K-pop group's discography. The members of Monsta X continue to impress with their ability to evolve and experiment.
It's no secret that love is one of the most common subject matters among musicians. Shape of Love risked exploring a tired topic, but instead Monsta X found ways to make it feel new.
Score: 4/5
Shape of Love tracklist:
"Love"
"Burning Up (featuring R3hab)"
"Breathe"
"Wildfire"
"사랑한다" ("Love Forever")
"And"