Album Review: TXT's Growth Makes 'minisode 2: Thursday's Child' a Perfect Album
With their new EP 'minisode 2: Thursday's Child,' the K-pop group TXT achieved perfection, earning a perfect score in Showbiz Cheat Sheet's album review.
Creating a perfect album is a rarity, but the K-pop group Tomorrow X Together have done it with minisode 2: Thursday's Child. Each of the EP's five songs can stand alone as a hit, while together, the tracks build a compact and cohesive body of work. The perfection of minisode 2: Thursday's Child goes beyond the fact the tracklist has no weak links, and it's TXT's growth that brings the EP to the next level.
Behind TXT's rise is a stellar discography that builds upon itself. Every project, Soobin, Yeonjun, Beomgyu, Taehyun, and Huening Kai expand on their previous release by challenging themselves as artists. They experiment with different genres and push their artistic evolution. Thematically, their artistic journey coincides with the narrative storyline of each album.
TXT's 2021 album series, The Chaos Chapter, explored finding love amidst chaos. This was reflected by TXT incorporating rock influences into their music. With minisode 2: Thursday's Child, TXT are faced with the heartbreak that comes after that story.
The EP takes the angst from The Chaos Chapter and amplifies it, showcasing a more mature TXT. Across five songs, the quintet uses hip-hop, rock, R&B, and pop to capture the intensity of emotions that come after a breakup.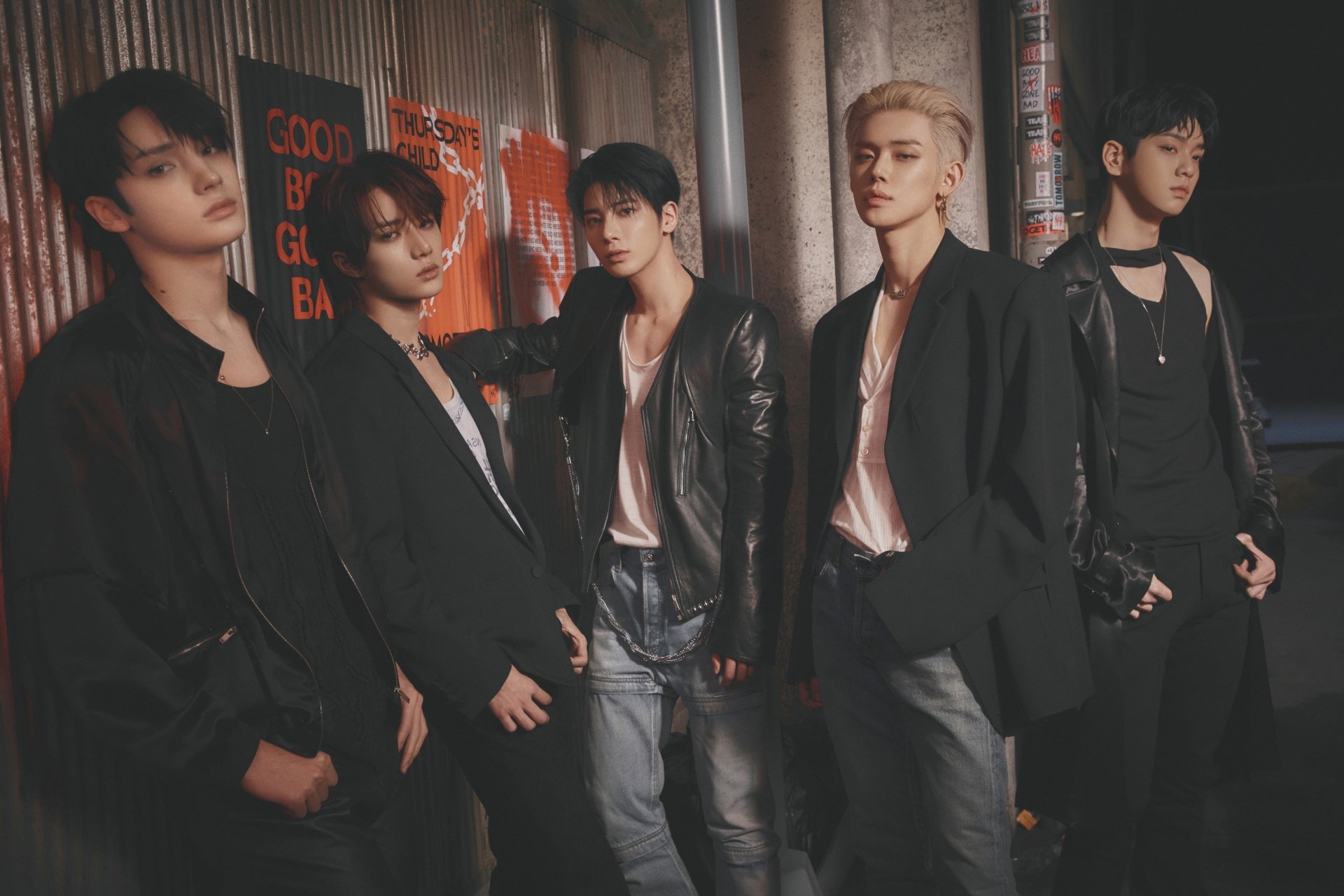 The mini-album opens with a song aptly titled "Opening Sequence." Undoubtedly the most inventive song on minisode 2: Thursday's Child, "Opening Sequence" sets an eerie tone from the start. It becomes clear that the love TXT are pleading with to stay is long gone.
While TXT know this, they live in denial, and the flashbacks from the breakup play in their heads over and over again like a movie. When the pain reaches its peak, the song takes a dark turn in a jaw-dropping fashion, foreshadowing the anger that is to come.
"Good Boy Gone Bad" is the EP's lead single, and a dark and disturbing track at that. To encapsulate the anger that heartbreak brings, TXT blend hip-hop and rock together. Disavowing love, TXT embrace the pain they feel and choose to give in to their anger.
"I like it better now/ This completely altered face of mine/ I just killed me with all that pain/ I just don't care anymore," Taehyun asserts in "Good Boy Gone Bad."
"Trust Fund Baby" brings the intensity of the first two tracks to a halt. An indie-pop ballad, it subverts expectations but nonetheless fits in with the rest of minisode 2: Thursday's Child. In "Trust Fund Baby," TXT view the world with cynicism, and its lyrics reference that the optimism they had in their last lead single, "LO$ER=LO♡ER," is now gone.
For the first time in their career, TXT break out into sub-units on minisode 2: Thursday's Child. "Lonely Boy (The Tattoo on My Ring Finger)" is performed by Yeonjun and Huening Kai. An R&B track, it prioritizes Yeonjun and Huening Kai's vocals to capture the emptiness of regret.
"Thursday's Child Has Far To Go" closes out minisode 2: Thursday's Child. Performed by Soobin, Beomgyu, and Taehyun, the song lets the album end on a hopeful note as the three TXT members leave breakups behind them and look forward to the future.
In addition to performing in sub-units for the first time, all of the songs on minisode 2: Thursday's Child received creative input from the band members.
A standalone EP, minisode 2: Thursday's Child is a bridge between The Chaos Chapter and TXT's next album series. Perhaps that is what makes it such a flawless addition to the group's discography, ushering in a more mature TXT while leaving the future open to limitless possibilities.
TXT may have achieved a perfect album with minisode 2: Thursday's Child, but "Thursday's Child Has Far To Go" shows the members know there are even better days ahead for the group.
minisode 2: Thursday's Child tracklist:
"Opening Sequence"
"Good Boy Gone Bad"
"Trust Fund Baby"
"Lonely Boy (The Tattoo on My Ring Finger)"
"Thursday's Child Has Far To Go"