Alex Guarnaschelli Said the Day She Met Bobby Flay Was 'a Really Big Day for Me'
One of Food Network's mega-watt stars, chef Alex Guarnaschelli recalled in an interview a time when that was most definitely not the case.
And the Chopped judge said that any time she's asked about her start at the culinary channel, she makes it clear that much of her success is thanks to her "most important mentor" Bobby Flay.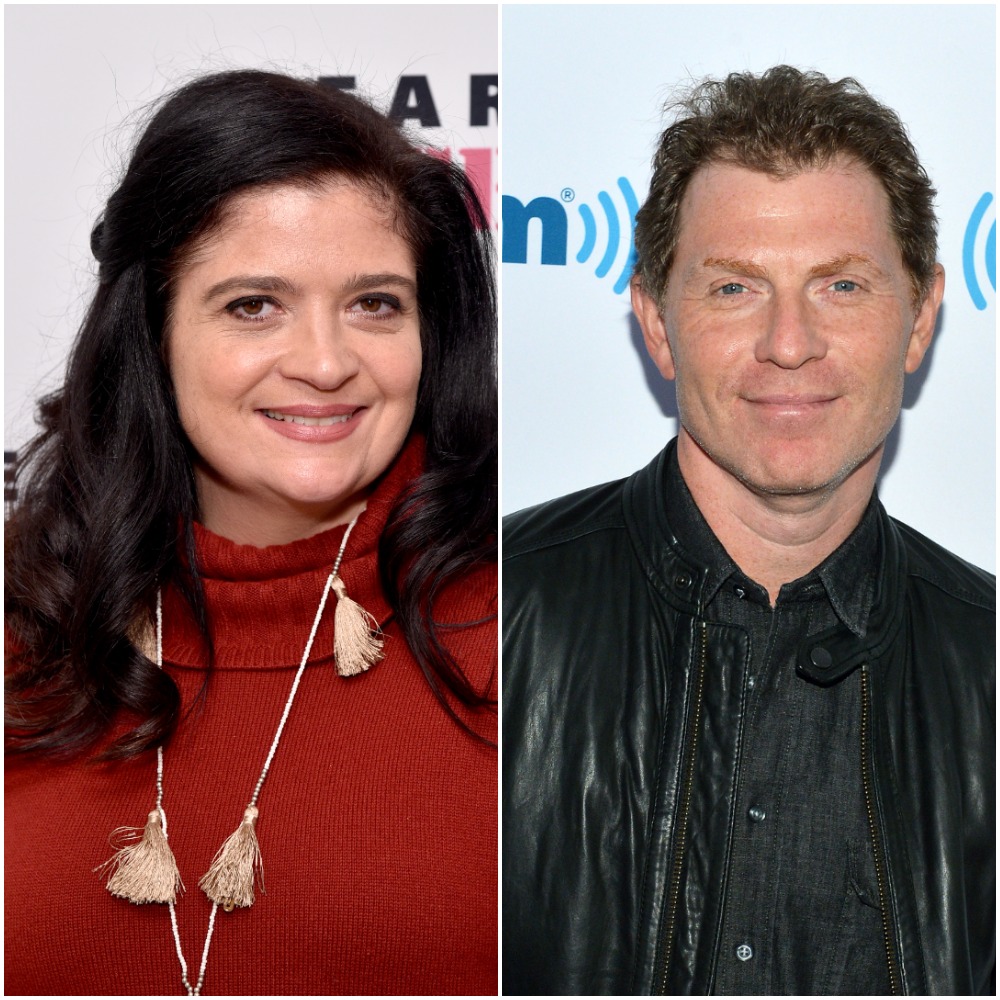 Guarnaschelli thought she'd 'bombed' on Food Network
The chef is a regular on Food Network, where she's been for a good 15 years. She's a recurring judge on Chopped, co-host on The Kitchen, and an Iron Chef.
But it all got started with an invitation to appear on the network, the memory of which remains murky to Guarnaschelli, as she explained to Jaymee Sire, host of Food Network's podcast, Obsessed.
"I don't know why, or who, but someone asked me to be on Food Network Challenge," she said. "Which is sort of like the savory version of those kids' baking shows that Valerie [Bertinelli] and Duff [Goldman] do. It's very similar."
Convinced she'd "bombed it" and would never be invited back, Guarnaschelli was surprised when she was told by the show's producer, "You know, you're just really good at this."
The chef said meeting Flay was a 'big day' for her
The one person Guarnaschelli comes back to again and again in her look back at how she achieved success as a culinary personality is fellow chef Bobby Flay.
Although she lost to chef Cat Cora in her first try at grabbing the title of Iron Chef (she eventually won in 2012), Guarnaschelli was invited to serve as a judge on the popular competition. And it was on one episode that she "met Bobby. And that was a really big day for me."
Asked how she achieved confidence as a Food Network superstar, Guarnaschelli said, "The confidence piece that you're talking about … was born inside of me and watered and given sunlight by Bobby Flay, who said, 'Wear what you want to wear when you're on your set. You don't like your shirt, it's going to show in your performance.'"
Guarnaschelli on the time she began 'hysterically crying' in front of Flay
After that, Flay executive produced the chef's first Food Network program, Alex's Day Off. She revealed that, during a visit by the Beat Bobby Flay star to the set, she burst into tears.
She told Sire, "[Flay] came in, in old-school mirror sunglasses, like a cop. And he had a cup of coffee and he was wearing a leather jacket. Very low-key. …"
Once the director gave her the cue to start filming, Guarnaschelli said she tried explaining a recipe to the camera. "Bobby's standing there looking at me with the mirrored glasses. They're fogging up from his coffee. And I just started hysterically crying. …"
Still, the chef put herself together and carried on, earning Flay's respect. "So they clean me up and I can hear people talking. … I just cleaned up my act and I just went right into it," she recalled. "And after shooting an act of that show, Bobby came over to me and he goes, 'You see, you got rid of your jitters and now you're fine.'"
The chef said Flay is her 'most important' mentor
Guarnaschelli wrote with affection in her cookbook Cook with Me about Flay's role in helping her feel at home on the Food Network.
"My most important mentor (and friend) is Bobby Flay, who is truly like a mob boss with a heart of gold," she wrote. "I can't put a value on how many times he has saved me from my own choices and cooked me some incredible food, too."
Flay, the Alex vs. America star added, taught her the "essentials" of being a celebrity chef that she clearly still holds close to this day: "Remember every time you're on TV, your daughter is watching you. Believe in yourself and do the work. Don't be a knucklehead. Taste your food."
RELATED: Alex Guarnaschelli's Minimalist Roast Chicken Is All About 'Four Everyday Ingredients'