Alex Guarnaschelli Nearly Turned Down 'Chopped': 'I Remember Saying I Have to Wash My Hair That Day'
On the air for over a decade, Chopped is inarguably a Food Network phenomenon. The iconic cooking competition starts off many episodes with the now-familiar introduction: "Four chefs, three courses, only one chance to win. … Who will win the $10,000 prize? And who will be chopped?"
Incredibly, chef Alex Guarnaschelli, who's been a judge on the show since the first season, wasn't very enthusiastic about the opportunity when it was pitched to her in the early 2000s. In fact, she nearly chopped herself out of Food Network history.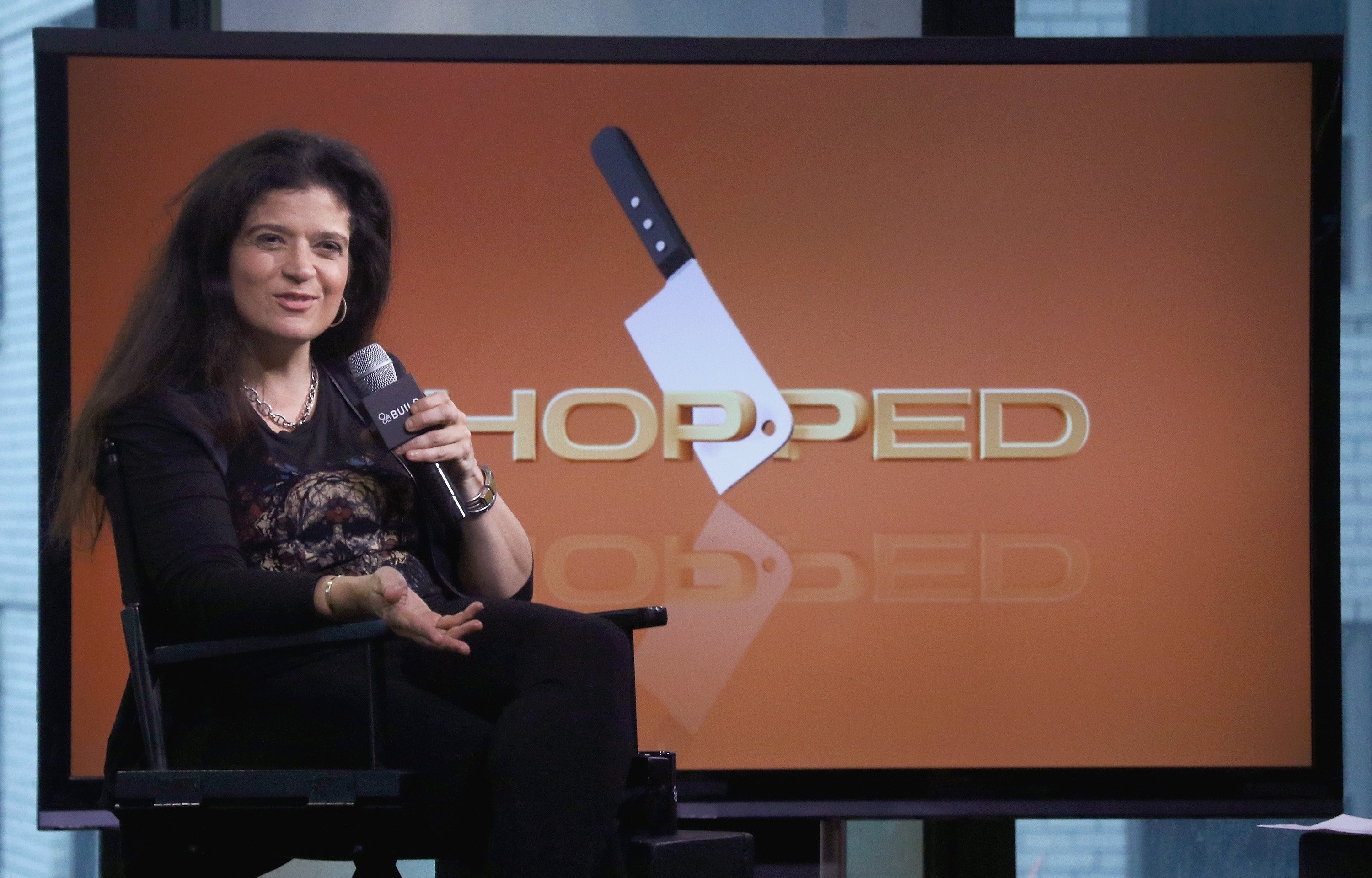 Alex Guarnaschelli was invited on 'Chopped' out of the blue
The Food Network personality has been a judge on the popular cooking competition since 2009 and has served alongside other cooking luminaries including Aarón Sánchez, Amanda Freitag, Chris Santos, Geoffrey Zakarian, and Maneet Chauhan, among others.
In an essay for People, Guarnaschelli explained how it happened that she was invited to the judging panel of Chopped.
"There are times when you end up in a place by complete accident," she wrote. "And times when that ends up becoming the most wonderful thing. I'll always remember the afternoon I got a call from a colleague asking me if I would please become part of a pilot for a Food Network show called Chopped. He described the format as competition-based with lots of teaching and learning about varied baskets of ingredients from cultures all around the world."
Guarnaschelli was very resistant to joining 'Chopped'
The Alex vs. America star told Jaymee Sire, host of the "Food Network Obsessed" podcast, that she initially hated the entire premise of the high-pressure culinary contest. An executive at the network, she said, wouldn't give up on asking her to be part of the program.
"He was calling me and calling me," she recalled. "'I want you for this show called Chopped. I really think you should be a judge on it.' And I was like, 'I don't want to do it. It's a stupid name, Chopped. What does that even mean? It sounds like a salad.'"
The chef admitted that she even resorted to coming up with excuses and chastised herself during her chat with Sire for nearly blowing off the chance of a career.
She recalled telling the exec, "'I'm busy, too busy to do that.' Can you believe…? Who was I? I didn't have anything else to do. All I was doing was going to the restaurant and working. That's all I was doing. Who was I to say anything?" In fact she said, she remembered "saying I have to wash my hair that day."
Eventually, Food Network mailed Guarnaschelli a DVD of the pilot episode and even that gesture didn't convince the chef. Her agent finally talked her into it, urging her to just "go on one episode." She reluctantly agreed and discovered she had been wrong about the show, gaining visibility as a Food Network personality as it soared in popularity and ratings.
Fun fact: Guarnaschelli revealed to Sire that she always sits in the center between the other two judges. The reason? The show asked what it would take to get her to be a permanent judge, and that seating arrangement was it.
The chef says she's cried on the 'Chopped' set
Guarnaschelli admitted on the podcast that she's been known to get emotional in her judge's seat, for various reasons.
"So many tears," she said. "For what I had to eat, for stories, for what I see the experience of competing on Chopped doing for someone in their life and how they see themselves. Watching them change in an afternoon … , just taking a chance on themselves, and just realizing that the judges are just witnesses to those transformations.
"We always talk about transforming the ingredients in the basket but I always joke that the true transformation is the contestants and what happens to them when they take a chance on themselves. You have to take a chance on yourself with Chopped."
RELATED: Alex Guarnaschelli Reveals What Makes a Good Shrimp Scampi 'Great'