Alex Guarnaschelli's Easy Weeknight Blackened Salmon with Garlicky Kale
Looking for a quick, low-maintenance dinner idea? Try Food Network star Alex Guarnaschelli's filling and tasty Sheet Pan Blackened Salmon with Garlicky Kale.
Food Network star Alex Guarnaschelli is one of the culinary channel's fan-favorite chefs for a reason: she keeps recipes simple and won't ask home cooks to do anything she wouldn't do in her own kitchen.
Her sheet pan blackened salmon is a great example. It's a filling weeknight meal we can just picture Guarnaschelli making her daughter for a quick, healthy dinner.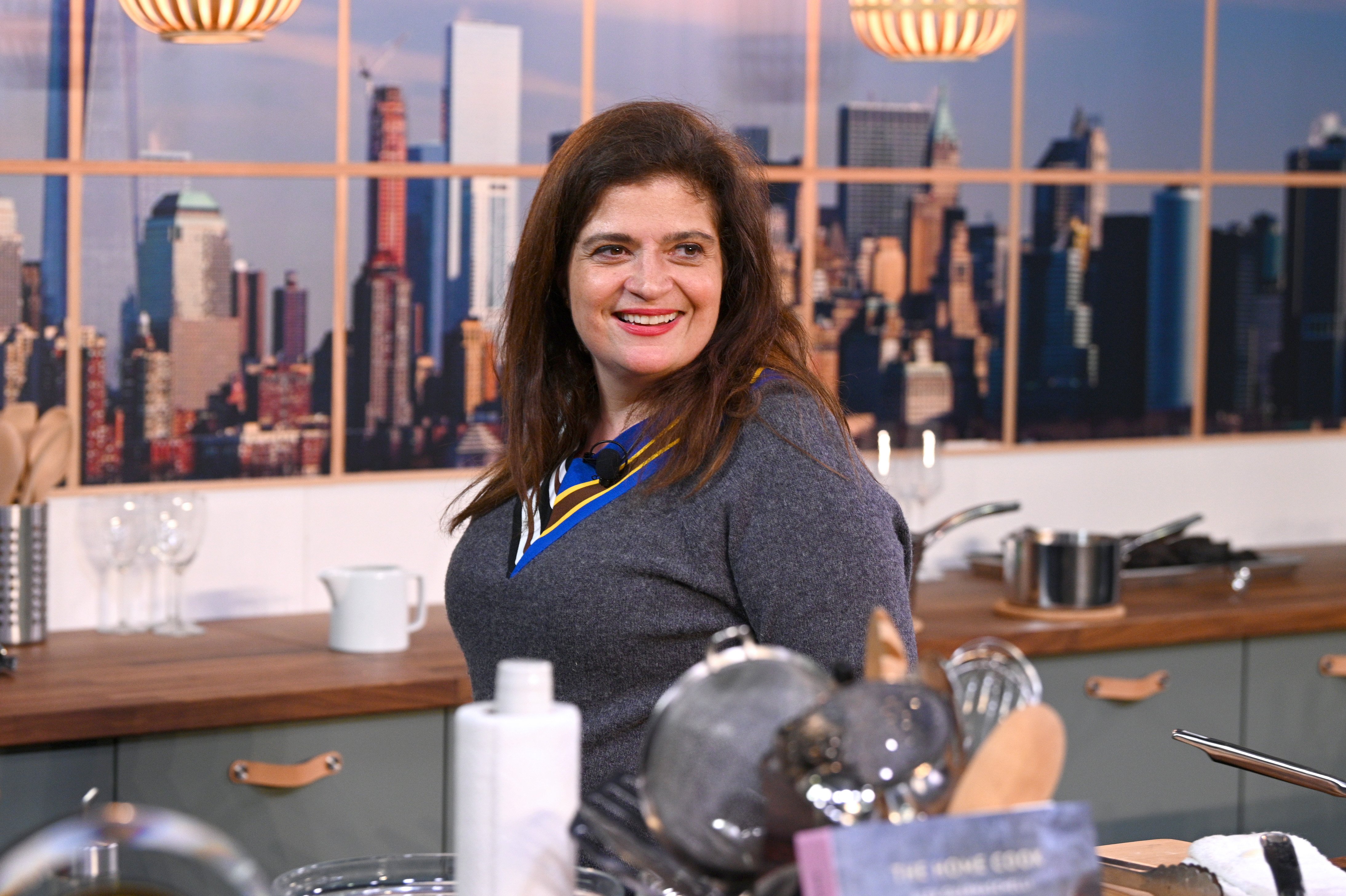 Guarnaschelli's inspiration for her one-pan dish
In her cookbook Cook with Me, the Alex vs. America star shared that, while her inspiration for the dish is a bit labor-intensive, her spin on it is much less so. Her kitchen muse for this recipe is none other than the late, great Louisiana chef Paul Prudhomme.
"This is my modified weeknight version of [Prudhomme's] classic and legendary blackening technique," she wrote.
Prudhomme dipped his fish in melted butter, then in spices ("a sort of local Louisiana masala") including dry mustard, ground garlic, ginger, and cayenne pepper, then seared it in a "roaring hot" cast-iron pan to give the fish a crusty, spicy coating.
Guarnaschelli's version offers a similar effect with fewer dirty dishes for today's home cook: "To save some steps and make this a complete meal, I sift the spices evenly over olive oil-drizzled fish." She then roasts it with hearty kale for an effortless dinner any night of the week.
Alex Guarnaschelli says a mix of spices boosts this simple salmon recipe
When it comes to coating the sheet pan and the salmon in olive oil, Guarnaschelli notes in the Food Network video for this recipe that she always tries "to be a little judicious with the olive oil when making a dish like this, because the salmon is rich. You don't need a lot of olive oil. Those types of calories really add up. I want to save some calories for dessert!"
The chef said of her use of sweet paprika, cayenne pepper, garlic powder, dry mustard, and dried oregano: "I kind of want to just take the essence of the blackening." She achieves this by placing all of the spices in a sifter and evenly sprinkling the lightly oiled salmon. In this way, "every bite has a bit of spice distributed all over it … so this really mimics the idea of blackening."
With kale "ripped up into pieces" and added with the salmon to the baking sheet, this is a complete meal.
Get the full recipe, video, and reviews on Food Network's site.
Home cooks were impressed with Guarnaschelli's super easy salmon dish
What's not to love about a dish that practically cooks itself? Reviewers on Food Network's site loved the chef's delicious and quick meal.
"Made this tonight and it was a hit. Very delicious," one fan of the recipe said.
Another home cook added, "I made this tonight. The salmon was really good but the kale was fantastic!  It got crispy like kale chips!  Yum!"
Finally, another reviewer confirmed the recipe as an excellent hungry-after-work dish: "Super simple, like a total of five minutes prep and 10 minutes in the oven.  It was delicious, healthy, and SUPER easy for a busy weeknight."