Alex Guarnaschelli's Pork Shoulder Pizzaiola Is Straight From Her Family's Recipe Box
Packed with pork sausage and buttery pork shoulder nestled in a full-bodied tomato sauce, Food Network star Alex Guarnaschelli's pork shoulder pizzaiola is a gorgeous spin on traditional Sunday gravy.
While her mom prepared the dish using pork chops, Guarnaschelli's updated version ensures juicy meat in each bite. Ladled over pasta, it's an absolute feast.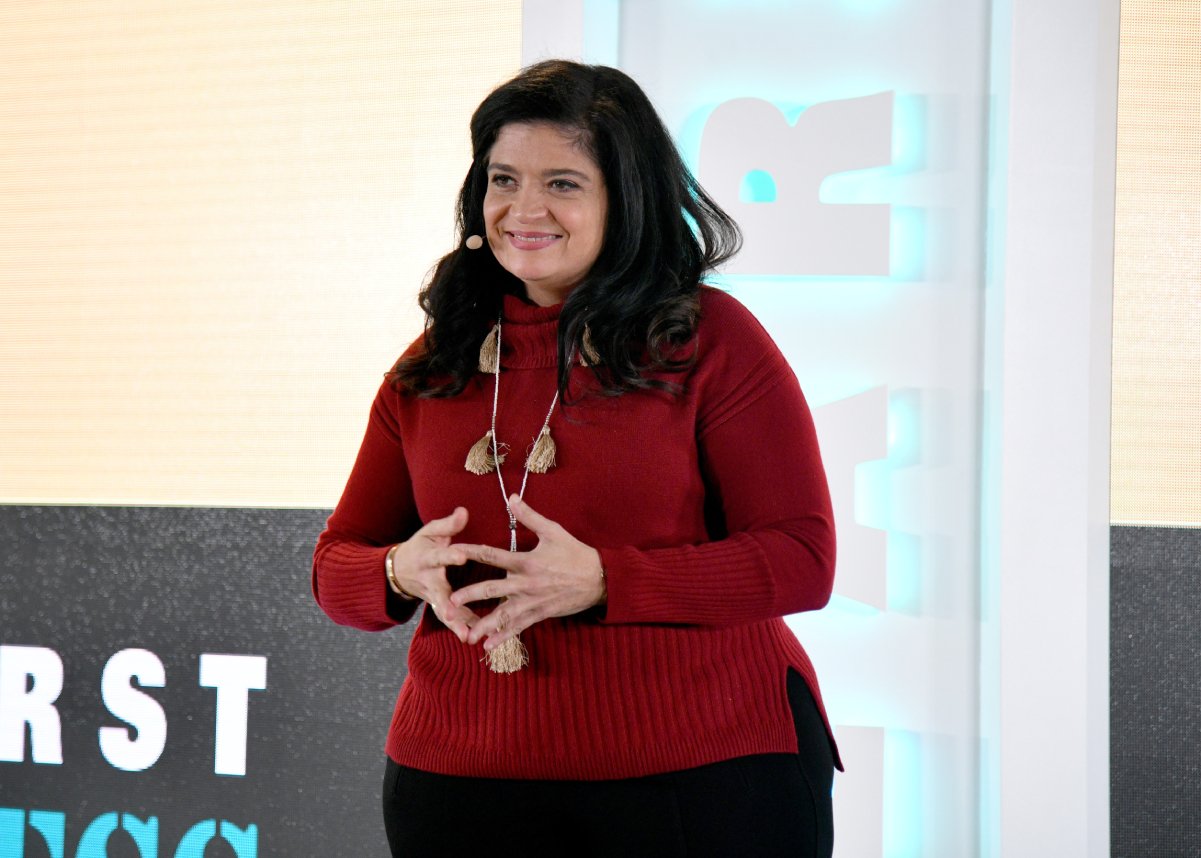 Guarnaschelli's pork shoulder pizzaiola is based on a family recipe
In her cookbook Cook with Me, the chef writes of this dish, which has its origins in a beloved recipe of her mother's. (It should be noted that her mom, Maria Guarnaschelli, was an accomplished cookbook editor and one the New York Times referred to after her 2021 death as "formidable.")
"Pizzaiola is a traditional Neapolitan dish in which a cheaper cut of meat, like pork shoulder, is cooked with wine and tomatoes until tender," Guarnaschellli said. "My mom used to start cooking the tomato sauce first and then would sear pork chops and spicy pork sausages in another pan."
Once the meat was browned and golden in color, the culinary personality continued, it would be added to the sauce and "sit in the sauce on the stove for a good half hour to let all the flavors combine."
It's clear the memory of her mother's rich dish is still a clear, and happy, one for Guarnaschelli: "I always worried that the meat would become cold or overcooked, but it never did. We would fish the meat out and eat it on the spot—so messy, but so tasty. If we could wait, we'd be rewarded, as the meat and sauce were even better the next day, when they had had even more time to comingle."
The chef's recipe is a sumptuous, slow-cooked sauce
Guarnaschelli departed from her mother's recipe when she "decided to re-create my mom's sauce with boneless pork shoulder, a cheaper, fattier cut."
It's a deliciously satisfying recipe that works for every home cook, no matter their level of kitchen experience.
After the sausage and shoulder chunks have been browned in a Dutch oven, the sliced onion and garlic are stirred in, as well as the red pepper flakes. White wine is added, and the mixture is simmered, "until all of the liquid cooks out."
Canned and fresh tomatoes are mixed in, followed by anchovy fillets and fish sauce. The pot is covered and placed in a 350-degree F oven for about two hours, "until the meat is tender." Serve over cooked pasta.
Get the complete recipe and reviews on Food Network's site or in Alex Guarnaschelli's Cook with Me: 150 Recipes for the Home Cook.
Home cooks loved Guarnaschelli's meaty recipe
Reviewers on Food Network's site gushed over the chef's hearty dish.
"Made this for a special dinner for my hubby and it is delicious and hearty! … Followed directions with no substitutes! I would recommend this recipe," one person wrote.
Another home cook added, "I wasn't sold on this recipe but I had pork shoulder to use and was tired of just pulled pork. OMG. … I put it over polenta instead of pasta- so flavorful. Don't skip the fish sauce."
RELATED: Alex Guarnaschelli Nearly Turned Down 'Chopped': 'I Remember Saying I Have to Wash My Hair That Day'