Alex Guarnaschelli's Minimalist Roast Chicken Is All About 'Four Everyday Ingredients'
As iconic chef Julia Child once wrote of roast chicken, "What a deceptively simple dish. … Above all, it should taste like chicken: it should be so good that even a perfectly simple, buttery roast should be a delight."
Food Network personality Alex Guarnaschelli clearly agrees, saying in her cookbook, Cook with Me, that simple is best when it comes to roast chicken. Specifically, she added, it's four ingredients that allow this timeless dish to shine.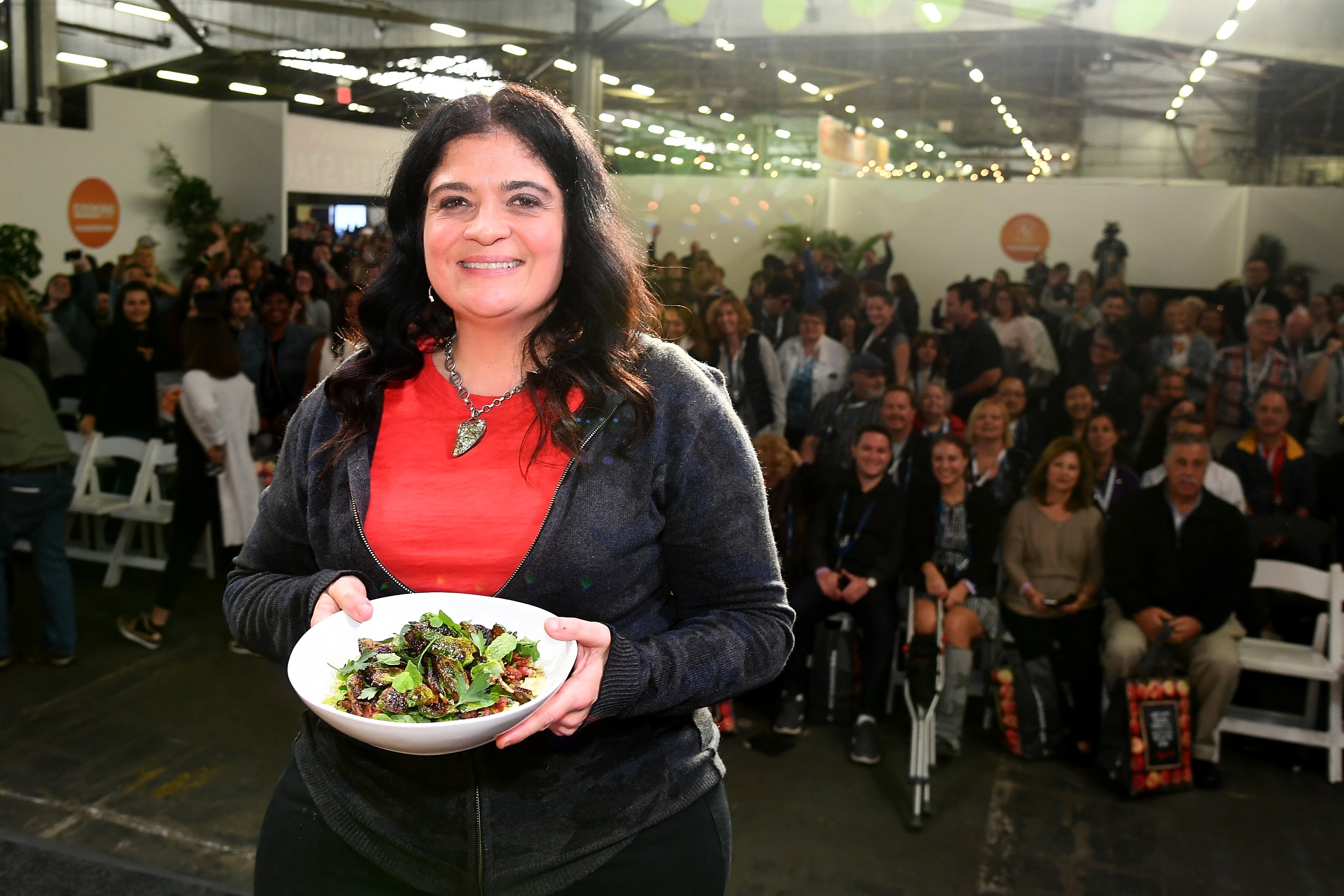 Guarnaschelli says there's one member of her family who's a big fan of her roast chicken
In her cookbook, Guarnaschelli shared that once upon a time, she was known for glamming up her roast chicken, "like how Beyoncé gets into a Bentley."
The outcome, she admitted, was "always great, but what I discovered is that I love simplicity when it comes to chicken."
Her daughter, she revealed, adores her mom's simply prepared chicken: "One night, I roasted a chicken for my daughter and we ate about half of it for dinner. I put the other half in the fridge. When I came back later, I discovered my daughter had snuck back in and peeled away the crispy sheet of skin on the other half as a snack. Who can blame her?"
And one of the benefits of a whole roasted chicken is all of the resulting meals that can be made from it. "I often make chicken salad from whatever chilled leftovers we have the next day and save the carcass in a resealable bag in the freezer for making stock," she added.
Alex Guarnaschelli's roast chicken couldn't be easier
One whole chicken, salt, pepper, and lemon; that's all there is to the chef's ultimate roast chicken.
"I can now guarantee you that four everyday ingredients — chicken, salt, pepper, and lemon — never tasted so good together," she said.
Here's how she makes the magic happen: "My favorite way to roast a chicken is to use a sheet pan or shallow roasting pan with a wire rack set inside to allow for maximum exposure and browning of the chicken skin (let's face it: we all want that chicken skin)."
Another "basic little trick" she shares in the Food Network video for this recipe (see above) is to brush oil on the wire rack that the chicken will rest on to "keep your chicken from sticking when you try to get it out."
When it comes to seasoning your bird, the Chopped judge says, "Don't be shy with the salt." It goes into a preheated 400-degree F oven for about 15 minutes per pound of chicken.
Get the complete recipe, video, and reviews on Food Network's site.
Reviewers on Food Network's site agreed the chef's chicken is simple deliciousness
One home cook wrote of Guarnaschelli's uncomplicated recipe: "Just finished this dish tonight. Easy and delicious. First time I ever reviewed a recipe and this is a keeper. Made recipe for the two of us so there's enough for another meal and even a sandwich or two!"
Another reviewer was brought around to the culinary personality's minimalist approach to chicken: "I was surprised when the recipe called for salt and pepper and into the oven with no butter or oil on the bird. I'm a total believer now. This is hands down the only way I'll be roasting my chicken from now on. There really is no reason to do it any other way."
RELATED: Alex Guarnaschelli Reveals What Makes a Good Shrimp Scampi 'Great'