Alex Trebek's Wife Asked Him to Take a Break From Hosting 'Jeopardy!' After Pancreatic Cancer Diagnosis
What is Jeopardy! without Alex Trebek, the game show's longtime host?
Fans of the program have been tuning in to watch the TV personality dish out trivia to eager contestants for 36 years. After being the face of thousands of episodes of Jeopardy!, Trebek's become synonymous with the show.
Following a pancreatic cancer diagnosis, taking a break from hosting duties has become a real possibility for Trebek. Ahead, find out what happened when his wife, Jean Currivan Trebek, suggested he scale back his job as Jeopardy! host.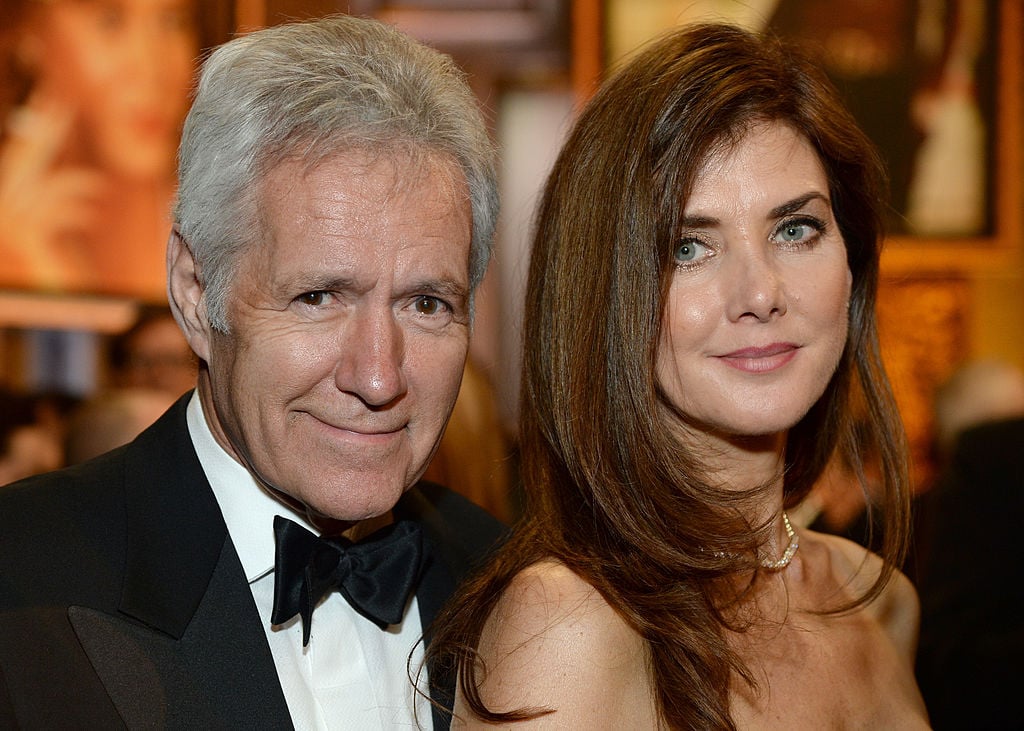 Alex Trebek announced pancreatic cancer diagnosis in 2019
In a video posted to the game show's official Twitter account on March 6, 2019, Trebek announced a stage four pancreatic cancer diagnosis. In the brief video, the 79-year-old stood on the Jeopardy! set and shared his intentions "to fight this." 
"I'm going to keep working and with the love and support of my family and friends — and with the help of your prayers also — I plan to beat the low survival rate statistics for this disease," Trebek said in the video. 
He continued, joking about his Jeopardy! contract. 
"Truth told, I have to [continue hosting] because under the terms of my contract, I have to host 'Jeopardy' for three more years. So, help me. Keep the faith, and we'll win. We'll get it done."
After Trebek shared the news, he received an outpouring of love and support from Jeopardy! Fans that continues today. In fact, it's been the reaction from audiences that convinced Trebek write a memoir. 
His wife, Jean, asked him to step back from 'Jeopardy!' but knows 'it's what feeds him'
In January 2020, the game show host and his wife Jean Trebek sat down for an interview with Good Morning America's Michael Strahan. They gave an update on Trebek's health and in doing so, Jean shared she'd asked her husband to take a break from his job.
"But I know it's what feeds him. He loves doing Jeopardy! He has his own family over there," Jean said. "They are such a close-knit, beautiful group of people."
She continued, saying, "I think that gives him a lot of support. A sense of purpose and that he's just not in bed and can be productive." 
Trebek's continued to host Jeopardy! despite undergoing chemotherapy and experiencing depression as a result. He's been open about having bad days, one Jeopardy! captured on camera.
What's the status on Alex's Trebek's health? 
Since his March 2019 announcement, Trebek's continued to host Jeopardy! On March 4, 2020, he issued a one-year update on his pancreatic cancer diagnosis. 
"The one-year survival rate for stage 4 pancreatic cancer is 18%," Trebek said in the video posted to the game show's Instagram. "I'm very happy to report I have just reached that marker."
He continued, saying "There were some good days but a lot of not-so-good days." 
Trebek continues to host and while he doesn't know who will be his successor as the host of Jeopardy! he does know what he wants to say during his farewell.